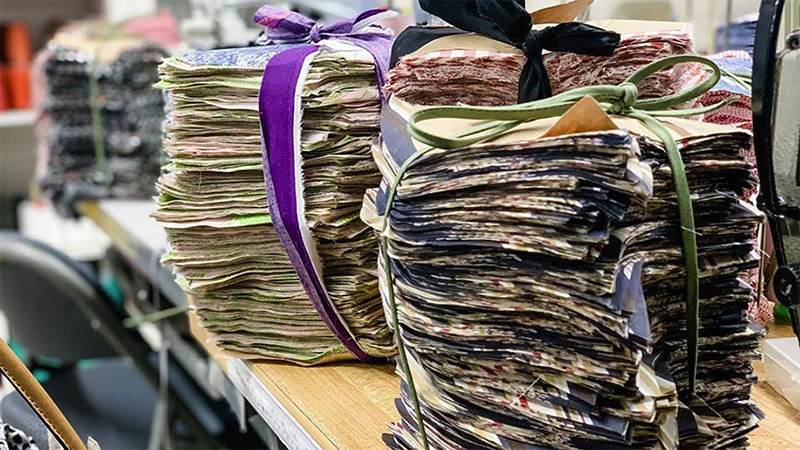 Stories
Luxury Clothing Maker Shifts Gears to Help Essential Workers.
When COVID-19 hit, clothing maker Pound Cake Society shifted from luxury loungewear to making masks and helping essential workers in their community.
Adrienne Gordon and Rana Farshoukh, founders of the high-end clothing maker Pound Cake Society, were just a year into their business when they landed a deal to debut Everyday Ritual—in a major department store.

Yet when California announced a statewide shutdown in late March due to the COVID-19 pandemic, Gordon and Farshoukh had less than 48 hours to make a decision on the next step for their small business.
"You feel frantic, and everybody's looking at their families and themselves like 'what are we going to do? How's this going to work out?'" says Gordon.
Their new plan? To make high-quality facemasks for essential workers nationwide.
Gordon and Farshoukh created a GoFundMe page with a goal to raise $100,000 towards creating facemasks. In the process, they gained attention from hotels, companies and schools in need of masks for their employees. Today, they've donated over 5,000 masks to hospital workers across the nation, and have sold nearly 46,000 to the public and various companies.
After garnering public interest, Pound Cake Society shifted business gears again to serve a broader audience and used Facebook to promote their facemasks for purchase online. They received nearly 20,000 orders their first week, which meant they needed to evaluate how they'd handle their volume increase and manage their new cash flow. Their solution: Open a business account at Chase.
"It's made it really easy for us to do business at the speed of basically the internet when everything else is slowed down," says Gordon. As a thank you, the company donated masks to Chase's Ladera Center branch, where they opened their account.
Pound Cake Society now makes nearly 30,000 facemasks a week and feels more equipped than ever to serve the public. While Gordon isn't sure what's next for the business, she appreciates the human connection she's gained from interacting with customers more closely.
"You hear the stories of the grandmother raising grandchildren through this, the single mom or the out-of-work dad that's got a daughter and wife who are both nurses and afraid for them…you hear every kind of story," she says.
"People are just vulnerable. There are vulnerabilities we all share, and you get really exposed to that when you get to talk to so many people on a regular basis."