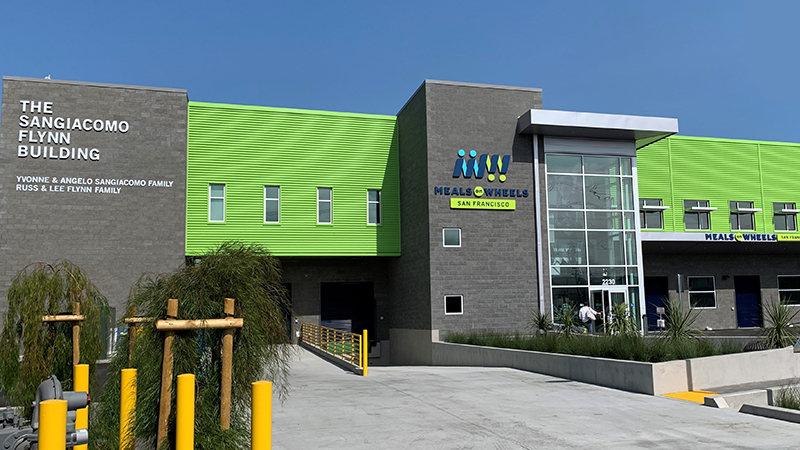 Stories
Serving Meals and Building Community During COVID-19
As the pandemic drives demand at Meals on Wheels San Francisco, JPMorgan Chase is helping finance the development of a new kitchen and food production space to double output. A version of this story originally appeared on J.P. Morgan.com.
For thousands of people in the Bay Area, being homebound is nothing new: Many people in the city's vulnerable aging population have long been unable to safely and confidently leave their homes due to health issues.
Over the past 50 years, Meals on Wheels San Francisco has helped, working tirelessly to enable many older adults with limited financial resources to maintain good nutritional health. Many of the organization's clients live alone, having outlived family members and friends. Nutrition, along with wellness and safety checks, are key to helping seniors live independently and with dignity in their homes for as long as safely possible.
Expanding Services...And Needs
More than ten years ago, the organization began looking for a new space that would allow them to meet growing demand.
"In 2007, we were making about 523,000 meals," explains Ashley McCumber, CEO and executive director of Meals on Wheels San Francisco. "Now, we're making almost 2.2 million meals a year."
To meet this expanding need, McCumber connected with Nicole Boone, Vice President, Community Development Banking at JPMorgan Chase. Together, they worked to secure space for a new, 36,000-square-foot commercial kitchen and food production facility.
"Chase provided about $8 million of tax credit subsidy," Boone says. "That is huge for projects of this size."
Serving through a Pandemic
In 2020, as hundreds of families needed to quarantine because one or more of their members contracted COVID-19, Meals on Wheels San Francisco's need for a new space became even more pressing. The organization went from a daily production of 8,000 meals to 10,000 meals, straining the resources of its existing kitchen as it worked to provide services to 3,600 older adults and adults with disabilities each day. Between March and June 2020, the organization saw a 246 percent increase in people applying for deliveries in the Bay Area.
Like organizations around the world, Meals on Wheels San Francisco has been forced to pivot during the pandemic. In addition to serving a growing number of people in need, the group also has worked hard to ensure the health and safety of its workers. "From the beginning we knew that if we take care of our people then they can take care of our clients," McCumber says.
Keeping their employees healthy and safe has been a priority since the virus took hold. For employees who have been unable to work from home, Meals on Wheels has made sure they have protective equipment like masks and hand sanitizer, as well as enough space to work in a socially distant manner. By supporting their employees and volunteers, Meals on Wheels has been able to keep everyone safe while not missing a single meal delivery.
Expanding Services—and Space
Even as it has overcome these challenges, Meals on Wheels has also expanded the breadth of its services. On top of serving nutritious meals and helping people maintain healthy eating habits, McCumber's team has also worked to address social isolation for seniors—many of whom may not see or speak to another person daily were it not for their meal delivery. It has launched a volunteer grocery shopper program that is currently serving the needs of nearly 60 homebound seniors in need.
To continue its outreach effort the organization also started a voluntary phone call program. "Part of our mission is to reduce isolation and build ongoing trust," McCumber says. "COVID-19 flipped this. In some cases, we're able to check in on people from a safe distance, but even social visits are now done by phone."
These new services require new space—which Meals on Wheels San Francisco's new building will provide. In it, the organization will be able to more than double its production output to more than 30,000 meals daily—while it continues to expand its services to help a community in need.