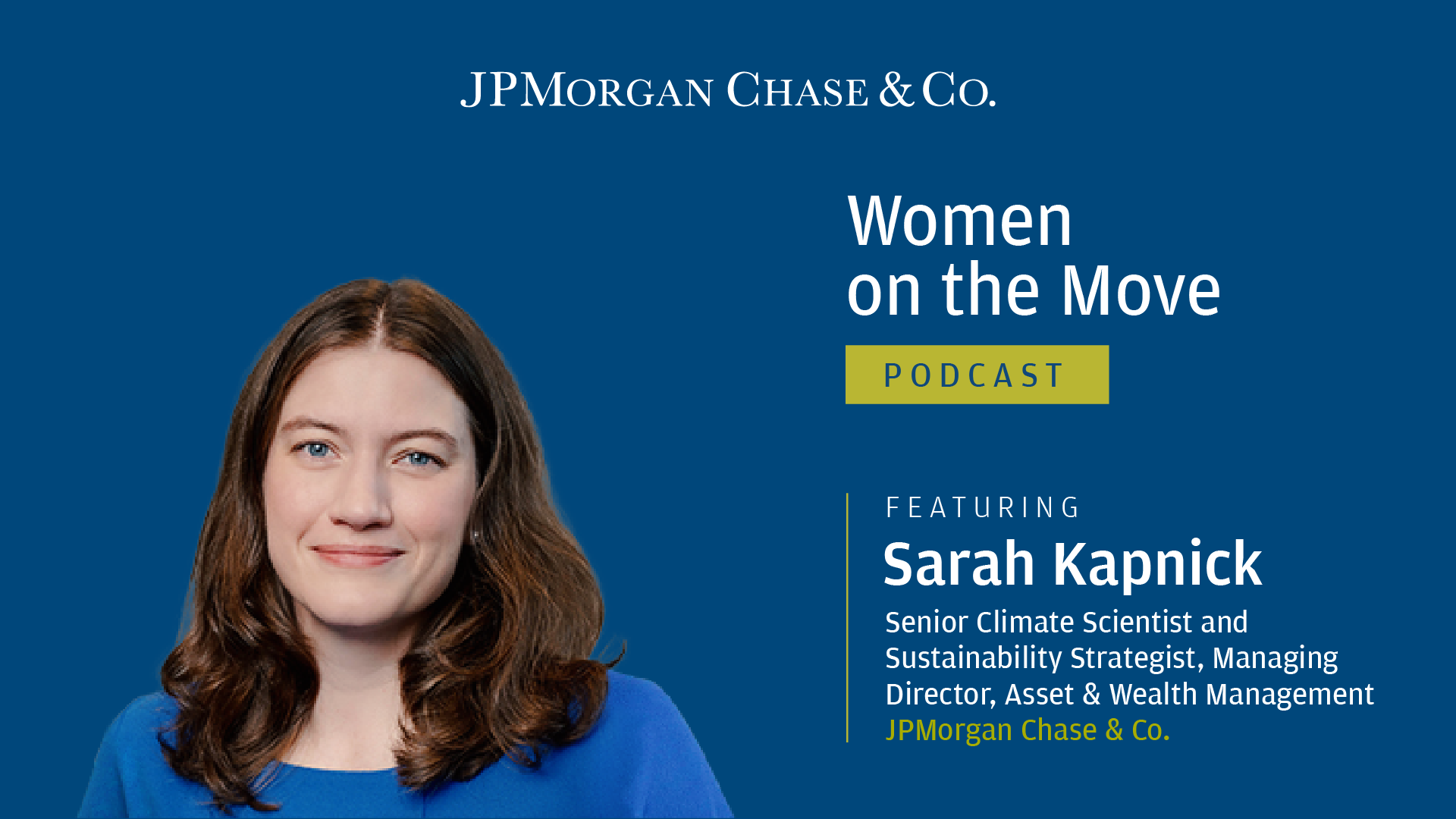 JPMorgan Chase & Co. Climate Scientist sees hope for the future
Dr. Sarah Kapnick wants to make sure that climate is at the forefront of everyone's thinking, planning, and decision-making. As Senior Climate Scientist and Sustainability Strategist at JPMorgan Chase & Co., Sarah is charged with providing subject matter expertise around climate to the firm and its clients. In this episode, she sits down with her colleague and Women on the Move host Sam Saperstein to discuss her role, her belief that climate is woven into every aspect of our lives, and her hopes for the future.
Combining a love for science and math
Sarah grew up in the Midwest and took her love of science to Princeton University. "I loved math and math puzzles, but realized in my initial research that only a few people in the world would understand what I was really working on," she recalls. "And I was really interested in applying math to the real world." That desire led her to obtaining a certificate in finance along with her degree in math and studies in the geographical sciences.
Her path after college included investment banking at Goldman Sachs, a PhD at UCLA in Atmospheric Oceanic Sciences, time at a renewable energy forecasting startup, and 10 years at the National Oceanic and Atmospheric Administration (NOAA). She joined JPMorgan Chase in 2021 and has found her niche.
"Many people realize as they were trying to start doing investing and planning around climate, they didn't have enough information on the science and it wasn't something that they could easily pick up by reading a few papers or a few research reports," she tells Sam. "So I produce research reports on climate and how it's interacting with different sectors or thinking about investments and how it'll change the future of investing. I also advise our clients in asset and wealth management to be able to explain how climate affects all of their investments."
On being a woman in STEM
Throughout her career path, Sarah took strength from the women she befriended. As an undergraduate studying math and science at Princeton, she was one of only a few women. But, she tells Sam, in her PhD program, she had several other women in her cohort who were all very close and supported each other a lot. At the NOAA, she was elevated to a senior deputy division level as part of the first group of women in leadership. "Strides are being made," she says. "I got a lot of encouragement from my peers and from some really good mentors along the way."
Because of that isolation that can come with being a woman in STEM, Sarah says, connecting with the other women you do find can be a lifeline. "And so if you talk to each other about the problems that you're facing as a woman in science, and then seeing that they're also facing it, it becomes a lot less isolating," she says.
That's why her advice for other women STEM is to network. "And then you can build your team, your team that you talk to," she says.
Hope for the future
Sarah feels she's right where she should be in her current role. "I'm thinking about how to explain to [clients] how climate is going to affect the things that they care about and how it can help them be more informed about those different issues," she says. Many of these discussions have been successful in helping clients understand that climate is something they need to be thinking about. "Whereas when we first started the conversation," she says, "they were extremely curious, but didn't think that it would affect them at all."
Today, Sarah says, the thought that keeps her up at night is, Am I doing enough? "Because climate change is going to continue," she tells Sam. "It's actually going to accelerate in the coming years and decades. And so we need to be prepared for that."
Sarah believes that every individual can impact climate change. Investors and philanthropists can make decisions based on encouraging climate improvements. Individuals can not only recycle, but also be intentional about reducing their consumer footprint, for example by cutting back on airline travel. And individual choices such as the hobbies you practice can impact climate too. As an example, she describes how her daughter really likes gardening. "We are putting out plants that are important for a habitat for butterflies," she says. "And then we also put plants out in the front of our yard in Brooklyn that also help filtrate water to make cleaner water going into the sewers. So you can think about what are the things you care about, and then you can look it up and find things that relate to climate and sustainability within that."
Learn more about our sustainability efforts and you can read the latest insights from Sarah about the economic importance of biodiversity here.



Sarah Kapnick
Senior Climate Scientist and Sustainability Strategist, Managing Director, Asset & Wealth Management
Subscribe