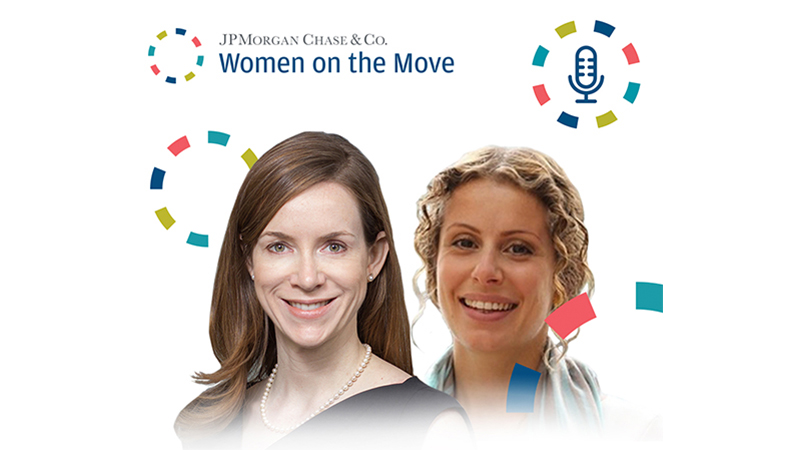 Sarah Heffron and Joanna Martin
Same goal, different approaches
Sarah Heffron and Joanna Martin are members of the J.P. Morgan Electronic Client Solutions team in London. Sarah runs European Equities Execution for traders and Joanna leads the Global Liquidity Solutions group focused on institutional client product needs.
Over the years, Sarah and Joanna have come to develop a strong collaborative working relationship while driving institutional client business and building their teams.
Although their roles are distinctly different they have found in certain situations that the unique blend of their skillsets enable them to find alternative solutions and unexpected approaches. While one brings an analytic and problem-solving nature to the table the other brings the ability to connect dots and motivate people.
What it takes
As leaders of large working groups, Sarah and Joanna are responsible for managing and building effective teams. Their personnel management approach includes understanding an individual employees' career trajectory and continuously projecting out what the organizations' future talent needs will likely be.
For early-stage employees, Sarah and Joanna tend to look for key skillsets they believe will add value to the business and grow the candidates' career. At the top of the list is the ability to harness the power of data, understand processes and deliver analytics. They will be looking for talent who can build dashboards for traders, sales, and product to drive real time decision-making.
Joanna also watches out for 'self-starters' who are curious and can collaborate, a skillset that together can set the stage for career mobility and new opportunities.
Career mobility survival tips
When facing a steep learning curve such as starting a new role, Sarah advises that you need to get comfortable with not fully understanding certain dimensions of the job and the business for a while. Joanna adds that asking questions to understand complex concepts demonstrates a willingness to learn and go the 'extra mile'. Both recommend developing strong communication skills and learning how and when to have a productive discussion with your manager about your new role.
View Transcript

(updates content above)
Hide Transcript

(updates content above)
Sarah Heffron:
You have to be in the mindset of almost constant collaboration and being able to break down problems with different sorts of people at different times and help each other get to the right outcome.
Sam Saferstein:
Welcome back to the Women on the Move podcast from JP Morgan Chase. I'm Sam Saferstein. Women on the Move is a global initiative at the bank. It's designed to help women grow their businesses, improve their financial health, and build their careers. In each episode, we feature individuals who are breaking the mold. Last time we spoke with Lori Beer, who has championed women in technology, and Elinda Welsh, who's in her organization. We've been talking a lot about talent development as well as mobility at JP Morgan Chase.
Sam Saferstein:
Today we're going to meet two women who are great examples of that mobility at work. Joanna Martin and Sarah Heffron have excelled in careers that started out on the trading floor and then they became extremely influential as part of JP Morgan Chase's Electronic Client Solutions team. They lead their own teams and have been key driving forces behind technological innovation for the firm. Beyond their roles, we also discussed their professional relationship with one another, their focus on peer mentorship, and their efforts to develop younger women who are interested in careers as traders. They're a great team and this was a very fun conversation. Let's dive right in with Joanna and Sarah.
Sam Saferstein:
Welcome to both of you, Sarah and Jo. It's great to have you here. Would love to start out with you telling us about your current jobs.
Sarah Heffron:
Sarah Heffron. I run European equities execution, which includes electronic execution that we offer to customers that trade with JP Morgan, as well as what we call program trading in the region as well, which includes offering capability to do list-based trading or basket-based trading of equities for a variety of accounts that are looking at more kind of special situations, sort of trades and transitions. I run that team, which includes developing all of our electronic products for access to the markets and the kind of trading and service elements that surround that. My team's based here in London and we do also have some people in our Paris office as well.
Sam Saferstein:
Great. And Jo.
Joanna Martin:
Hey. Joanna Martin. I go by Jo, though. Most people know me as Jo. My role is... It's a bit of a new one for me. It's Global Head of Global Liquidity Solutions. Essentially, that is execution sales, encompassing electronic sales, some of the program trading products, and the high touch trading products. My team is responsible for selling that across the globe and I also have responsibility for a media program, trading sales as well. So I am the sales side to Sarah's trading if you like.
Sam Saferstein:
And where's your team based?
Joanna Martin:
So I have a team in Europe, program trading and more sort of global liquidity solutions. And then I also have recently acquired a team in Asia and a team in U.S. So that's relatively new to me.
Sam Saferstein:
And what are your styles like as managers? I'm just curious, do you have differences or how would you describe each other given that you work so closely?
Sarah Heffron:
Definitely different. That's tricky.
Joanna Martin:
Sarah is always very considered. She's very to the point in a good way, in a good way, in a positive way. She always has very considered answers to anything people say. But also responses to any difficult questions from external and internal to the team. Sarah is incredibly organized and she's very smart and Sarah will always think, say, think outside the box sounds incredibly cheesy. But there'll be a problem that we're trying to solve as a team, and Sarah will come from a totally different angle and come in with a bit of a surprise answer, or a surprise way of looking at it. Or to put that on its head in another direction, which is very important to our business, it could be, this is what might catch us out from a tech perspective or this is what we also need to think about in this stress scenario situation or a big volume day, whatever it happens to be.
Joanna Martin:
So Sarah seems to have the ability to look at any sort of a problem and do a real 360 on it, whether that's sort of visual with tech or with people in terms of you know, how best to answer it for them. And I think that is incredibly powerful and incredibly necessary for what we do. She's also kind and considerate and understands people you know, in in a way that you get from obviously having a lot of experience from being around people and managing people for a long time, but seems to know the right thing to say at the right time to motivate. And it's not always the nicest thing to say. Sometimes it's like that just the thing that you need to hear to be motivated to kind of move to the next thing or to actually get that feedback that you need to to become a better, better person in what you're doing.
Sam Saferstein:
And how would you describe Jo?
Sarah Heffron:
Shucks, Jo.
Sarah Heffron:
Just to kind of maybe draw out like the partnership angle and the complimentary angle. So a lot of what Jo described is the product mindset of the trading business and that is probably the strength that I bring to the table. The strength that Jo brings to the table is not only the managerial and motivational, which also she is very strong in with the team, but also she brings a real kind of client strategy to the team. So she really understands, and she is in sales, so that makes sense. She understands our, our clients very well and they're not a one size fits all group of clients. We have a very differentiated group of accounts. There are certain ones that she has a very deep kind of important relationship with, with respect to, you know, equities and our trading products.
Sarah Heffron:
And then there are ones that she might not know directly, but she knows what we need to do as a firm to make sure that we are doing what we need to do for those accounts. So whether it's engaging other people or you know, leveraging all the different parts, the organization, Joe is a master at that. I'm not describing it as eloquently as I would like to, but you know, you need to think about while that systematic low-latency trading account might not be the one that Jo goes and pitches to, she knows who she needs to engage with within the firm and why it's important to the strength of our product to go to pitch to that account. And she makes sure that it gets done.
Sarah Heffron:
So I think in terms of thinking about a sales strategy, understanding the breadth of our customer base and how we as a firm can best service them is to..
Sam Saferstein:
It really sounds like your roles and responsibilities are distinct and clear, but then there's collaboration where you come together. And does the team always understand that? Do they ever have issues with role and responsibility? You know, confusion?
Joanna Martin:
It is a bit of a Venn diagram. I was thinking about in terms of, you know, the sales product and coverage. There's definitely overlapping areas, but we think of it as, as that's a strength. It means that Sarah can go and do the sales role with some of their biggest accounts. You are, in essence, a sales person that has the right skills, the right relationship to go in there and talk to that account. Equally, you know, some of my team are incredibly strong on the product side and they can go and have an almost product type conversation. And the same with coverage and sales. They're very, you know, symbiotic. So I think it's actually one of our strengths that there's an overlap.
Sarah Heffron:
On the positive note of that. Given that the jobs, while they might not be the same, definitely have strong links to each other. There's a lot of mobility within our team and within similar functions within the organization. So we've brought in people from our high touch organization into electronic and likewise we've had people in our electronic trading organization go to work on more what you consider traditional trading. We've had people come in from technology, we've had people come in from quant backgrounds, we've had people move across geographies, you know, move from a product role to a coverage role and vice versa. So all of those things I think actually ended up being quite rewarding for people when they realize that there's a natural progression and career path. Not completely linear.
Sarah Heffron:
As I was moved into the electronic space, it's something I noticed immediately, but there was a continual discussion amongst kind of the management side, right? This is a talented person. They want to do more. What are we thinking? Oh, we've got a space here. Is there anybody that we know of within our respective teams that we think needs that next challenge and we'll move to, maybe it's another country, maybe it's another team. It's a constant conversation around the teams that we manage. You know, again it's part of the culture. This is a part of what makes people happy to be in the team and why they're also happy to learn. You know, if you're in the sales function you have to be strong on the products and straw on the other areas as well. But it's why they see the value in that.
Sam Saferstein:
Tell me about the makeup of your team and are there a lot of women on the team and how have you seen the presence of women change in your area over time?
Sarah Heffron:
We do have a pretty good number of women. I was actually just commenting on this cause I was doing an org chart. I think what's interesting about it is that it's not in one particular area only. So our trading desk is now three out of eight women. Our product team is, I believe, four out of nine women. Our market structure team is 50:50, but there's two people, so okay, maybe that's cheating a little. And our sales team is, yeah, more women than men. It's not in one particular area or function.
Sarah Heffron:
I think electronic trading, it may be in many ways because we draw from many different sorts of backgrounds, I think one of the benefits of that is that you have automatically a more diverse slate of people to look at because you're not looking at one segment or one kind of degree or whatever it is. And I think that's a trend in trading businesses generally. I mean I think we're finding that you don't always go to the economics major from that top Ivy league school anymore, right? Like those are great too. But there's lots of different places you can draw talented people into banking from. So I think we've found within our team that there are lots of different kinds of diversity too. So women is definitely one. One of the first things I was really impressed with coming here, while coming to Europe, is the diversity of languages that are spoken on our team, which I think is like, it's fantastic.
Sarah Heffron:
There's at least five different languages spoken on our team of 35 people. You know, I think a real appreciation for kind of a global bank in a global culture...
Joanna Martin:
Most in the world that we're in now where the pace of changes more than any of us can ever actually understand- Moore's law. It's incredibly important that we prepare ourselves and man ourselves with the right skill set to deal with the, you know, the next five years, et cetera, that we really can't envisage at this point in time.
Sam Saferstein:
And what do you think the trading floor of the future looks like and the skills that we want to keep attracting for that?
Sarah Heffron:
No matter what sort of job you're doing within trading, it doesn't even necessarily have to have the brand electronic on it. One of the things that we comment a lot on is the power of using data and our processes, and the power of the less intuition and more analytical.
Sarah Heffron:
That doesn't mean less people, though. I think, you know, interestingly we have more people in electronic trading every year because there's more to do, right? So, and a big part of that is technology, but it's also how do we use that technology to make a positive impact in terms of our client outcomes. So one thing that we're really focused on right now, and it might sound kind of small, but is how do we make data more available to everyone, not just the people on the desk that know how to go and do data queries, right? And have that kind of skill set, but also just the person, let's say on the sales team who wants to look at a trend in emerging markets over the last six months. Instead of them swivel chairing over and saying, Hey, data person, can you help me run this data so I can do this analysis? They should have access to that.
Sarah Heffron:
So instead of having people that do those ad hoc things, we have analysts that look at building dashboards for the entire organization, for traders, for salespeople, for coverage people, for product people to be able to drive a real time decision making processes with that data and analytics.
Sam Saferstein:
And do you think more people need to do more of that themselves and their day to day job, be more data fluent and analytical?
Joanna Martin:
I think people are data fluent and analytical, but they need to increasingly get familiar with the tools which everyone, which the team are producing. To become, you know, the data democratic and have the ability to self serve.
Sam Saferstein:
So if you were advising somebody who wants to get into the business, what would you tell them to build skills wise and what kind of traits would you want to see from them if you are interviewing them?
Sarah Heffron:
It's kind of a timely question because we have our summer analysts here and they always ask that questions because they're very smart, when they start, what should I be working at? You know, what's important to you? How can I be meaningful to the organization? And interestingly, in this increasingly technical world, I find that that makes softer skills more important in your ability to make an impact. So none of us, we sit on a trading desk, we all very open environment, nobody just sits and focuses on their monitor all day coding things. And you have to be in the mindset of almost constant collaboration and you know, being able to break down problems with different sorts of people at different times and help each other get to the right outcome.
Sarah Heffron:
So that kind of concept of collaboration and working with multiple people in the business is one of the things that we tell summer analysts at the very beginning, make sure you're talking to everybody on the team, and that you understand how they work and how the team fits together, and how we make this work. And the second thing I would say is there is a certain amount of adaptability to quantitative skill sets. Even if you're not quantitative. The ability to understand data and what it means to how you work and how you can improve things with that information and being able to relay that to our customers or other people at the firm who might be using your products is a really important skillset.
Joanna Martin:
Yeah, and I think being a self starter is incredibly important. It's a business that you can go off in any angle. It's really for you to take the opportunity and run with it. And you might get given a task but you know, you should do that task and then go some. And that's really how you're going to achieve. So with that comes, you know, being a self starter but being the ability to collaborate, understand how your piece of work could be valuable to you know, many others.
Joanna Martin:
I also think being inquisitive and having a hunger to learn will mean that say for myself, I studied economic history, which you know, is actually more relevant than people might think. You know, in terms of the recent world we've lived in. But I had a hunger to understand about, you know, quantitative analysis. You can read about all sorts of things more so now than ever before. If you're interested to understand what coding is, you can, you can learn a bit of Python. So I'd be impressed by people who, you know, I don't need you to have done a computer science degree, but if you have shown an interest in that out of the box because you think it's something that could be beneficial to your future career, then I think that's a great show.
Joanna Martin:
People who off the bat will take upon themselves to go there and you know, don't wait for the world to come to you. They want to go out there and get the world.
Sam Saferstein:
And I think you both also showed that you've had many jobs and had to have a steep learning curve to really get into those different jobs quickly and be productive. So tell me about when you got into a new role where you really didn't have a background. How did you teach yourself the things you needed to know? I mean, can you think of a time where you've really had to get that learning curve steepen up as fast as possible to be effective?
Sarah Heffron:
I think you have to be okay with not understanding everything all the time. And that's a little bit of a difficult adjustment for people. At least at first when you go into a new role, but particularly coming out of a place like university, where you're just kind of expected to go master that and get your A-grade or whatever it is, because you learned all of that and you figured it out and check, check, right?
Sarah Heffron:
When you go into these roles that are a combination of decades of history and how markets work in idiosyncratically, plus lots of new technology, plus understanding dimensions of clients and different kinds of teams, you can't expect you're going to understand it all or you're going to be able to read it from a book or glean it even from from one or two people. So yeah, you have to be kind of comfortable that for a little bit, you're not going to get it all, but keep asking the questions and be comfortable that you have the aptitude to do it.
Sarah Heffron:
And interestingly, I find that people that come in from backgrounds that are more completely different or like haven't maybe had that internship on a desk somewhere or something, but just kind of come into it from a different place. They ask really great questions that some of us are scared to ask because we're like, "oh, we've always done it that way," so you can't question that.
Sarah Heffron:
Yeah, we should know it. We shouldn't question it because we accept it already. So why would we ask why that is? And that's kind of the privilege of not knowing when you start out. So that's a nice thing to, to add as a team member. If I think about people that I've worked with at the firm over my career here who have really stood out and had lots of different opportunities to navigate the organization in a really positive way, or even some of the best people in, in our collective kind of global teams, there are people that aren't afraid to work hard. I think sometimes there's a misconception that if do you need to work hard on something, you're probably maybe not as smart or like you didn't get it right away or there's a little bit of humility that you need to take in working hard. And I find that it usually pays a lot of dividends for those people
Sam Saferstein:
It's not working hard for working hard sake to put in the hours. It's really digging deep, understanding things, asking those questions, putting yourself out there.
Joanna Martin:
You know, and then the humility, I was supposed to be a senior person, but I really didn't know that much. But actually when you go through that process and you spend that time and you invested and you're asking questions and you're trying to get it to the point that you have a way of understanding some quite complex products or complex scenarios that we have to understand. It allowed me to become better at selling because I had to go through quite a deep process of really understanding. But everyone around me could see that I was doing that.
Joanna Martin:
And I think now I still, you know, I'm not the most technical person on the sales team. I'm not the most technical person on the team. I still spend a lot of time trying to understand complex topics and we'll just quiz people until I get to that point. And I encourage my team to be a hardworking person. Invest that time to understand what that product is. And then actually the other thing you then have to do in the sales role is how am I going to explain this to someone who, yeah, it doesn't have a technical background at all.
Sam Saferstein:
I love that you stress that it's important to not only learn something yourself but be able to convey it to others. So communicating back, synthesizing hard ideas, making things seem easier. That's what we need to do for clients all the time. It's part two.
Joanna Martin:
It's not easy to do. If we've got a big pitch, I will go into a room and I will have my points, but I will speak, I will practice. I will almost rehearse. I hope it doesn't sound rehearsed when I go into the pitch, but I will make sure I can explain the concepts I want to explain in a succinct, smart way, that I'm comfortable it's going to be delivered well. And I will practice that and I would, you know, I would do that now.
Sam Saferstein:
So are there one or two things, if you think about your early career, you wish you knew or wish you did better from the start.
Joanna Martin:
Loads. Yeah. You can see from my [inaudible 00:19:09] that I moved around a fair bit at the early part of my career. I think that I wasn't very good at communicating when things weren't right. So if I wasn't happy, if I felt like I wasn't happy and it wasn't being managed very well, I wasn't very good at communicating that, which was a mistake. And so often I would end up leaving because I felt like that was the only way out or I wasn't being satisfied by the current prospects that I saw for me, where I didn't give my management necessarily opportunity to talk about that and present opportunity.
Joanna Martin:
So I think, something I talk about a lot with mentees and panels and with my team is if you're not happy, please let's talk about it. I try and ensure we have a constant conversation around career. What's the goals that you're looking for? What makes you happy? What do you need to do to get to the next level? A constant conversation. It's not a half yearly check in. But also I say to people, don't be afraid if you don't feel you're being managed well of saying I put in time when your manager's calendar and having a bullet point, agenda set of what it is you'd like to talk about. Whether that's, you know, what's my career prospects of the next five years or I'd like to do some more interesting projects, whatever it happens to be. Feel empowered to take that control yourself even if you were, it can be daunting if you're an adolescent or associate, but I think you know, everyone should feel empowered to do that. I wish I had.
Sam Saferstein:
What if you don't have a good manager or a manager who's willing to listen? What would you tell someone in that situation?
Joanna Martin:
And that's why mentors are credibly powerful. I think, you know, a mentor can help you navigate that situation in the sense they can talk about options that you can have available to yourself to navigate it potentially, you know, poor manager in that sense. So I would leverage that.
Sam Saferstein:
So just putting yourself out there a little more, taking what might feel like a risk in having these conversations. It sounds like developing enough of a network so you have more people to talk to. So you feel like if you can't talk to one, maybe there's somebody else.
Sarah Heffron:
I think too, there's a real nuance and that kind of communication. So there's like the, "wow, I'm really upset with how that just happened. I'm going to, you know, go complain to somebody about it or say how much, I don't think this person handled that correctly" or whatever it is. But then there's also the nuance of how do I approach this constructively. And when I'm really struggling with this a little bit, I have my own rule, which is the 24 hour rule, which is that I'm not going to talk to anybody at work about this conversation for 24 hours cause I'm going to think about it and what's the best way to move forward with this.
Sarah Heffron:
And it's almost always, it might not be appropriate based on what what the situation is, but almost always if you have a little bit of distance from whatever situation it is, it can help you think of what a constructive way to come back to that problem is and how to best tackle it.
Joanna Martin:
I've adopted that one. I've adopted that one. It's a brilliant one. Yeah, I know. Sometimes I take that into other life. Yes.
Sarah Heffron:
Yes. That's it.
Sam Saferstein:
Home, life, family.
Joanna Martin:
That's a life hack- 24 hours,
Sam Saferstein:
But that's interesting. So then you don't necessarily overreact or you give yourself some time to sit with it and think about what it's triggering for you.
Sarah Heffron:
I think in some ways you don't react. You instead, you think about what's the best way for you to handle the situation as opposed to reacting to the situation. In life I feel like less reaction is a good thing.
Sam Saferstein:
More peace. That is a good thing.
Sarah Heffron:
Maybe that's more yoga. It's too much yoga in me.
Joanna Martin:
Sarah is a Yogi.
Sam Saferstein:
Is that what you do in your free time to help keep balance?
Sarah Heffron:
Yeah, its one of the things. Yeah, I try.
Sam Saferstein:
That's great.
Joanna Martin:
Inner peace and reflection before responding.
Sam Saferstein:
We need that to compliment everything we do and the hard work. Well, thank you both so much for speaking with me and sharing your careers and backgrounds and learnings. I think so many of our listeners will really learn a lot from this and just, we really appreciate your insights and openness.
Joanna Martin:
Thank you for asking us.
Sarah Heffron:
Thank you.
Sam Saferstein:
Thanks to Sarah Heffron and Joanna Martin for walking us through a world that we rarely get to see. And thank you for joining us today. Women on the move exists because all of us at JP Morgan Chase want to see women be more successful in their professional and personal lives. Our goal is to introduce you to people with great ideas, inspiring stories, and a passion to make a difference. We hope you enjoyed this episode and we'll explore the whole series. On behalf of JP Morgan Chase's Women on the Move. I'm Sam Saferstein.