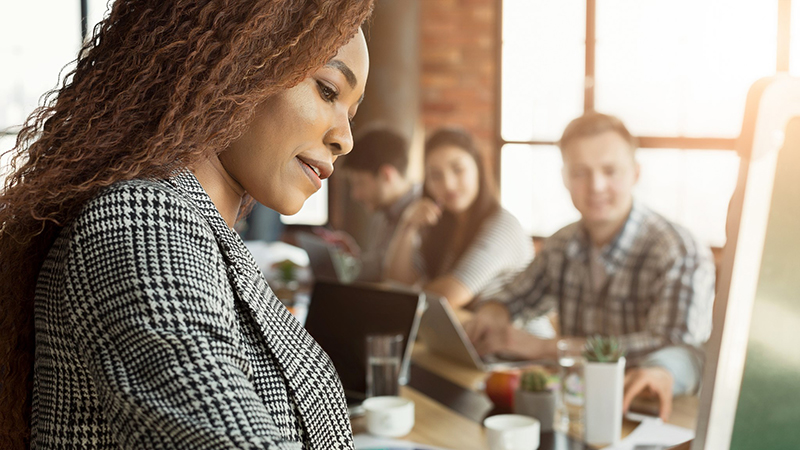 Stories
Want to Help Boost the Economy? Remove Barriers to Success for Black Women
Sponsorship and support can help black women overcome biases and achieve economic success.
This article was originally published by Ozy.
According to the National Center for Education Statistics, black women are earning undergraduate degrees in higher percentages than any other group. Combined with the latest U.S. Census Bureau Survey of Business Owners—which found that black women are the fastest-growing segment of small business owners in the nation—it appears that this group is poised for success.
It's no wonder, then, that companies with more generous attitudes toward things like paid family leave make headlines. Increasingly, American companies are realizing the importance of keeping working parents happy. If they don't, they just might lose them all together.
While these statistics are promising, more must be done to help black women reach new heights. Since Ursula Burns left Xerox in 2017, there is not a single Fortune 500 company with a black female CEO. A 2018 study featured in the Harvard Business Review mirrors this statistic, revealing that black females were the least likely of all Harvard Business School alumni to reach the most senior levels of their firms or industries. Additionally, the study found that many of the same challenges faced by black women, including limited access to sponsors and assumed caregiving responsibilities, are also faced by female professionals and black professionals overall. So, what is being done to help black women rise to the top of their respective fields?
In an effort to drive some of the small business talent to the C-suite, many companies are taking active steps to address and reduce obstacles faced by black women.
JPMorgan Chase, for one, recently launched its Advancing Black Pathways initiative to help black Americans chart stronger paths toward economic success. Expanding on strategies to hire, develop and retain black leaders within the company, the program focuses on three distinct pathways.
"Wealth, education and careers are the areas where we feel we can have the biggest impact," says Tynnetta McIntosh, head of firmwide and corporate employee communications at JPMorgan Chase.
As part of the initiative's wealth pathway, the company is working to expand access to capital for black-owned small businesses and help black Americans improve their financial health through increased savings, credit improvement and homebuyer counseling. The education pathway taps into JPMorgan Chase's relationships with historically black colleges and universities to increase professional opportunities for black students. And lastly, the careers pathway centers on sharing effective diversity hiring practices with other companies while continuing to increase black leadership representation at JPMorgan Chase.
Cognizant of the scale of their undertaking, JPMorgan Chase's Advancing Black Pathways initiative leveraged senior leaders across the firm, as well as key thought leaders like Mellody Hobson, to define and shape the program strategy.
Human resource experts agree that such large-scale efforts are necessary to generate significant, long-lasting change. "Black female professionals are quite ambitious, but they don't always have the platform, opportunities or sponsorship to reach that next level," says Kameka Dempsey, founder and CEO of boutique consultancy KD Leadership Strategies. She says that organizations must create an environment that empowers all employees to proactively seek objective, specific and actionable feedback.
Advancing black females in the workplace goes beyond hitting diversity quotas. It's about bringing new perspectives and fresh ways of thinking. "Companies with racial and gender diversity make better decisions because they have multiple points of view at the table," explains McIntosh. Supporting black females also promotes economic advancement across the board.
"Women, and especially black women, are very often the CFOs and CEOs of their household," McIntosh points out. Financially stable women are in a better position to support their families and send their kids to college, which ultimately contributes more money to the global economy.
But it's not just the financial assistance that helped Meyer. What made a big difference to him was "knowing my job was not only secure but that the adoption was fully supported and encouraged by my employer." That sort of investment doesn't go unreciprocated; Meyer adds that it "reaffirmed my commitment to the company."