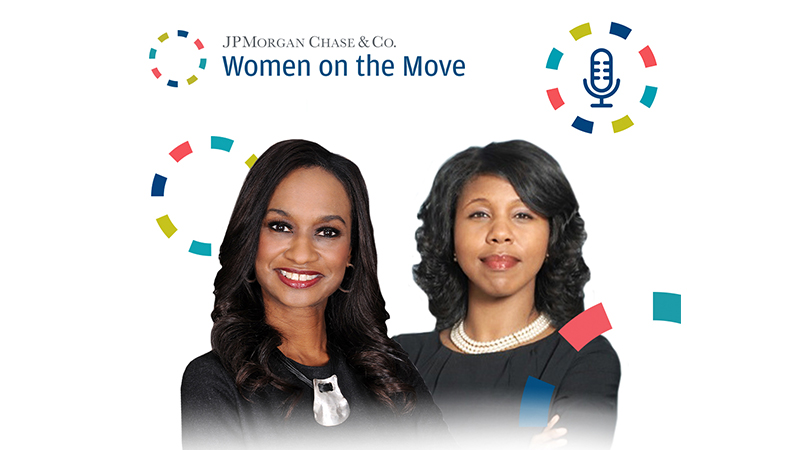 Racquel Oden and Toye Wigley
Knowing when to pivot
While reflecting on their individual career journeys, Racquel and Toye offer examples of the conscious choices they made and why.
Racquel, who leads the Northeast region for Consumer and Wealth at JPMorgan Chase discusses the importance of being 110% prepared. She shares a story of when preparedness unexpectedly catalyzed the trajectory of her career.
Toye delivers marketing and public relations strategy for the firm's Advancing Black Pathways initiative and makes the case for making strategic career moves even when the role offered may appear to be less than a perfect fit.
Mentors, sponsors and the importance of authenticity
In this episode, we explore why mentors and sponsors are critical to career success and what to expect from these critical relationships. We also learn how Toye previously struggled with authenticity and what ultimately helped her get comfortable bringing her whole self to work.
Racquel shares a pet peeve with year-end performance reviews and explains why reviews done ineffectively could be the key to what is holding you back.
Talking about empowerment
Empowerment is a recurring theme in this episode and Racquel and Toye share advice on how to empower others as well as yourself.
For Toye, advocating on behalf of the black community is both her personal and professional passion. She points out that a majority of black women are the CFOs of their households and would benefit from financial education around planning, spending, saving and investing. She works to provide this information through the bank's Advancing Black Pathways initiative.
When in need of moral support or a boost of confidence, remember your networks. Racquel touts the importance of tapping into the encouragement and guidance your colleagues, friends and family can provide.
View Transcript

(updates content above)
Hide Transcript

(updates content above)
Raquel:
Do not underestimate your friendships.
Sam Saperstein:
Yes.
Raquel:
Whether in work or at work, I think as women, it is a secret weapon. It is critical.
Sam Saperstein:
Welcome back to the Women on the Move podcast from JPMorgan Chase. I'm Sam Saperstein. Women on the Move is a global initiative at the bank. It's designed to help women grow their businesses, improve their financial health, and build their careers. This season, we've been featuring individuals who reflect the culture and values of JPMorgan Chase. They've showed us how they think about and manage challenges, and how they've navigated their careers at the bank. They've all demonstrated a strong sense of personal mission and inclusive leadership among their teams.
Sam Saperstein:
Today, we round out our first season with two dynamic leaders, Racquel Oden and Toye Wigley. I'm proud to call both of them my friends. Raquel is the Northeast divisional director for the consumer bank at JPMorgan Chase. She also serves on the boards of the Apollo Theater and the Thurgood Marshall College Fund.
Sam Saperstein:
Toye leads marketing and public relations for our bank's Advancing Black Pathways initiative. In this role, she develops programs to help improve the financial health of black Americans.
Sam Saperstein:
I've known Raquel and Toye for a long time, and yet I still learn some new nuggets of advice from both of them during our conversation. I hope some of these nuggets will resonate with you as well.
Sam Saperstein:
Raquel, let's start with you. Tell us about your current role at the bank.
Raquel:
Well, I'm so excited to be here, and thank you. My name is Raquel Oden. My current role at the bank is I lead the Northeast for our consumer and wealth management business.
Sam Saperstein:
Toye, tell us about your current role at the bank.
Toye Wigley:
Thank you so much for having me here, really excited to be here representing Women on the Move. I joined the firm in 2011. I like to tell people my trifecta of skills, our strategy, marketing and communications. Started my career in strategy consulting and then transitioned from there into marketing at a digital agency, where my clients were primarily in financial services, also retail.
Toye Wigley:
And I joined the digital agency at a really exciting time because everything was so new. From analytics, I mean just the way that we thought about analytics in the digital space and it's interesting when you're in an exciting time, you don't realize it until after the fact. That's nugget number one.
Toye Wigley:
And from there I actually went client side. As I think about my road to now, my current role is as the head of marketing media and sponsorships for advancing black pathways. Which is a new initiative that launched in February of 2019 that is focused on providing access and opportunity for black America.
Sam Saperstein:
We work very closely together in our respective areas, which has been just a pleasure because I think we've really been able to do a lot more together. What do you think has prepared you for this current role given all your experience in the past? How have you brought it all together for this particular job?
Toye Wigley:
In a previous role, my focus was really in marketing prepaid products. Didn't realize how much that excited me until I transitioned from there and went into a role where I was focused on small businesses and entrepreneurs in LMI communities. By the time I landed at JPMorgan Chase, which I actually landed here based on a colleague who said, there's a role here and I think you'd be great for it. Said, well, I'm not really sure. That's my thing. I'm in marketing and strategy. Communications, executive communications, probably not my forte.
Toye Wigley:
Come on, just meet the leader. I think you too would click. It worked out perfectly. She was about to hire someone that day, and then we met, the stars were aligned. I began doing global executive communications at the firm for several of our operating committee members. Again, not my space, the way we typically do it. A lot of times as women, we say we talk ourselves out of something right before we even know if it's an option.
Toye Wigley:
And so, I tell my nieces who are younger, obviously this often, whether you want it now or not, just go for it because you don't even have an option now. You're definitely not getting it. But it's great to have options. And you want to position yourself for options.
Toye Wigley:
My second nugget is I ended up getting the job, knew nothing about risk management. But I did know that I was creative and I knew that I was an ideas and an execution person. And so I looked at the role from the perspective of when you come into an organization and you're doing a discipline that you hadn't done before and you're like, how do I make risk management legal audit, compliance sexy.
Sam Saperstein:
These were the functions you are there to support.
Toye Wigley:
Exactly. And it was like, hmm, I'm going to treat this like these are marketing projects and this is global communications for our operating committee members.
Sam Saperstein:
Let's go back to something you said there about taking jobs even though you might not have had that direct experience in the past. Before my current role, I was the CMO of one of our businesses and I had never been a CMO before. But I thought I had the ingredients for the job. I had done marketing, I had done communications, I had done things that I thought would be very relevant to this. But to your point, not everybody always thinks I could do it. And especially women, they don't always feel like they can do it unless they have 100% of the qualifications.
Raquel:
I would say that I would state, that has been my career. Generally every 18 months to two years, I take a new role. I've been in this business a little over 20 years and whether it's back office, middle office, front office, different lines of business as you've already heard. I started in investment banking and was an equity trader on a trading desk. Which was considered a premier job at that time. And I decided in that moment, that for me personally that I really realized I connected better with direct clients and I was an investment banker and a trading desk.
Raquel:
But I also knew the internet was going to be a big thing. Believe it or not, there was a time when the internet wasn't a big thing, I'm dating myself, but in that period I decided to go back to school at night. I'd already had an MBA when I started in investment banking, but I went back to school at night to focus on HTML coding.
Sam Saperstein:
You went back to teach yourself coding? You became a programmer?
Raquel:
I did.
Toye Wigley:
I have some coding that I need done now.
Raquel:
By the way, my coding is now dated at this point. I think [crosstalk 00:06:36].
Sam Saperstein:
What language did you learn how to code in?
Raquel:
COBOL. But obviously things change dramatically. But part of it is, like you said, it's that technical skill, right? And I anchored myself and the standpoint of I was an investment banker. I definitely knew the business, I knew the products. And if the internet was going to be the next best thing, I realized I needed the technical skill. Having the opportunity to move over to a wealth management firm where I led internet strategy allowed me a couple things.
Raquel:
One, it allowed me to learn the business because for two reasons to lead internet strategy for firm, there's two things you got to know. You got to know the end client, either way. And I had the opportunity to focus on all of the wealth management clients to understand their needs as we kind of built out an internet platform for them.
Raquel:
And then secondly, once we did that for clients, they had turned around and asked me to do the same thing for our advisors and what better path to then have the ability to go and meet hundreds of advisors to understand their business and how they interact with clients and then build out an internet platform for them.
Raquel:
It's a weird way to say of how I got to the wealth management business and the background that got me there, which was, internet strategy. The biggest piece about banking when you're to enter that business at a very infancy stage is you build an online version day one, right? Because building brick and mortar we know takes longer. And I had the ability to lead and build our banking platform for the first time during that period for wealth management firms, which were pretty common that each were kind of figuring out how they're going to now deliver banking.
Raquel:
Doing that gave me this huge opportunity and part of what I consider as Toye would say, a nugget is always being prepared for that moment. And assuming every presentation you give or everything you do, you're going to give it 110% because you just never know. And this is one of those opportunities where I went into the executive board to present on the internet strategy for the new banking platform. President CEO of the company was there at that meeting, didn't know he'd be there, but he was. Didn't have a relationship with him per se. And literally after the meeting he reached out to my manager and said, I'd love to meet her again.
Sam Saperstein:
How long have you been with the company and the company at that point?
Raquel:
Five years.
Sam Saperstein:
Okay, you're coming in to a meeting with one audience, talking about the strategy and here was a CEO of the whole company.
Raquel:
Happens to be there, happens to be there.
Toye Wigley:
[Pat David 00:00:08:44] used to say, you have to stay ready so you don't have to get ready.
Sam Saperstein:
Get ready. And David was our head of diversity before she left not too long ago.
Raquel:
And I'd probably say the biggest risk I took is one would say this was the best job the world. I'm working for the president of the company, what more could you ask for, who fires themselves? And I fired myself. I had a woman, which was really great, who ran our consumer side of the business, reach out to me and say, hey, I'd love for you to come lead up a new division for us.
Raquel:
And I said, I work for the President. Why would I do that? I'm at the executive committee table. And she said, if you ever want to be president, you need your own P&L. But I think it was having the guidance of that senior woman saying, listen, it was at the prime of a great job in a role to say, take a step back. Focus on your own P&L.
Raquel:
And walking into the President's office and saying, I think I want to take this job. And he goes, no one ever quits from this job. I said, well I now gained an amazing sponsor in you, and that I know. And so I'm not quitting, but we're just going to change our relationship.
Raquel:
And it was definitely one would, I'd say if anything you'll hear women talk about as we think about our careers, right? Part of it is also ensuring that you're really building those amazing mentors and sponsors, right? Because at that level it's critical.
Sam Saperstein:
And we can't have enough mentors and sponsors.
Toye Wigley:
Well they say the mentor is the one you select. The sponsor is the one who selects you, which I think is really an important piece to keep in mind. There are three things. One, you've got to have that grit, right? You got to be willing to work hard. Two know that you're employable. Three, I would say is you're smart and to your point. You learn how to code, but you have to have that grit in order to do it.
Toye Wigley:
But then the most important is that, and I heard this woman say this and I was like, I feel like that sometimes, but I didn't know we could actually say it out loud. Which is, she said, I can work out work anyone. And I said, I feel like that. I know I'm a hard worker. I know what my work ethic is. I know I'm smart, I can come up to speed. But sometimes we will allow our inner voice to talk us out of opportunities that can take us from good to great.
Raquel:
Yeah, and I think as women we're so concerned that we are going to work the hardest and we're going to put her head down. We're going to get it done. But what I think you learn at the senior levels, relationships can absolutely outweigh the technical. And then for sponsors, the key to that too is the difference between mentor and sponsor for me also is a sponsor, someone who has the power to make things happen. A mentor is going to give you guidance and thoughts and feedback, right? But that sponsors that person who can pound the table when you're not there on your behalf. Mention your name when nobody else at the table would have thought of you. And having what I consider, which makes a sponsor so special, they're willing to put their brand on the line for you. Their belief in you to say that I am sponsoring, I want her or him.
Raquel:
And that's what makes it very different. You may not have tons of sponsors in your life, but they're very critical. You'll have many mentors. I entered an industry that just didn't have women. I wish I could have found a woman of color to talk to. I mean it was banking, it was investment banking. It was asset wealth management. It just wasn't there. And I didn't feel abnormal at first.
Raquel:
I knew sponsors and mentors would definitely not look like me. I knew that. But I do think what was critical about it, what was amazing is those moments where there were senior women. I saw those that did reach back and I saw those that didn't. And I think you're going to see that in your career and you've got to decide which one do you want to be. And the ones that didn't reach back, which it's not a mandatory thing. I think it's the right thing to do, but that's going to be your choice. I saw the difference in that.
Raquel:
And those that did and the women that were in my career who were very supportive. I mean honestly, the one that reached out to me and made me make the decision to walk away from working for the President of the company. And there are others. I think part of it is women, is you're going to see great examples and other examples and you've got to decide which one's right for you. And the benefit of knowing not everyone's going to be the same. You'll realize that you got to have relationships on both sides. Men are critically important to relationship building as women are critical to relationship building. Your ability to flow in both worlds is going to be important. You can't afford to isolate yourself in one.
Sam Saperstein:
Do you think you had to be more proactive and asking for feedback among people and managers?
Toye Wigley:
Yes. Yes. I have a very bold personality. Sometimes that's my blind spot is I don't realize like I'm like, hey, how's it going? I'll give you a Texas, hey, some people aren't comfortable with that. And understanding and really trying to kind of course correct in a way where you can still be your authentic self. But adjust where you can flex based on people's comfort levels. And in doing that, being able to go to a manager, what I've heard often in particular from black female talent is that my manager said, everything is great.
Raquel:
Even when you put the pressure on diverse employees to say, well, did you ask for the feedback? And a lot of times they say yes and they say, I'm doing okay. But then when I got to year end review, I still don't understand what happened. I've specifically, while here had a white male manager who had an African American woman who worked for him, who had been here a really long time at this firm that I was at, long time. And had consistent behaviors that I could see that were probably what were derailing her from getting the role. But right, hard grit mind.
Raquel:
But it was missing some core finesses to allow her to be the right person for the next thing and consistently no one would tell her that. And when she came in for this interview where I felt she was, I don't know, three levels below the job, but yet she was in this interview. No one even had the courage to tell her you shouldn't be in this interview. You're not ready. But they're like, just let her go through the process.
Raquel:
Because I think that's the other way we deal with it. We're like, well you got to interview, but we know the person's not of the level or elk to ever get this job. And they're just getting frustrated cause they're interviewing for things and being told no. But rightfully so because no one was not telling them they shouldn't even interview..
Sam Saperstein:
Not getting the straight on why.
Raquel:
And then when I challenged that manager and I said, listen, I'm going to give you permission. And I think diversity begets diversity, I think it's very important to have diverse people and diverse roles to get others comfortable. And say, I am as your manager telling you it's okay and here are the things that you need to take back to her. And I bet you if you give her this feedback, she's going to say it's the best gift she's ever gotten. Because I don't think anyone's ever had the courage to do it.
Raquel:
And he did it. And I will tell you, looking back now, this woman has done so amazing in her career. She's already been promoted twice. They're best of friends, by the way, this manager and this woman, because finally someone was willing and not only give the feedback, but then say, I'm going to have your back to get you where you need to be.
Raquel:
It's easy to tell people what's wrong, but you're also your commitment to say, and here's how I'm going to work with you to fine tune that. And then practice with those mentors. Practice that conversation. Don't wait for that moment to go in and think you're going to just go through it for the first time anecdotally. Use the mentors that way.
Raquel:
That says, you get ready for my mid year or year end. I want to practice with you what it is I'm going to say and how I'm going to approach it and get that feedback before going in. I mean, I think about many times in my career, I've always gotten feedback and make feedback, your friend. But if I think about early in my career, I'd say one of the periods where I was part of a group project we were working on. And our manager came back to me and said, you know we really look at you because you're really strong in execution. And part of feedback is also what's your brand perception. And who do you think you are versus what they think you are, and when he said to me, we go to you because we know you can execute. And I'm thinking to myself, I am so strategic and here it is that I'm now in this box of execution. Which isn't a bad box by the way.
Raquel:
Which really means like if anything's broken or we got to change a process, we come to you because we know you can execute. And I said, yeah, but I can also do the strategy. He's like, really? I never heard that from you. And then I realized, part of it is, if that's the perception, I now know that. Which is important, it's nothing negative on him from what he's saying. And it's important that I portray that.
Raquel:
And it starts with the simple things, I was telling somebody this. Just changing your language and meetings. I realize that the words that I was using in meetings, talking about the project. I'd start a sentence with, well strategically, if we really look at this, right, and we think big picture. We think big picture, right?
Raquel:
And I'm going to get down to the execution. But it was just even me changing my language for them and literally I kid you not, I became the head of global strategy at this firm. And they're like, you have such a great strategic mind. You have the ability to execute. But it was always there. But I didn't realize it wasn't coming across that way and it was great to have someone tells you that. I had time to work in shift things.
Toye Wigley:
I'm going to make a statement and I hope it's not misinterpreted. When I was actually invited to participate in comfortable being uncomfortable conversations. I thought about, and I actually took it to Ashley and I said, look, would love to hear your perspective because I don't want to come off as I'm this Angela Davis, fight the power. Because I believe in the human race period.
Toye Wigley:
I have a particular focus on underrepresented groups such as the Black community with a particular precision focus on Black women. And as I thought about the opportunity, I thought about the chance to really tell my story, meaning I'm one person, but there are so many stories amongst the black community. And I can't speak for everyone at this firm who is black. But I can tell you my journey and my truth.
Toye Wigley:
I hear this from others. My hair is natural and being unapologetically black. Being able to come to work and when I see something that may happen in the news, being able to come in and have some conversations around that at work, to the degree that it is appropriate. I think that's one thing.
Toye Wigley:
Another, as I mentioned, my hair is natural. I actually struggled for years around that and like, no, I need to make my hair straight. I need to blow dry it and flat iron it so that I can acquiesce to mainstream and to the people-
Sam Saperstein:
Look the part.
Toye Wigley:
Exactly. But looking the part, what does that mean?
Sam Saperstein:
Right.
Toye Wigley:
I mean, and I thought I had to have straight hair so that I wasn't questioned. And it wasn't until I talked to it was actually a Dutch man who works at the firm, [Gerben Hooykaas 00:19:05] He said, Toye. Now granted, he's European. And he's like, why do you get so stressed out about your hair being natural? And I said, well because I don't want them to think. He's like Toye. He said, that might be your baggage, but I don't think others really care.
Toye Wigley:
Which I thought was interesting because there was an executive here who when my hair was curly, she definitely would react. And when it was straight she'd just go on and on about how beautiful my hair was. But that was again, she didn't even realize that she was doing anything. When I made the decision that I feel like I've proven myself, I had been promoted at this time and I decided I am wearing my hair natural. When I came to work, I just felt so liberated for a variety of reasons. One because I could come to work, I could go work out. I didn't care if it rained because when I wear my hair straight, remember my hair will go back to the natural. Being able to do that was so empowering to me in a way that I had never felt empowered.
Toye Wigley:
Now I had to step up my game on things like earrings and makeup and things of that nature. But what was beautiful is that then I got other black women coming to me saying, do you feel like they're looking at it? Now when I started going to very senior level meetings, meetings with Risk or whoever, I was like, the bigger my hair, the better I feel and I'm ready for this meeting. Not only is my [crosstalk 00:20:34]
Sam Saperstein:
Think in your mind now you realize that could have been more of your baggage than anybody else's?
Toye Wigley:
It could have been, although there was a white male that came up to me and said, when are you going back to the straight here? And I say, okay, you doing too much, and you need to calm down.
Raquel:
But just, yes. I think part of it is more you than them because I think no matter how you look at it, there will always be a one. How many times do I walk in a room and people think I potentially am the analyst on the team and I'm not leading the group. That's just the unconscious bias that we see in the different world that we live. And I think part of it too is authentic self in the standpoint of being a mother and being a working mother. And being one that is in an industry where primarily it's very male dominated. And I think as women, partly why I always think it's always important is that we are open. I just shared with you guys, I was away this week in Korea with my daughter for her for graduation.
Raquel:
And I have a lot of folks on my team and talking about what it means to give 110% while I'm here. But at the same time, being very clear that I have to give 110% at home as well. Priorities in my life and I tell my directs that's got to be a priority for you as well. There's no reason for any of us to put that aside as if we, this is the only thing we do is work. Because we have a full life and I think the ability to be here every day where our families are sacrificing for us to be here. It's important that we're able to talk about them and they're part of our conversation.
Raquel:
Every staff meeting we start with, we call it PMA, positive mental attitude. What's the thing that was the best moment for you this week? And I promise you, I'd say majority of my team happens to be male. But the entire time it's always about our families. And one of the things that I specifically did with our team is we had a very big focus on women and investing. Why I plugged in on investing as I think you know, we talked about there specifically is part of it is I see this as a crisis for women. Eight out of 10 women based on being widowed or will live longer than their male counterparts are going to be the finance decision maker in their life.
Raquel:
And if eight out of 10 women at some point or going to have to be the financial decision makers. And when you look at the confidence of women when it comes to investing. And we know that confidence level is somewhere around 61% of women do not feel confident in managing finances. You have to say that factually it's going to happen. And yet you've got a 61% massive audience that's saying they're not confident and aren't ready for it, but it's going to happen.
Sam Saperstein:
And on top of that, we see in our own data too, that women have less investible assets than men do and lessen savings. It actually is a problem that we can see.
Toye Wigley:
Yes, around women have less. And obviously I'm focused on Advancing Black Pathways, when you actually start to look at black women, it gets even lower. For example, in 2016 the average white woman had 43,000 more in retirement savings than the average Black woman. The average white woman has nearly 10 times as many non-retirement financial assets like stocks and bonds than the average black woman. The numbers are low for women, but then when you start to be more targeted on black limit, they're even lower. And we know that 80% of Black mothers are the CFOs of their household.
Toye Wigley:
And so to your original question, which was how do we start to tackle this? And I think your point was spot on. The best way to eat a whale is one bite at a time. One you have Raquel and the work that she's doing around women and wealth. We have currency conversations, which is a very targeted intergenerational conversation with black women around the topic of money. Planning, spending, saving, investing, and starting to have those intergenerational conversations because I think culturally it's been a bit of a taboo. And what we're trying to do is saying it's okay.
Raquel:
Having a relationship with someone you can trust. And that is the core of what giving advice and being advisors and being bankers are, that is their purpose. Which is one, understanding everybody's why and being that trusted advisor. And I think that's the word we use a lot because we want to give advice and support and being comfortable having that vulnerable discussion.
Raquel:
Because basically by me telling you what I'm hoping for it, that's kind of very personal if you really think about it.
Sam Saperstein:
Absolutely.
Toye Wigley:
It's a safe space and that's how I define it. It's a safe space. Whether it's with a banker or whether it's with a friend, what we want to do is inspire these conversations. I think as women we need to not just look at what's in the box, but we need to look at what's out the box. And I think as women we need to start asking more questions and understand whether that's at the doctor's office or whether it's at the bank. We need to start asking questions and not be apologetic about it. Oh, I'm so sorry. Have you seem your copay? You better some questions.
Toye Wigley:
And I say that I say it jokingly, but I am very serious about it because I think there's a way to ask a question where you're not challenging people. But you can say, well, as it relates to my compensation, have we looked at what the market bears? Can we talk about that? People are afraid to talk about those type of things.
Raquel:
I think it's one of the most empowering thing as women. I'm very, very clear about that too, is do not underestimate your friendships. Whether in work or out of work. I think as women it is a secret weapon that somehow we don't realize is something you should not push away. It is critical because we are talkers. We talk things through. And your girlfriend friendships outside of work are critically important is just as much as your girlfriend friendships in work.
Toye Wigley:
I love that. And one of the things I started doing maybe two years ago is not making it about fashion. But when I see women who have something like, Oh, I'm like ooh, I love that. And it's authentic. But the reason I do that is because sometimes that can be the difference in I have been having a sucky day and I just needed that little piece of sunshine. Thank you. Just being more supportive of women because sometimes we are in these meetings by ourselves and while you make it through and you make it through strong, you still want that encouragement. And not padding of the ego, but just knowing we got you.
Sam Saperstein:
Toye and Racquel, thank you so much for being here. I think we covered a lot of ground and this was internal, external, personal, professional. It was great to talk to both of you here.
Toye Wigley:
Thanks again for having us. This was a fantastic time.
Raquel:
Great way to spend the afternoon with Women on the Move.
Sam Saperstein:
Thanks to Racquel Oden and Toye Wigley for sharing their honest experiences and perspectives. What a fantastic conversation to end this first season on, and thank you for tuning into the series. Women on the Move exists because all of us at JPMorgan Chase wants to see women be successful in their professional and personal lives. Our goal has been to introduce you to people with great ideas, inspiring stories, and a passion to make a difference.
Sam Saperstein:
We hope you enjoyed this podcast. We hope you enjoyed this podcast. On behalf of JP Morgan Chase's Women on the Move, I'm Sam Saperstein.
Subscribe