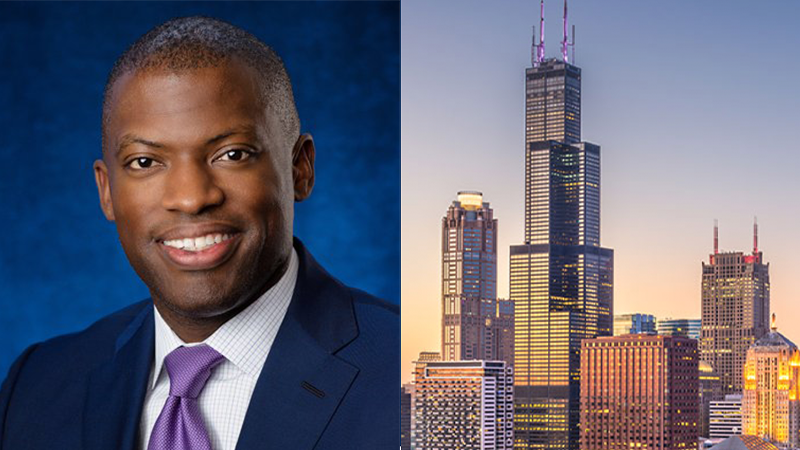 Op-Ed
Chicago Native and JPMorgan Chase Executive Curtis Reed Reflects on the Impact of Our Commitment in Chicago
Last October, I was honored to share the stage with Mayor Lightfoot and We Rise Together, representing JPMorgan Chase as the bank announced a $600 million commitment to increase homeownership for 3,000 Black, Latino and Hispanic families in Chicago. This announcement was a part of a larger, five-year $30 billion national commitment the company made to advance racial equity. To be a part of such important work was a professional and personal highlight for me, having grown up in the Chicagoland area and witnessing first-hand the inequities for people of color in the community.
I was fortunate -- raised in a middleclass family with parents who moved to the area to provide a better life for their children. Although we had resources and support, it didn't change the fact that I was always viewed a certain way because of the color of my skin.
My father taught me early on that I needed to work twice as hard and leave no doubt when competing – win so convincingly that the results don't need to go to a photo finish. He also taught me the unfortunate realities around dealing with law enforcement and the racial biases that we're still coming to terms with as a country. Armed with this knowledge, I went to college and pursued a career in banking – and still dealt with discrimination along the way.
But I grew up seeing people who look just like me on the South and West sides of Chicago who didn't have that support growing up. They continue to face generational barriers to building wealth and stability without sufficient tools and support to help them along the way.
That's what our commitment seeks to change, by focusing on expanding opportunities for Black, Hispanic and Latino people in key areas that help build wealth in areas like homeownership, affordable housing, small business growth, financial health, and access to banking. It is why we recently created the role of Community Home Lending Advisor to help more customers achieve the goal of homeownership. A new team of 10 now serve as experts in hyper-local housing assistance and down payment assistance programs in underserved areas of Chicago.
It is why we doubled our homebuyer grant to $5,000 to help customers with upfront costs of buying a new home — available in 412 majority Black census tracts in the Chicago area.
It is why earlier this year we opened our community inspired branch in the South Shore neighborhood to offer free financial health resources like skills training, small business pop-ups, and fintech innovation to local residents.
It is why we recently hired five Community Managers, in neighborhoods like Stony Island, Chatham and Brighton Park to engage the community, increase awareness of available resources, and help connect local residents with financial health tools, products and services.
It is why we piloted a nationwide program in Chicago to help entrepreneurs in historically underserved areas access coaching, technical assistance and capital. Chase small business consultants will provide over 1,500 Black and Brown-owned small businesses with 1:1 mentorship and digital education to help grow their businesses.
It is why in June, JPMorgan Chase announced a new $150 million, five-year commitment in philanthropic capital and low-cost loans to Chicago's South and West sides. That brings our total business and philanthropic investments toward Black, Latino, Hispanic and other underserved communities in Chicago to $800 million by the end of 2025.
These and other steps reflect our commitment to investing in Chicago and working with local officials, community partners and others in the community to help address structural economic and racial disparities in lending, including helping more people achieve affordable, sustainable homeownership.
It has been inspiring to see this work play out over the past year- work that so many of my colleagues are passionate about. I've been overwhelmed by the response from our community partners, non-profits, public officials and other businesses wanting to get involved. But we need to keep pushing and know that the hard work is ahead of us to get Chicago to where we all know it needs to be. This means investing in our employees, building larger coalitions and working with policymakers to tailor programs that help Black, Latino and Hispanic people across the economic spectrum build wealth.
It touches me personally to think about the journey that we have been on from 2020 in the wake of George Floyd's murder, because for too many of us this is deeply personal. The country came together and stood up – across racial lines – to protest. I marched with my children with thousands of others in my community and felt emotional thinking about my grandmother marching in Mississippi for the right to vote in the 1960s. It underscores that the fight for racial equity continues but it also says that we're making progress. I am proud to be a part of a company that recognizes this and uses its resources and expertise to continue this work to help close the racial wealth gap. And to work alongside a team of people who live and breathe this effort to help drive inclusive economic growth in our community and others like it is a reason for hope.