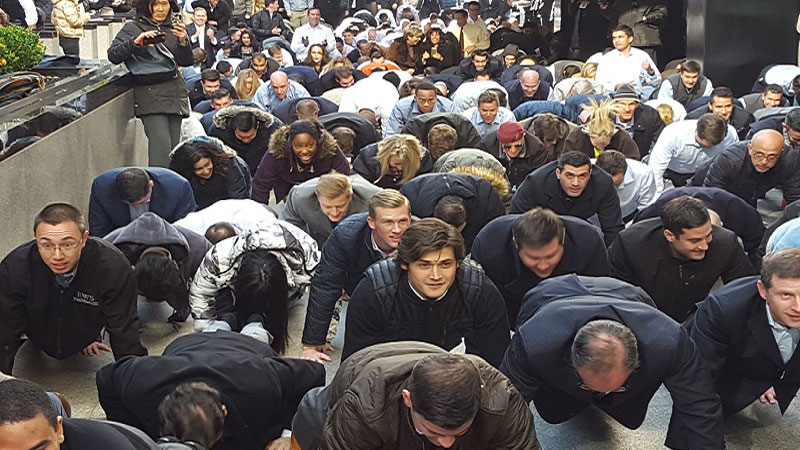 Stories
Pushup Challenge for a Good Cause
Employees across the company participated in the 20 pushups challenge in support of our commitment in hiring and retaining veterans.
In honor of Veterans Day, Citibank approached JPMorgan Chase with a good-hearted ask for a worthy cause – to capture employees on video doing 20 pushups in support of veteran employment and retention. Employees across the company dropped to the ground to give them 20 and raise awareness for transitioning veterans.
This is a part of the #GiveThem20 social challenge. The initiative was started by American Corporate Partners, a nonprofit that helps returning veterans build their post-military careers. Celebrities, athletes, universities, corporations and Americans across the country have taken to social media to share their videos and show their support.
"It was an honor to participate in the #GiveThem20 challenge and to have some fun in the name of a good cause in support of our veterans and their transition to civil life," said Wesley DeMauro, who heads up the VETS Business Resource Group for tristate area employees.
JPMorgan Chase is a leader in veterans' recruiting. In 2011, we co-founded the Veteran Jobs Mission with ten other companies. The coalition now includes 235 Fortune 500 companies pledging to hire one million veterans, with 365,000 already hired.
"It was great to see so many employees come out to help raise awareness for veterans during this challenge. This is just one small example of the work we do each and every day to uplift our service members and veterans, helping them secure meaningful employment, small business capacity and more."
—Ross Brown, head of Military & Veterans Affairs
Head of Military and Veterans Affairs Ross Brown helped rally the crowd of hundreds of employees in New York City. Teams in Austin, Texas; Illinois; Los Angeles; Louisiana; and San Diego also took the challenge.
Learn more about our commitment in hiring and retaining veterans.