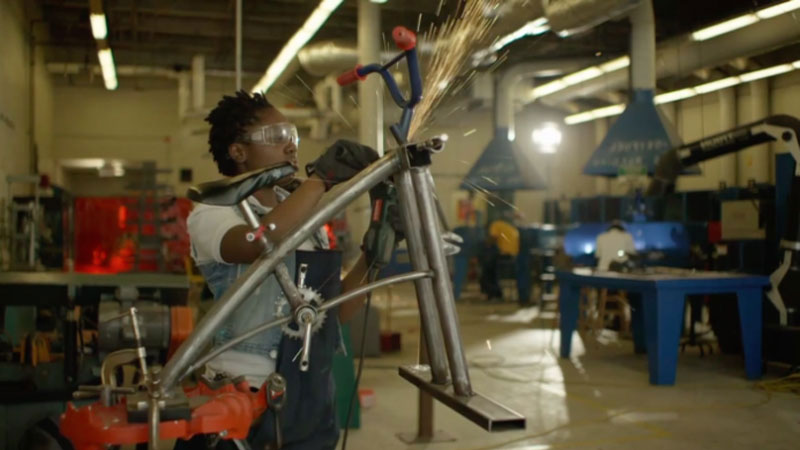 Insights
Investing in Youth, Key to Baltimore's Development
The summer months are upon us — a time when millions of young people are out of school, a critical time to engage them in opportunities that lay the pathway for a healthy and successful adulthood.

Summer jobs have been shown to have tremendous positive impact on young adults. They open doors to future year-round employment opportunities by providing hands-on experience and allowing students to work alongside professional mentors and role-models that so many of them desperately need. Employment helps young people discover the satisfactions and responsibilities of work, helps them explore career pathways — and ignites motivation to achieve their goals.
The benefits are far from seasonal, they are wide reaching and can have profound impact in cities like Baltimore, where too many residents live in poverty and lack access to opportunity. In addition to skills development, summer jobs contribute to reduced involvement in the juvenile and criminal justice system, improved school attendance and educational outcomes as well as increased earnings. Teenagers who work during the summer are 86 percent more likely to have a job the following year and receive an 11 percent salary increase eight years after high school. These types of experiences begin a young person's lifelong process of increasing earning potential and supporting their ability to climb the economic ladder.
The big challenge here is that the U.S. has seen precipitous decline in youth employment — peak summer employment for teens has fallen to 34.3 percent over the past 20 years, which is a 37 percent decline and near record-low. These trends are hitting low-income communities the hardest. And the lack of employment opportunity for lower-income young people and minorities is likely to have a significant effect on their adult years and the overall health of communities.
At JPMorgan Chase, we believe that such complex social and economic challenges require collaborative solutions and active engagement from the private sector. And we believe that we have a fundamental responsibility to help address such challenges.
This is why we made a $175,000 commitment to the city of Baltimore to help achieve its goal to provide summer jobs to at least 8,000 young people, who registered for YouthWorks, one of the city's summer jobs program. The program provides young people with a five-week summer employment opportunity that helps them gain basic workforce readiness and career-specific skills in a wide variety of industries, including: healthcare and social assistance, hospitality/tourism, finance, construction, law and government.
JPMorgan Chase sees tremendous value in these opportunities. Over the past two years, we have provided more than $5.8 million to support summer youth employment programs. Last year, this funding supported 21 summer youth employment programs in 16 cities, benefiting 3,200 teenagers and young adults in the U.S. These efforts are part of our firm's long-term global commitments to drive inclusive economic growth in the communities where we live and work.
The challenges facing the city of Baltimore are the types of challenges facing many cities across the U.S. While the issues are complex, they are issues we can solve.
We are seeing tremendous progress in cities like Detroit where we have been deeply involved in significant efforts to revitalize the city. We have learned that genuine collaboration across sectors and investing in workforce development are key ingredients to effective approaches that yield real results.
We have seen first-hand the difference we can make in communities when leaders from the business, nonprofit, government and philanthropic communities set aside their differences, get together to use their unique capabilities for a common cause that benefits us all. Through this collaborative approach, we are spurring Detroit's turnaround by providing job seekers with training and support to get them on a path to rewarding careers, we are helping stabilize neighborhoods and empowering minority-owned small businesses with the capital and guidance they need to get off the ground and become engines of growth.
Expanding economic opportunity to those being left behind in today's economy has enormous long-term benefits for families, communities and the overall economy. By investing in youth, we create a powerful impetus for promoting economic mobility and creating widely shared prosperity.
In short, ensuring young people reach their full potential is not only the right thing to do, it is the smart thing to do. That is why we see investing in the future of youth as investing in our future.
About the author:
Peter Scher is Chairman of the Mid-Atlantic region at JPMorgan Chase & Co.