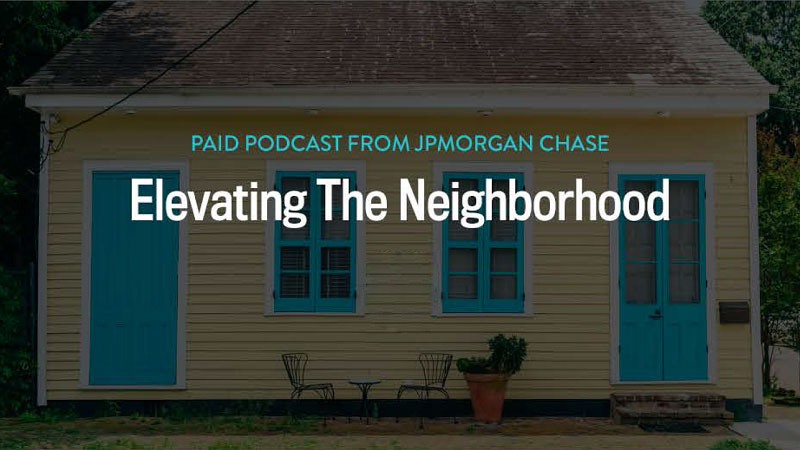 Stories
Why Our Podcast Discussions Are Crucial In Helping Elevate Your Neighborhood
We help cities like Detroit, New Orleans and Seattle thrive. See how we are invested in community and city development through "Placemakers", a new podcast series by Slate/Panoply with our support.
Did you ever wonder how new technologies, the arts or even the perfect commute will change the cities of the future?
Since we have been on the forefront of innovation for over 200 years, those are just some of the topics of a new podcast series launched with our support by Slate/Panoply, a leading podcast network that partners with companies such as Sports Illustrated, The Wall Street Journal and Vox.
The podcast series is called "Placemakers" and includes 18 editorial episodes (20-30 minutes in length) sponsored by us and created by Slate/Panoply. People behind city innovation all around the country will be interviewed in each episode. Areas of focus include transportation, economics, technology and healthcare.
Peppered throughout the series' run (August-December) are three custom episodes focused entirely on how our knowledge, commitment and expertise extends into the communities where we live and work. These five-10 minute stand-alone shows will feature our very own employees discussing firm-funded initiatives in Detroit (9/12), New Orleans (10/31) and Seattle (12/5).
"Our own experts (including Tosha Tabron, relationship manager for JPMorgan Chase global philanthropy, Chuck Weinstock, senior commercial banker for the Chase community development bank, and Greg Rattler, senior commercial banker for JPMorgan Chase) have been interviewed and the content dives into these three places where we have significant depth in our involvement with the community," said Laura Rossi, head of corporate marketing.
Podcasts are quickly growing in popularity, and we wanted to be one of the first companies to test the platform.
Laura Rossi, head of corporate marketing
Podcast consumption increased by 22 percent from 2006 to 2015, and podcast listeners are notoriously devoted to the medium. "If you listen to one, you're very likely to listen to five or six of them each week, much the way people binge watch Netflix shows. People tune into podcasts on their commute, on the treadmill and when they're cooking. Once they identify a series they like, they are incredibly loyal. We selected to work with Panoply because of the quality of their content and due to the respect the industry has for them. Plus, their distribution network is incredibly strong."
The launch of the podcast is an exciting opportunity to share our story, Rossi said. "I hope loyal podcast listeners will be genuinely interested to learn about the firm's deep impact in communities around the country. It might help them see the firm in a different light.
For a sneak peek into how we are invested in Seattle, listen to our latest custom episode.