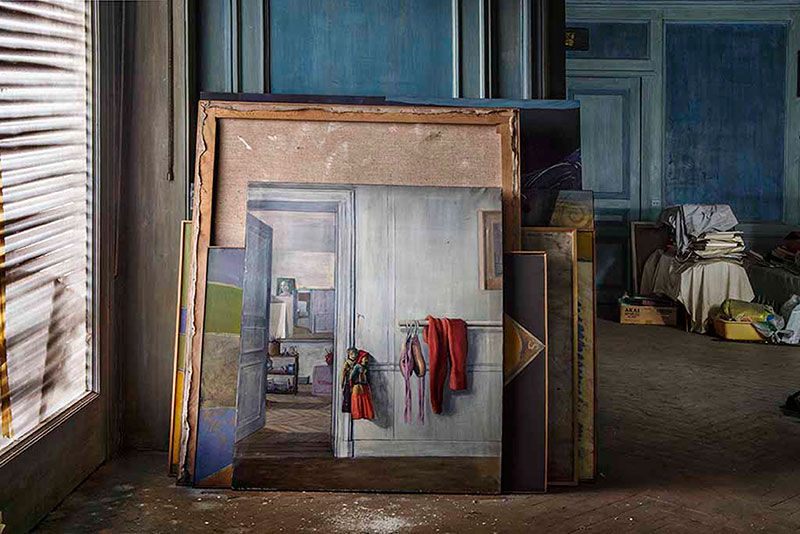 Stories
PhotoPlay: Pictures-in-Pictures
The JPMorgan Chase Art Collection returns for a 6th photo exhibition at the Grand Palais.
For two decades, collectors, artists and gallery owners from around the globe have gathered in Paris for photography's most prestigious art fair. A partner of Paris Photo for the sixth consecutive year, J.P. Morgan Private Bank was pleased to offer a series of special features that spotlight the artists and their works, as well as the Fair's possibilities for discovery.
While every photograph offers a narrative, one that contains another image within it holds even greater storytelling possibilities. That is the idea behind PhotoPlay: Pictures-in-Pictures, this year's exhibition for Paris Photo, the world's largest international fair devoted to photography and photo-based art.
As one of the leading sponsors of Paris Photo, J.P. Morgan was invited to curate an exhibition again this year, as we have for the past five years. Previous exhibitions have explored vernacular photography, portraiture, photographers as performers, and the nature of time.
The vision of the late Lisa K. Erf, Director and Chief Curator of the JPMorgan Chase Art Collection 2004–2016, PhotoPlay includes 22 works from the Collection. With the idea of a "picture within a picture" as her guide, Ms. Erf sifted through hundreds of photographs to select works by artists such as Tina Barney. Her image, The Reception (1985), captures her sister on her wedding day, with her hands clutching a handbag in a gesture similar to that of Angel Fernandez de Soto, the portrait by Picasso hanging on a wall behind her. An Impressionist painting of three apples also echoes the composition of the three people in the room.
Rooms of Memories
Another artist Ms. Erf selected is Spanish artist Miguel Soler-Roig. His Room within a room (2014) is part of a series of photographs Mr. Soler-Roig took documenting his childhood home in Barcelona. Inspired by a return to the space after a 35-year absence, he created images of different rooms that evoke past experiences.
"Dominating the scene are several paintings stacked against a wall," says Mark S. Roe, Head Curator, JPMorgan Chase Art Collection. "In the forefront is an image of a ballet studio with an open door leading to the room beyond. And past the stack of paintings, you see another room also long abandoned, with furniture draped in cloths, and things gathered in boxes and other containers. These rooms within rooms mimic how our memories often nest together, one within another."
A Fresh Look at Museum Artworks
Another artist who made a practice of studying the effect of images within images is Thomas Struth, a German photographer known for his urban scenes and portraits. He began creating his now-famous Museum series in 1989, which inspires a fresh view of paintings in museums. Over a period of several years, he traveled to six different countries, photographing museum-goers using a large-format camera to create images with great depth of field and a quality reminiscent of the Old Masters paintings he often features. "The series begins by asking what, exactly, we see and experience when we look at art in museums today," says Mr. Roe.
A Tri-part Experience
For example, in Kunsthistorisches Museum III (Vienna 1989), (1989), an elderly man stands in front of two Rembrandt portraits as though privately conversing with them: Seated man with a loose ruff collar (ca. 1633) and its companion painting, Woman looking at her husband (ca. 1633). The hands of all three stand out: those of the white-haired man clasped behind his back, the hand of the Rembrandt man extended toward the woman in the portrait to the right, whose hands rest in her lap, her gloves clasped in one hand.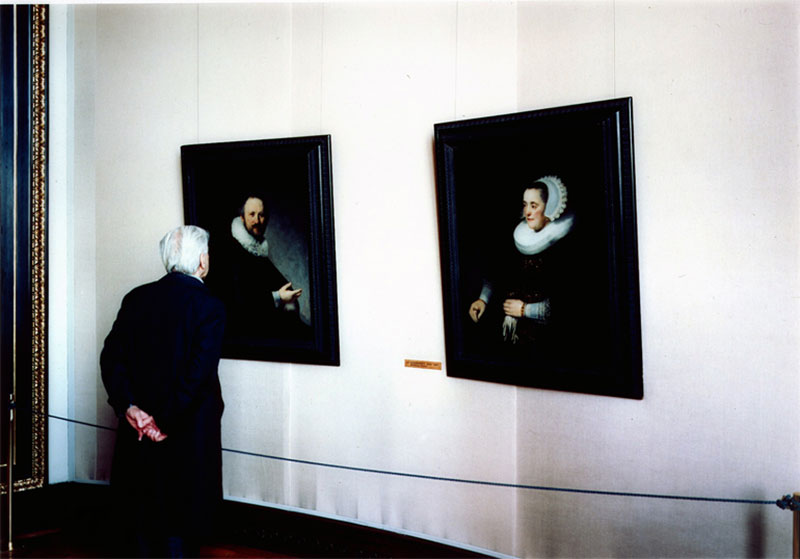 Thomas Struth (German, b. 1954), Kunsthistorisches Museum III (Vienna 1989), 1989, C-print, 57 1/16 x 73 5/8 inches (144.9 x 187 cm), JPMorgan Chase Art Collection, © 2016 Marian Goodman Gallery.
Struth's approach is that of a witness. Unstaged for the most part, the Museum series photographs bring together a tri-part experience: to view the original work itself, to view the visitors who contemplate the work, and then to take in the overall composition. "And we, in viewing others contemplating art and imagining their experience, have a heightened sense of our own in the moment," says Mr. Roe.
Overall, he continues, "the exhibition PhotoPlay: Pictures-in-Pictures reminds us of the storytelling possibilities of imagery, and brings together works that invite multiple viewings."