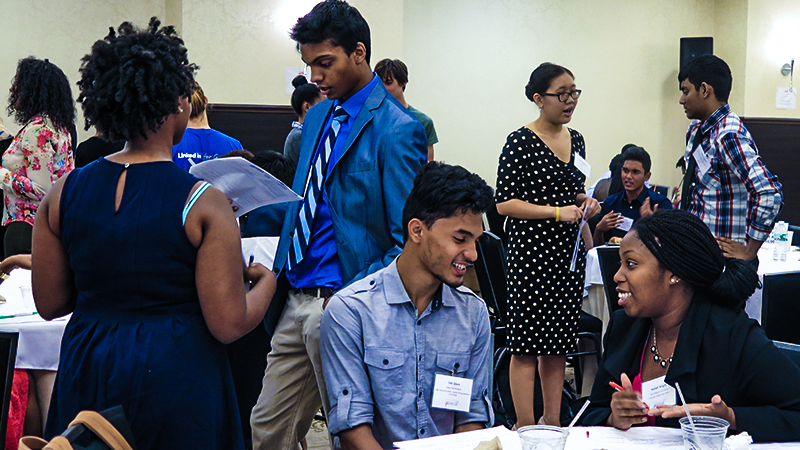 Stories
PENCIL Equips Tomorrow's Business Leaders with Tools for Success
A local program connects business leaders and educators with students to help develop essential career skills.
When 22-year-old Anthony Louis was first introduced to PENCIL, a leading non-profit that forges creative models of collaboration between the business and education communities of New York City, he was a senior at Sheepshead Bay High School in Brooklyn. His professional experience then was limited to handing out flyers for local businesses. Today, he is giving back to his community by teaching others the skills necessary to succeed in the business world.
"College was never a sure thing for me," Anthony recalls. "I thought I'd join the military or that running track & field might be my ticket, as those were the only opportunities for minority youth in my community. But PENCIL provided a whole new path."
In 1995, PENCIL launched Principal for a Day1, a campaign that brought business and community leaders into New York City's public schools to raise awareness about the challenges facing public education. Twenty years later, PENCIL has adapted to the evolving needs of the business and education communities, focusing in particular on college and career readiness as an area of need where the business community can play a critical role in building the capacity of schools and students.
PENCIL has two core programs-the School Partnership Program and the PENCIL Fellows Summer Internship Program for high school juniors and seniors, an intensive career training program that includes a six-week paid internship at a company in New York City. In 2015, with a staff of only 30, PENCIL worked with 1,250 business volunteers to directly serve 1,500 public school students across all five boroughs of New York.
"PENCIL's purpose is to open doors for students through initiatives like our Fellows Program," said David Weiner, President of PENCIL. "We are thrilled to see students like Anthony achieve so much at a young age. We're intent upon fostering more lasting relationships between New York's public school students and companies like JPMorgan Chase. The staff of PENCIL and I are excited to continue to grow that work."
Through PENCIL, Anthony cultivated skills such as resume writing, interviewing techniques and communication etiquette in a welcoming and inspiring atmosphere.
"I found a second home there, it was a professional development factory for me. But more than that, I gained a new sense of passion."
Anthony Louis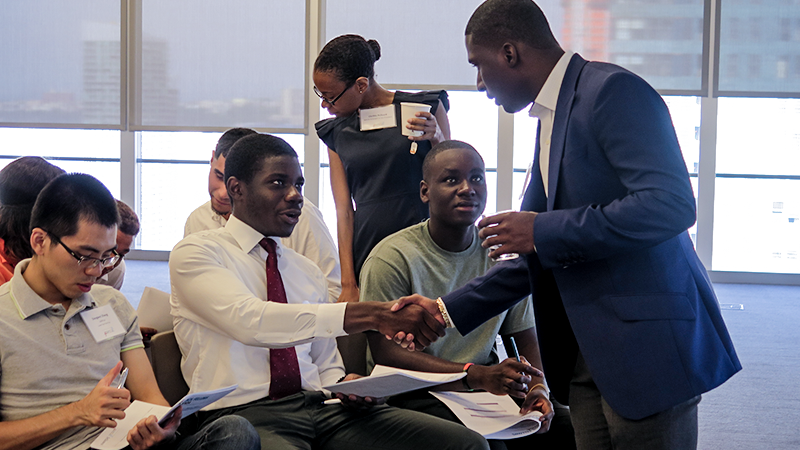 Anthony returns to a JPMC-facilitated financial literacy workshop to meet with 2015 PENCIL Fellows and share his own experience.
Through a collaboration between JPMorgan Chase and PENCIL, Anthony was able to intern in the Global Real Estate Group starting from when he was in high school and continuing throughout college. This opportunity allowed him to build his skill sets and gain an even better understanding of a fast-paced business environment. He has accepted a full time position at our company that will begin after he graduates from college this spring.
Anthony's also building a personal brand as a writer. His experience has inspired him to help others and he is currently in the process of publishing a book that will share the skills he has learned through PENCIL. Much of the book's proceeds will fund scholarships for young people in his community to attend similar programs.
PENCIL's mission is a perfect fit for JPMorgan Chase's New Skills at Work initiative, a five-year, $250 million2 program that strives to close the skills gap and develop opportunities for low-income youth across the globe.
"We saw an opportunity to support that movement on the local level in the New York City area," said Michelle Henry, Vice President, Global Philanthropy at JPMorgan Chase. "So in 2015, The JPMorgan Chase Foundation invested over $400,000 in PENCIL and four other summer youth employment initiatives to fill paid internships." Our employees at the company also volunteered their time to provide financial literacy training to 700 students, and eight students from these programs joined our JPMorgan Chase staff as interns at the firm.
Anthony credits the sense of synergy between PENCIL and partners like JPMorgan Chase as the driving force behind its success. "The people at JPMorgan Chase greeted me with open arms and are personally dedicated to the vision of PENCIL," he says. "The teamwork of a non-profit and a company that does business with a conscience allows for amazing changes in an environment that needs it."
---
By Lin Rice
Lin Rice lives in Columbus, OH, where he works as a freelance writer and reporter focused on the business community.
For more information, visit: www.pencil.org (Opens Overlay)
---