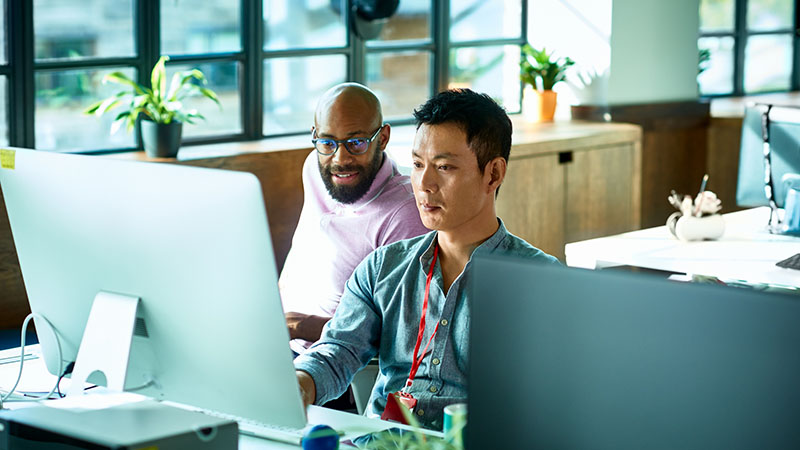 Stories
Our global help desk for employees with disabilities takes flight
This team is dedicated solely to delivering the assistive technology that employees with disabilities need to be successful.
Syed Abbas is on a mission to boldly go where no one has gone before at JPMorgan Chase.
When his mission launched in early 2021, there were no rockets blasting off — but for thousands of employees across the globe, it signified a watershed moment.
Never in the firm's history has a team been dedicated solely to delivering the assistive technology that employees with disabilities need to perform their jobs.
"Simply put, our team provides tailor-made technology solutions that enable our colleagues to showcase their abilities, regardless of their disabilities," says Abbas, a vice president with the firm's Technology Operations group, who is based in London.
"This team's formation reaffirms JPMorgan Chase's commitment to being best in class in everything we do — and of course that includes diversity and inclusion."
In the past, different groups in different departments in different parts of the globe — armed with good intentions — worked to deploy assistive technology solutions with varying degrees of success: Sometimes a tool was delivered but it was difficult to find someone to install it; other times a piece of software proved incompatible with firmwide systems.
And, at times, technicians with the firm's enterprise-wide help desk needed to find the right subject matter expert to assess the need — or fix a problem.
"While we have definitely gotten better at providing support, we know there is always room for improvement," says Danielle DiTalia, head of Employee Experience for the firm's Global Technology organization.
And that's where Abbas' six-person team comes in.
With technicians located in each region, they own the process end to end, with support available 24 hours a day, seven days a week. They're also well familiar with the firm's assistive tech tools — including screen readers, hearing aid connectors and speech recognition software — and all such requests are now routed expeditiously their way.
But the new dedicated help desk is only one of the technology advancements underway for employees with disabilities at JPMorgan Chase.
The firm's Global Technology Employee Experience Accessibility team and Office of Disability Inclusion are partnering closely to make sure inclusive technology is embedded in the firm's control frameworks and enabled through automation as much as possible.
And that includes holding Global Technology accountable, as well as the firm's technology partners, for making sure all proprietary and off-the-shelf software is inclusive and accessible.
"There's no reason today that a software provider should be offering and selling a product that's not accessible," DiTalia says.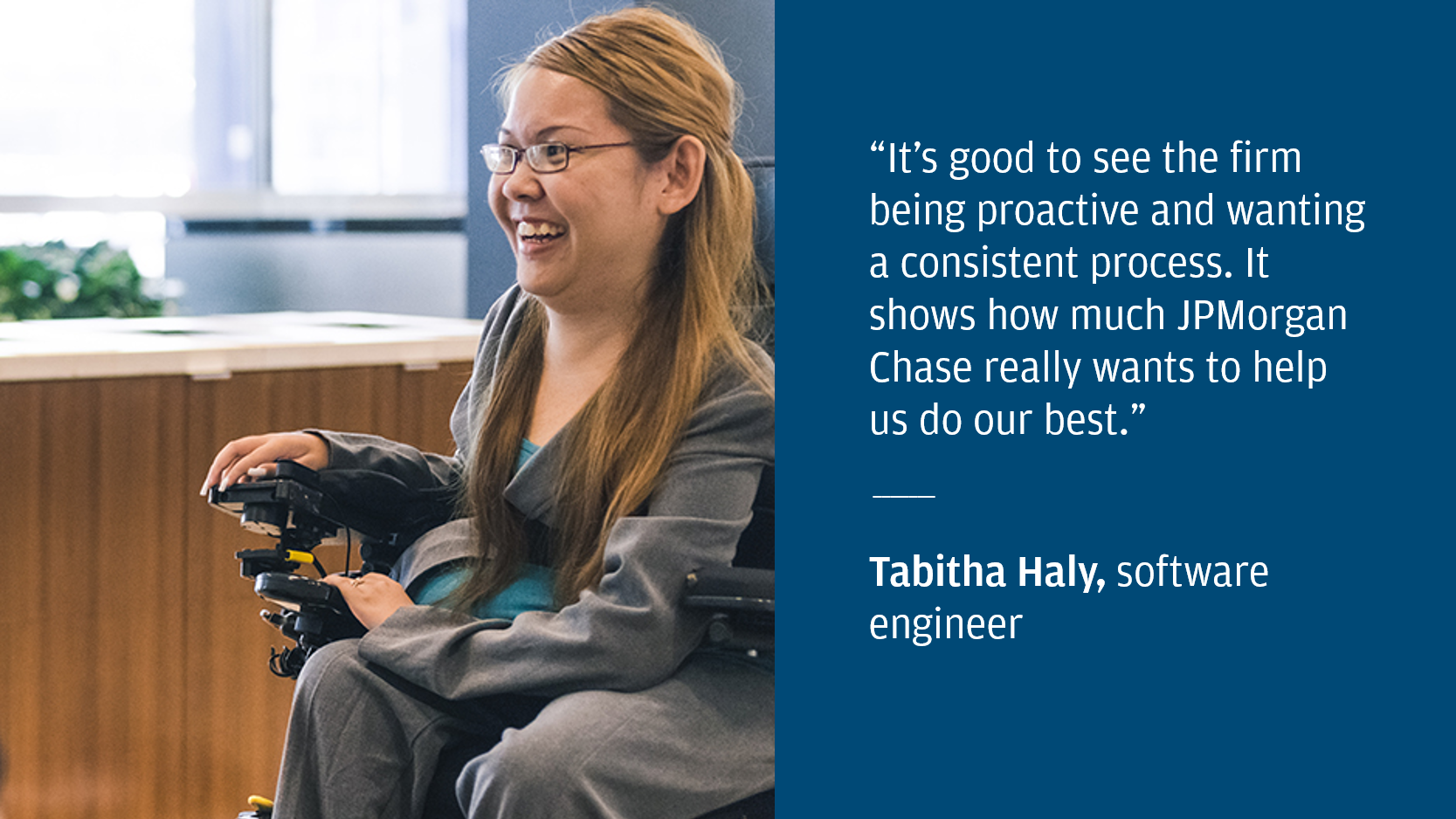 Assistive technology and inclusive software solutions make all the difference for employees such as Tabitha Haly who require accommodations to perform their daily work.
"It's good to see the firm being proactive and wanting a consistent process," says Haly, a software engineer who has a form of muscular dystrophy that leads to progressive muscle weakness. "It shows how much JPMorgan Chase really wants to help us do our best."
Haly uses assistive technologies including Dragon NaturallySpeaking speech recognition software, an on-screen keyboard and a mouse cursor to do her job.
DiTalia says education and awareness are key to continuously improving the firm's inclusive technology and accommodations process. It's important for the firm's software engineers and developers — who are delivering solutions daily — to prioritize inclusive design just as cyber safeguards are now a non-negotiable.
"And feedback is a gift," she says. "We need to continuously listen, understand and learn from what our employees are experiencing."
"We all want to know where we're still not getting it quite right — and where we have opportunities to improve — because feedback is key to drive an employee experience that's second to none."