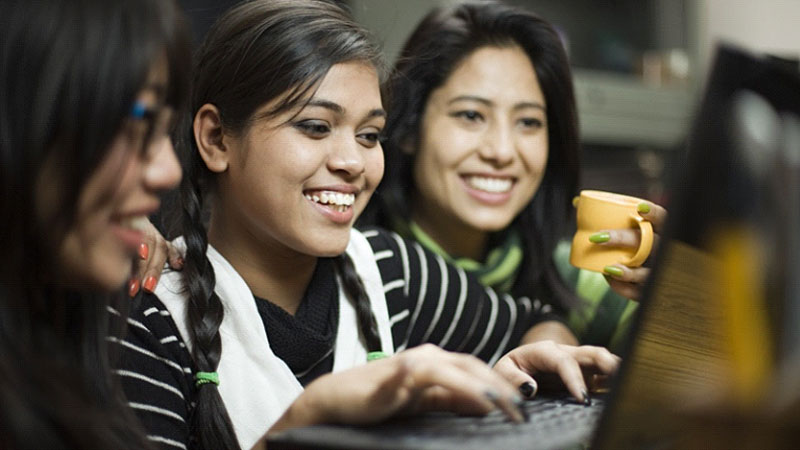 Stories
Organizations Are Working Together to Bring Girl Power to India
Private institutions are bringing together capital, tech and philanthropy to create economic opportunity for women.
This article was originally published by Ozy.
For years, Jugnu Jain worked at Vertex Pharmaceuticals, a successful drug-discovery company in Massachusetts. But when Jain learned that her home country of India did not have any accessible biobanks — which are important institutions that help provide medical research and cures for diseases — she decided to take matters into her own hands. She moved back to India and co-founded Sapien Biosciences — Asia's first commercial biobank. To be at the forefront of anything is impressive, but what Jain accomplished as a female entrepreneur in India was even more remarkable.
Across India, a series of financial and social roadblocks continue to hinder the rise of young, middle-class female entrepreneurs. There's stiff competition in a population of 1.3 billion, and women face additional challenges posed by the expectation of early marriage and less financial freedom and empowerment. But given the opportunity, this untapped potential that women represent could significantly accelerate the growth of India's economy. Just last year, the Organization for Economic Cooperation and Development advised India that:
Enabling the female labor force population alone could help set the nation on a path toward 8 percent GDP growth.
Luckily, the private sector is also seeing this gap as an opportunity to help by lending their expertise. Earlier this year, J.P. Morgan and the Indian Institute of Management Ahmedabad's Centre for Innovation Incubation and Entrepreneurship announced their collaboration to set up a Financial Inclusion Lab. Inspired by the Financial Solutions Lab in the U.S., this Lab is part of a $9.5 million initiative aimed at identifying and scaling early-stage fintech start-ups focused on helping lower and middle income individuals in India — who earn between $2 and $10 per day — manage their financial health. The Lab will announce its inaugural cohort of start-ups later this month in New Delhi.
And it's not just the private sector joining in: nonprofits also are playing a key role in the growth of India's economy. For example, Katalyst, an initiative of Human Capital for Third Sector, was founded in India ten years ago with the intent of helping women emerge from low-income communities through professional education. Through partnerships with organizations like JPMorgan Chase, Katalyst is preparing young women pursuing STEM education for leadership roles by giving them specialized technical and professional skills, mentorship support, industry exposure and corporate interactions.
For example, Katalyst participated in JPMorgan Chase's Code for Good program in India, where more than 200 of India's top technology students worked with JPMorgan Chase employees to come up with innovative technology solutions for various nonprofits. Creative ideas that came out of that Code for Good event were carried forward in a program called Force for Good, where JPMorgan Chase technologists in India built out a fully usable technology solution that Katalyst could sustain. The outcome? An online mentoring platform that helps identify mature, educated women from various professional fields and pairs them with other women looking for career guidance and exposure to new experiences and perspectives. This collaboration with Katalyst is just one example of ways that private institutions are bringing together capital, tech and philanthropy to create economic opportunity for women.
This focus on providing underserved populations with the tools and skills they need to break through is contributing to a changed reality. A growing number of companies in India have "started to understand the benefits of a diverse workforce," says Ravina Mutha, co-founder of Mike Messenger, an India-based tech startup. These companies are "offering incentives such as increased employee referral bonuses and female-friendly insurance policies (i.e. maternity leave), all of which have helped accelerate new employee initiatives."
Of course, the challenges encountered by female founders in India are not unique. "Women founders in India face many of the same barriers that women entrepreneurs face across the world," says Allyson Kapin, founder of Women Who Tech. "Their talent is underrated simply because they are women, despite their innovative products solving the world's toughest problems as well as their determination and grit to succeed." By teaming up with other organizations, JPMorgan Chase is helping combat this disparity and serving as an example to others who can do their part to level the playing field for women.
"Startups founded and led by women entrepreneurs such as CashKaro and Zivame have made a huge change in the way Indian society thinks and acts when it comes to women in business," says Mutha.
And that's good news not only for women in India, but for women all over the globe.