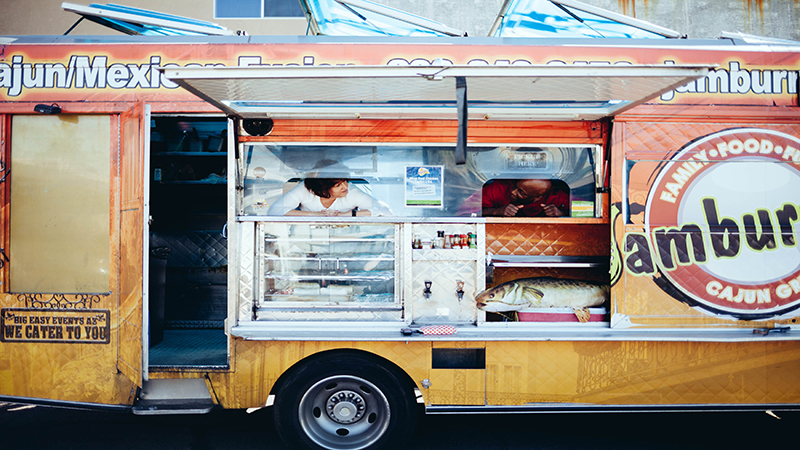 Stories
Growing City Economies Through Culture
By Allison Arieff | Produced by Politico for JPMorgan Chase & Co.
Phoenix — It's Friday and food trucks line the downtown streets serving crowds of weekend-ready customers. Chef Michael Brown is serving his locally renowned "Jamburritos" – jambalaya wrapped up like a burrito – from his festively decorated food truck. The cultural fusion of Brown's creation is hardly a coincidence. It resides against the backdrop of Maricopa County, one of the nation's most culturally diverse, and certainly its fastest growing, populations, adding 222 people per day in 2016.
Home to four million people and America's sixth most populous city, Phoenix, 30 percent of Maricopa County's population is Hispanic or Latino and 20 percent are immigrants. Yet, despite the size and population, the area grapples with a poverty rate above national average. The challenges here are as diverse as the communities, and not unlike those of other culturally rich cities such as San Diego and Miami. That's why the decision by a number of local development groups to band together and revitalize neighborhoods made so much sense.
That partnership, called Adelante Phoenix!, launched in 2014 after Raza Development Fund (RDF), a development arm of La Raza and the partnership's leader, approached JPMorgan Chase for help. They were awarded a $6 million grant through a pilot community development program, which is now part of the company's Partnerships for Raising Opportunities (PRO) Neighborhoods, a five-year, $125 million philanthropic initiative. PRO Neighborhoods was announced in April, 2016, after the investment firm tested different local revitalization models to help restore struggling economies where they operate, a core part of their approach to corporate responsibility.
PRO Neighborhoods is a five-year, $125 million JPMorgan Chase philanthropic initiative to identify and support custom solutions for challenges facing disadvantaged neighborhoods in U.S. cities. JPMorgan Chase provides local organizations with capital, along with peer-learning, expert guidance and networking opportunities to help foster collaboration.
Learn More about PRO Neighborhoods. Learn More about JPMorgan Chase's model for impact.
The goal in cities like Phoenix – where JPMorgan Chase employs 5,800 people – is to leverage capital and data to build local capacity and create inclusive economic growth. The company is applying this model to communities around the world, including London and San Diego, while testing and iterating based on results. The approach is exemplified by the Adelante Phoenix! partnership, which tailored its community programs in south Phoenix, Tempe and Mesa, to meet the local cultural and economic needs. They are addressing real community needs that effect economic mobility, especially within immigrant populations, including low-income housing, education, health care, cultural community development and even financial services. And they are already seeing results.
According to RDF, investments range from 222 new units of transit-oriented affordable housing along the Tempe-Mesa light rail, including low-income housing for Benedictine University student, to personal and small business loans, including DACA and DREAMER student loans, and even expanded charter school opportunities. Future plans now include a new cultural epicenter along the extension of the Phoenix light rail into the culturally diverse, yet often overlooked south Phoenix community.
The collaborative group is led by RDF, a national organization that provides real estate development funds, and includes local development and credit union partners, such as MariSol Federal Credit Union, to build trust within the community. Since 2014 they have leveraged the initial investment, bringing Adelante Phoenix! projects a total of $139 million in additional funding — an extraordinary leverage ratio of 24.7, according the Harvard's Joint Center for Housing Studies. Helping local partners seed additional investment is part of the JPMorgan Chase PRO Neighborhoods strategy.
Welcome to Maricopa County
---
Scroll through the photo gallery to see how Adelante Phoenix! & JPMorgan Chase investments are creating inclusive economies in Maricopa County neighborhoods.
---
"We have half a dozen community partners that stretch from Promise AZ, a public advocate for immigrants, to Arizona State University," says RDF COO Mark Van Brunt. "This doesn't work with outsiders coming in. We have trusted partners and some amazing results in terms of helping families at risk move forward."
A New "alma" for South Phoenix
South Phoenix, where over 20 percent of the population is foreign born, sits just across the river from downtown Phoenix. Backed by a $2.5 million commitment from JPMorgan Chase and an additional $1.2 million from RDF, this historically underrepresented community is rallying around the dream project of RDF's CEO, Tommy Espinoza: Plaza De Las Culturas.
The "Plaza," which is still in the early planning stages, is part of a broader effort to revitalize south Phoenix and its vision is bold: it aims to be the "new Alma" (soul) of Phoenix, a place imbued with a respect for family, spirituality and human dignity. Community outreach has been a major focus of the early stages of the development and the resulting plan reflects that. Planned for the 85-acre center is an educational and cultural complex enveloped by small business, mixed-use housing and high performing schools, including a branch campus of Arizona State University, Robotic Technical College and a charter high school.
The development plans give hope to the local community and dovetail with the City of Phoenix's own plans. The new center will live along the early southward extension of the Phoenix light rail, which will now open in 2023, serving as an attraction for people and businesses coming into the community.
"There is a strong feeling of community in south Phoenix with generations of families living and working there," said Curtis Reed, Middle Market Region Manager, Chase. "Through our investment, we want to help inject economic growth into this area that will create opportunities and benefit the residents."
While they continue planning the "Plaza" and raising investment funds, RDF and its partners are actively supporting smaller local initiatives in south Phoenix and other neighborhoods. For example, $50,000 from JPMorgan Chase's investment helped expand one of the top charter high schools in south Phoenix, Espiritu Schools' Aim Higher College Prep Academy. The investment was used to purchase a vacant YMCA building as the new site of the school, which is now fully utilized and serves over 400 moderate- and low-income south Phoenix students. The group is also increasing access to credit for community residents and small businesses.
Making Even A Micro Of Difference
The MariSol Federal Credit Union, located in the heart of downtown Phoenix, has been providing micro loans to small businesses and introducing new personal loan programs through Adelante Phoenix! investments.
Their small business loans may be minimal in dollar amount, but not in impact. Since the program started, they have paid out over $280,000 in microbusiness loans, averaging about $10,000 per loan. Were it not for their first loan, many of the recipients would not have been able to grow their business and create new jobs. One such loan financed a new wrap for Chef Brown's food truck. Another MariSol loan allowed a woman to purchase a van so she could expand her cleaning business; still another supported Jason Wasser of XO Confections, who creates distinctive chocolates using unusual ingredients like balsamic vinegar, bourbon and pistachios. These programs build on JPMorgan Chase's Small Business Forward strategy of increasing minority-owned business' access to capital, helping to lay the foundation for more widespread prosperity.
All totaled, Adelante Phoenix! has issued $816,000 in small business loans and $8.2 million in personal loans, including first time homebuyer, signature immigration and used vehicle loans, as well as payday alternatives and student financing. "We make loans to people of modest means," says Marisol CEO Robin Romano. "We try not to define anyone by their credit score."
RDF partnered with MariSol, and other local financial partners, because Tom Espinoza and his team knew providing small business loans and financial assistance for families would be crucial in revitalizing Maricopa County's poorer communities.
"It's been wonderful working with Robin," says Mark van Brunt, COO of RDF. "We meet quarterly to see what we can do to meet the needs of the community, from getting mortgages within a state where that had been largely impossible, as you need two forms of citizenship verification, to scholarships and loans to Dreamer students through the credit union. We've been able to go across the spectrum of economic development activity and have really reached the populations we want to serve."
Communities are complex organisms and it's hard to put a finger on what precisely determines their success. Capital matters, of course, but capital alone does not a community make. Investments like these bring hope to communities, explains Espinoza, "Had we not had the capital and insight from JPMorgan Chase, some of these deals might not have occurred. It activated more investment and it really inspired people in poor communities to believe there was hope."
Espinoza might be a few years from opening the "Plaza," but in the meantime, Chef Michael Brown will be downtown every Friday serving his bites of Cajun-Tex-Mex fusion.