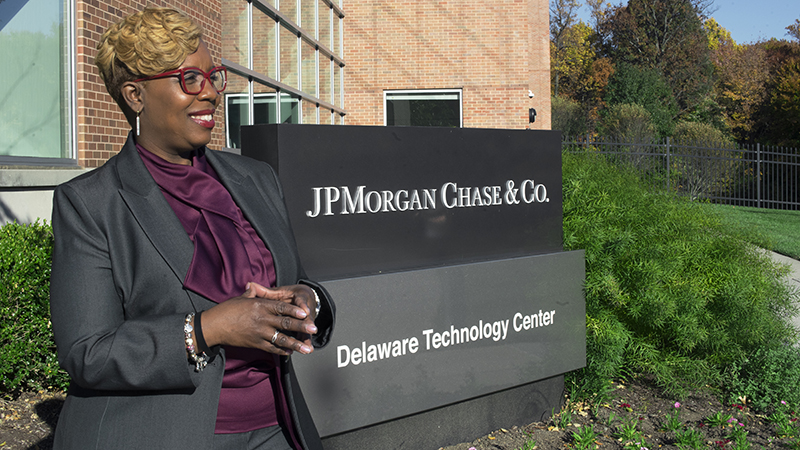 Stories
One Single Mother's Journey from Night School to Big Tech
Leonora Miller faced adversity growing up, but she wouldn't change it. Here's why.
Every morning I go to work at JPMorgan Chase's offices in Wilmington, Del. I spend my days as a Vice-President of Project Execution for Global Technology and I spend my evenings and weekends with my family and my church community.
But what this portrait of success doesn't show you is where I started.
I had my first child while I was a senior in high school. I was raised by a single parent and, like many Americans, we struggled to make ends meet. As an African American woman, I'm aware of how the world perceives this kind of beginning.
But I wouldn't change it, because it taught me first-hand the value of hard work, flexibility, perseverance, and, more importantly, how to take charge of my life.
Discovering More to the Story
I hit the jackpot with my mother. A resilient and tenacious woman, she shaped the qualities I aspire to exhibit every day. She understood the obstacles I was facing and decided there was more to my story. In fact, out of all things, she saw a technologist in me. She encouraged me to sign up for summer employment in technology, which eventually led me to night school at Pierce Junior College.
I believe that few people are more motivated than single mothers. I worked hard to complete my degree and make sure my son not only had food on the table, but also had a solid example of dedication and love. I struggled, but I graduated from Pierce with an associate's degree in medical practice management, excited for the next part of my journey.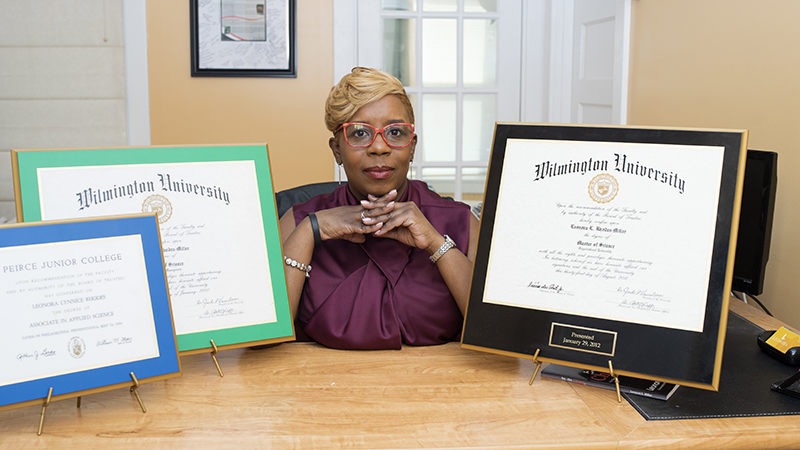 Overcoming Obstacles
Over the next few years, I settled into varying healthcare roles, ranging from medical billing to business and system analysis, but I wasn't happy. So I went back to school to further my education. I earned my bachelor's degree in 2008 and then graduated with my master's degree in 2011. I continued working long hours and didn't feel valued. I was doing what I needed to do to survive.
In 2015, I took a leap to start a career in a new industry and landed at JPMorgan Chase. Utilizing my transferable skills, ready and willing to learn to embrace new opportunities, I started a new chapter. To my surprise, my unconventional journey to the bank was viewed as an asset by my colleagues and managers. My unique experiences gave them a fresh perspective.
As I began surrounding myself with those I admired at work and at home, I started creating what I call my "Advisory Team," a group of family, friends, faith leaders, colleagues, and mentors who push me to be better.
While meeting with an "Advisory Team" member, who is also a mentor at JPMorgan Chase, I faced another obstacle: defining the next step on my career path. My mentor said, "I see so much more inside you." She encouraged me to consider new areas of growth and to pursue a more challenging role.
I was uncomfortable as I pushed myself and diversified my experiences, but it was working. I was taking on leadership roles, managing teams and discovering what upward mobility meant.
Not long after, I was promoted. This accomplishment, which might not mean much to others, meant the world to me. I had bucked the statistics, I had changed my situation. Achieving this success was humbling and caused me to evaluate the past 18 years.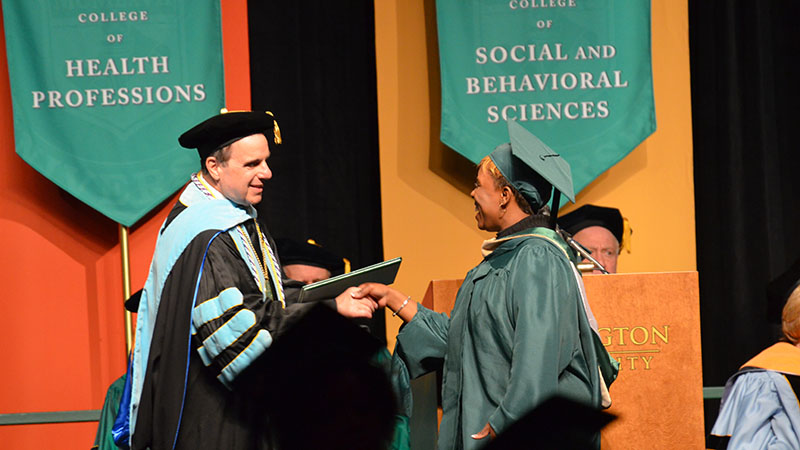 Finding Motivation
I realized that my obstacles were my driving force, not just something to overcome. With each new challenge, I had changed. I was stronger, smarter and ready to take on new challenges because every personal and professional obstacle motivated me to achieve more.
My story, like my work, is complex and it took me a long time to understand myself and my motivations. With this understanding, I am actively working to make a positive difference in the company and community, to help others overcome their own obstacles.
I do my best to seek out and speak to young people who are going through tough transitions. I think about what I would tell myself, if I had the chance, and always come back to the same three ideas: build your support system, develop a plan and raise your hand.
If my mother was alive she would be proud of the woman I have become and all that I have accomplished both professionally and within the community. My journey became one of self-inquiry and exploration and helped me define who I am today. Because ultimately, people can encourage, coach and support you, but you need to be the change.
---
Learn more about careers at JPMorgan Chase.