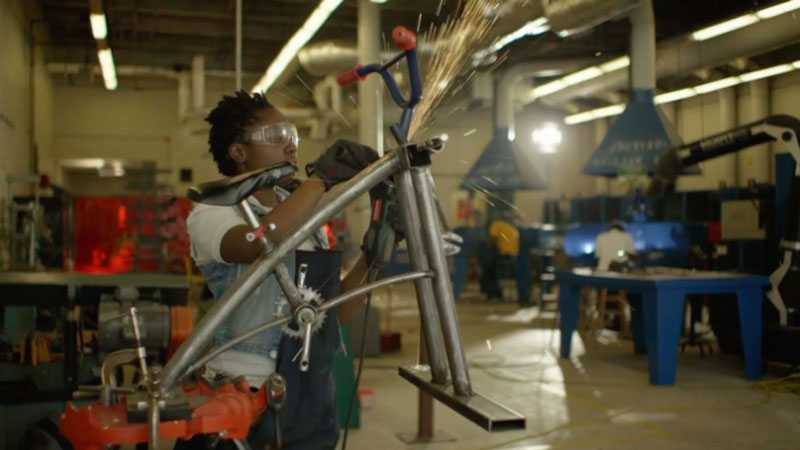 Stories
Rethinking the Usual Education Paths to Address Youth Unemployment
By: Freeman Hrabowski and Jamie Dimon
This piece was originally published in USA Today.
As President of one of America's leading educational institutions and CEO of one of the world's largest financial firms, we see the world through two very different lenses.
But there is one challenge that we both see clearly and are deeply concerned about: too many young people are not on a path to meaningful employment that will enable them to join the middle class. We see it when students drop out of school and struggle to obtain even a minimum wage job. And we see it when well-paying technical jobs go unfilled because applicants don't have the necessary skills.
Millions of Americans have come to appreciate the value of four-year college degrees. These degrees remain as important as ever. Yet only half of high school graduates who go on to four-year colleges end up completing a bachelor's degree within six years. Young people of color and those who come from low-income families fare even worse.1
The social and economic challenges these young people face have been exacerbated by the growing economic crisis of high inner-city unemployment and low high-school graduation rates.
The result is truly a national tragedy: today, over five million young people, including one in five African-Americans and Latinos, are neither working nor in school.2 The youth unemployment rate is over 11 percent; for young African Americans it jumps to over 20 percent.3 With many young people out of work or stuck in dead-end, low-wage and low-skills jobs, economic growth slows and social challenges increase.
Universities must do more to support students of all backgrounds who arrive on their campuses. Nonetheless, to tackle youth unemployment and support the needs of today's economy, students and their families should be informed about all of their education options, including college and career pathways that don't include pursuing a four-year degree immediately. Students connected to high-quality training programs have a chance to find a way out of poverty and a real chance at economic opportunity.
This approach is desperately needed. Economists project that by 2020, more than 60 percent of jobs will require more than a high school diploma. However, only about half of those jobs will require a four-year degree – the other half will not.
Educators need to recognize that businesses have a high demand for skilled workers, whether they're robotics technicians or licensed practical nurses, and better align what they teach with the skills employers desperately need. Likewise, business leaders need to support the education system as it strives to teach today's skills and help students develop into critical thinkers and life-long learners. Many students who start on a technical training path will have opportunities to go on to earn four-year degrees in the years to come.
To address the youth unemployment crisis, we are committed to increasing the number of young people who get on a pathway to economic success by being college and career ready.
To do this, first, we want to transform how states and cities develop career-focused education programs. JPMorgan Chase, the Council of Chief State School Officers and the National Association of State Directors of Career Technical Education Consortium are launching a multi-million dollar competition for states to expand access to career-pathway programs that can lead to high-skill, well-paying jobs.
Awarding grants to U.S. states will encourage them to implement career and technical education programs that correspond to the needs of area employers. High-quality, rigorous career technical programs would arm students with the skills to work as aviation mechanics, nursing technicians or IT specialists. The result is great jobs.
Second, we need to eliminate the stigma attached to career and technical education. Classes dedicated to robotics, medical science and coding provide skills that employers desperately need. From Detroit to Baltimore to New Orleans, we need to make greater investments in developing new and effective models of career-focused education aligned with the needs of emerging industries like healthcare, logistics, finance and construction.
Recent education reforms are making progress. But this will not solve the problem for young people who are not going to college immediately after high school. Now is the time for greater private and public focus on equipping young people, at all income levels, with the skills and experiences to be career-ready. Without this, a shot at the middle class will continue to be out of reach.
---
1.
James Rosenbaum, Jennifer Stephan and Janet Rosenbaum. (Fall, 2010). "Beyond One-Size-Fits-All College Dreams: Alternative Pathways to Desirable Careers," American Educator.
About the author:
Freeman Hrabowski is the President of the University of Maryland, Baltimore County. Jamie Dimon is the Chairman and CEO of JPMorgan Chase & Co.