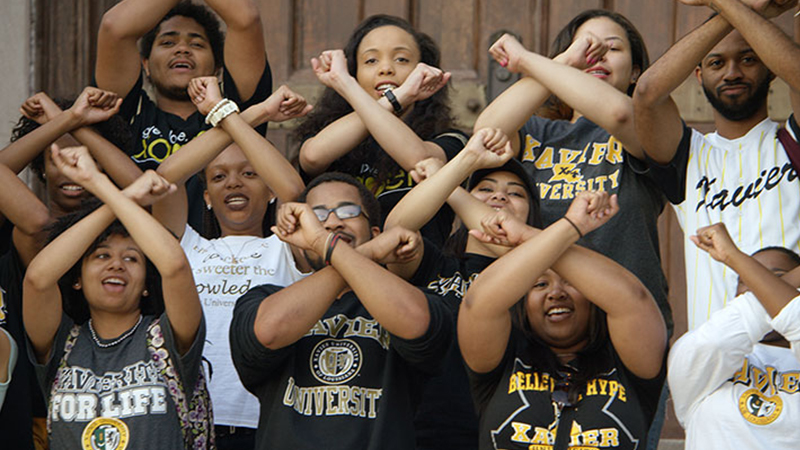 Stories
Xavier University
Invested in the future of New Orleans
New Orleans' thriving Xavier University of Louisiana, the nation's only historically African-American, Catholic institution and located in the heart of the city, is a pillar in the community and a pioneer in its efforts to decrease race and gender gaps in science, technology, engineering and math (STEM) disciplines. In fact, the mostly-female (72 percent) student body is entrenched in the sciences.1 Twenty-three percent of graduates major in biological and biomedical sciences, and 20 percent major in physical sciences.1 The university ranks first nationally in the number of African-American students who earn degrees in biological/life sciences, and first in the number of African-American graduates who complete medical school.2
Gia Soublet, vice president for Institutional Advancement at Xavier, says these successes benefit not only the university but also the community, as slightly more than half (55%) of Xavier students hail from Louisiana and primarily from the New Orleans area.3 "Xavier is helping to shape the city's future innovators and scientists, and we're extremely proud of that," she says.
It is hard to imagine that nearly a decade ago this flourishing university was faced with its most significant challenge. In 2005, Hurricane Katrina inflicted heavy damage on the university, destroying the ground floor of nearly every building on campus and displacing Xavier faculty, staff, students and their families. Major cuts to federal student loans had occurred as well, and enrollment at the school dropped from 4,100 to 3,000.
Despite the overwhelming setbacks, leaders at Xavier forged ahead and decided to expedite the reconstruction schedule to re-open the university just four months after the storm — a decision that was viewed as highly risky. "We were dependent on students, staff and faculty putting aside their personal losses to return to a shattered city," Soublet says. "But not only were we confident in our ability to continue to offer a world class education to our students, we knew our return would provide a sense of promise and hope in the impending recovery of New Orleans."
That confidence proved rewarding.
The success the school now enjoys is owed in no small part to the commitment and passion of staff and faculty, and to financing and guidance provided by Chase, according to Soublet. "We have had a long, deep relationship with Chase," she says. "We were also fortunate to have a member of our Board of Trustees who helped plan and advise throughout our rebuilding process."
The bank not only maintained the university's full treasury, lockbox and ATM services, but also worked creatively and tirelessly to keep Xavier afloat in the aftermath of Katrina. Their assistance included crafting a loan program that subsequently provided the money to rebuild while Xavier waited for funds from FEMA and their insurance company. Notes Senior Commercial Banker Greg R., "Xavier is an integral part of the fabric of New Orleans and a valued partner. Given the history our longstanding relationship with Xavier, we were happy to leverage our resources and to be in the position to assist the institution as it sought to restore its sustainability."
The loan program also made it possible for the university to focus again on academics, including the educational needs of New Orleans high school students interested in the sciences. Xavier's popular Summer Science Academy STAR programs, aimed at high-schoolers, is so successful that it is used as a model for others by the Alliance for Excellent Education, a national policy and advocacy organization dedicated to college and work readiness.2 "The STAR program directly benefits the city's youth and the city itself," Soublet says. "For students and for New Orleans as a whole, the future has never been brighter."
To learn more about Xavier University, visit: www.xula.edu.
By Stephanie Hepburn
Stephanie lives and works in New Orleans as an author and independent journalist.