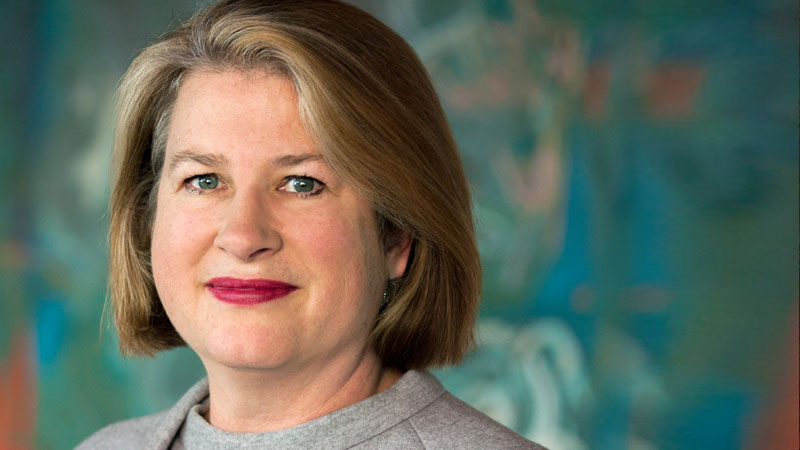 Stories
New Director and Chief Curator of the JPMorgan Chase Art Collection Named
Charlotte Eyerman loves the dialogue art sparks and is looking forward to bringing over 20 years of experience to the collection.
Charlotte Eyerman, the newest Director and Chief Curator of the JPMorgan Chase Art Collection, was destined to be intimately involved in the arts. Growing up in Saint Louis, her dad was a collector and her mom was a practicing artist.
"Growing up I was surrounded by art and that created a spark. I didn't realize the role art would play in my life until a transformative Art History class my sophomore year of college."
A student of the College of the Holy Cross in Worcester, Massachusetts, the class visited a nearby museum and the artwork on display was a game changer for Charlotte. She followed that passion to France for a semester abroad where she immersed herself in the language, culture, and art. Travel has continued to fuel Charlotte's insatiable curiosity and enabled her to forge connections with old friends and new discoveries.
Since graduating from the College of the Holy Cross with a Bachelor of Arts in English, she has worked in the industry for over 20 years; learning, consulting, curating, and teaching. Continuing her education at the University of California, Berkeley she earned Doctoral and Master's degrees in the History of Art. She has held curatorial positions at the Saint Louis Art Museum and the J.Paul Getty Museum.
While at the Saint Louis Art Museum, one of her most noteworthy projects was the exhibition Action/Abstraction: Pollock, De Kooning and American Art, 1940-1976, in collaboration with the Jewish Museum, which won numerous awards, including "Outstanding Exhibition" from the Association of Art Museum Curators in 2009 and is among her most proud professional achievements to date. "This project brought together everything I am passionate about – great ideas and objects, smart people, collaboration, and the opportunity to work with living artists. It set a high bar and was an unforgettable experience."
Throughout her professional journey, Charlotte has always been inspired by the dialogues that art creates, "Art has a very meaningful way of connecting people and sparking ideas and imagination," and she's excited to bring that dialogue to JPMorgan Chase.
Laura Rossi, Head of Corporate Marketing, JPMorgan Chase noted, "We are thrilled to have Charlotte join the firm – bringing with her a unique perspective and expansive experience that we know will only enhance the JPMorgan Chase Art Collection and the benefits it offers our employees and clients."
---
Learn more about Women on the Move, our initiative that supports the advancement of women by addressing the unique challenges they face.