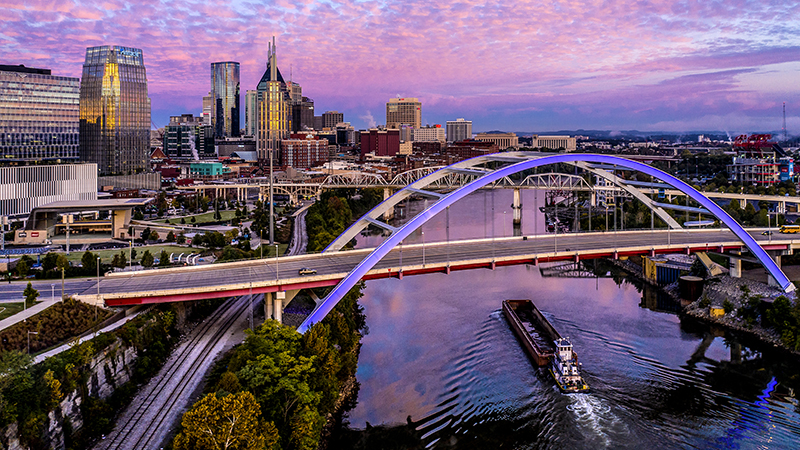 Stories
Music City's Newest Star
JPMorgan Chase brings the full force of the company to Nashville. Why it matters now more than ever.
Nashville is a city on the rise: the Wall Street Journal recently ranked it as the seventh hottest job market in the country, and in January, it tied with Orlando as the top city for job growth.1 It's also the eighth fastest growing large city2 in America—a fact that shouldn't be surprising to anyone who's noticed the host of construction cranes crowding downtown or the city's $4 billion in active building permits.3
With that kind of growth, it's easy to see why JPMorgan Chase zeroed in on the Music City when launching its retail expansion from coast to coast. The first Chase branch in Nashville is set to open in the Berry Hill neighborhood this December, and current plans call for 15-20 branches in Middle Tennessee over the next five years.
"Our company has been building a presence in Tennessee for eight years," said Denise Horvath, head of Chase branches in Tennessee. "And now we are bringing the power of our branches. It's a game changer."
When JPMorgan Chase grows in a community, the bank brings its community investment in local small and mid-sized businesses, homeowners and non-profits and its support for training programs that help people in Nashville get the skills they need for the new economy.
A Community Partner
JPMorgan Chase has made a significant economic impact in all of the communities where it operates, and Nashville is no exception. It's already begun working to help Nashville residents prepare for the region's surging job market.
In May, the bank announced a $250,000 philanthropic investment to provide information technology training for adults who aren't participating in the traditional college track, giving them a path to good-paying careers. And, two years ago, JPMorgan Chase made a $2 million statewide investment to increase the number of students in Tennessee who graduate from high school with an industry recognized, high-demand credential—helping to lay the groundwork to prepare them for good careers.
And education isn't the only area where JPMorgan Chase is stepping in. Recently, to help tackle hunger and food insecurity in Middle Tennessee, the company invested in an 18-wheel food recovery truck and mobile food pantry for the Second Harvest Food Bank of Middle Tennessee. The truck will start making its first deliveries later this year and will be on the road six days a week "rescuing" surplus food from grocery stores and delivering it to area food pantries.
Building Relationships
This isn't JPMorgan Chase's first foray into the area. In 2011, it opened a Commercial Banking office to serve mid-sized companies in Nashville. Two years later, the company followed with local private banking offices. Chase expanded beyond Middle Tennessee in 2012 with a Commercial Banking office in Chattanooga and a Memphis office in 2016. Statewide, the bank now has about 65 employees and roughly 1 million consumer customers.
"We're one of oldest and most respected banks in the country, and we are delivering those resources in Tennessee," said Jeff Goodwin, managing director and region manager for Chase Middle Market Banking in Tennessee. "Nashville is a thriving place and JPMorgan Chase intends to be an important part of our very bright future."
And Nashville is taking notice. According to a news report in the Nashville Business Journal, "JPMorgan [Chase] has shown a willingness to heavily invest not only in locations but also talent—two critical factors in ensuring its expansion success."
"When open our first branches in a community, we arrive with the full force of JPMorgan Chase behind us," Horvath said. "We hire people. We support local businesses. We help customers with banking, lending and savings. And we align our philanthropic efforts to help more people benefit from our growing economy."
One thing is for certain, when you combine one of the country's fastest growing cities with the firepower of one of the nation's leading banks, the result is sweet music for years to come.
---