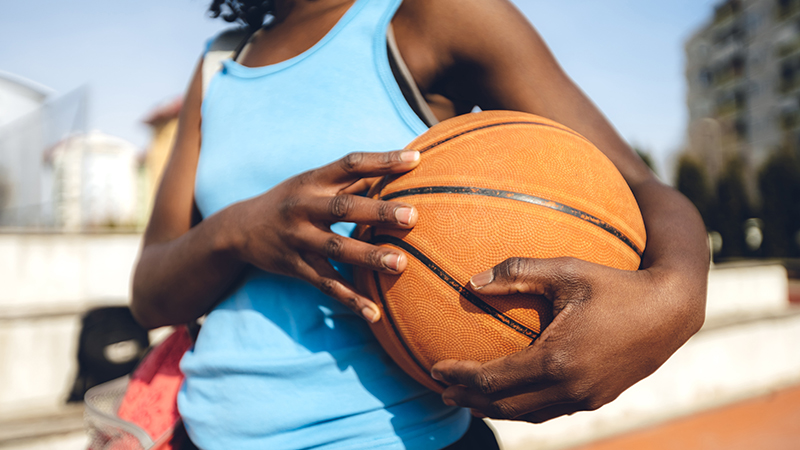 Stories
Music City's Basketball Icon
How a Navy veteran gave Nashville its newest basketball team.
It was May 2017, and Renee Bobb had a problem.
She should have been on the top of the world: the owner of the newly-minted Music City Icons, Nashville's semi-professional women's basketball team, Bobb was getting a gymnasium ready for the team's first game of the season. Everything was on track: the tickets were sold, the referees were paid, and the concession stand was stocked.
Then she got a text message from the opposing team's owner: because of bad weather, they weren't coming.
With fans scheduled to arrive in hours, Bobb picked up the phone and started making calls. Reaching out to her connections in the area, she pieced together a 12-player team to take the court. Then she made them uniforms, using t-shirts and iron-on numbers that she bought from a local store.
"When the ball tipped off, no one knew it wasn't the team we were supposed to play," she says.
A Life on the Court—and on the Sea
For all its challenges, that night was the culmination of a lifelong dream. The tallest student in her middle school, Bobb started playing basketball early. In high school, she was named to the All-American team, and she earned a scholarship to Cheyney State College—a division one program. Later, in the Navy, she played on NATO's basketball team in cities around the world.
In 2008, she moved to Nashville to be closer to family and soon found herself working with other veterans. Her new job involved preparing former servicemen and women for life—and work—after the military. In the process, she also became familiar with Bunker Labs. A nonprofit committed to giving entrepreneurs in the veteran community the network, tools and resources they need to start their own business, Bunker partnered with JPMorgan Chase to sponsor the Muster Across America Tour, which stopped in Nashville in the summer of 2019. The event featured speakers, networking and a pitch competition with nine of Nashville's brightest veteran entrepreneurs.
For Bobb, Bunker Labs wasn't just a resource for the veterans she worked with. It was also a reminder of the unique perspective of her military community. "We all served. We all had our own language and way of doing things," she says. "It was very comforting to be around like-minded veterans."
Communities Combine
It wasn't long before Bobb found her two worlds—the military and basketball—combining. One day, she met a woman who told her about a local basketball team she played on that recently folded. "I saw it as an opportunity to bring women's basketball back to the city," Bobb says. She bought the team.
Starting a basketball team was a daunting task, Bobb says, "I had five months before the season began. I had to find players…and a gym." This time, she found that her network at Bunker Labs was able to help her. She worked through the programming at Bunker Labs, which helped her to develop marketing ideas to reach the basketball audience in Nashville.
With the feedback and support from Bunker Labs and a successful fundraising campaign, Bobb launched the Music City Icons' inaugural season in 2017.
Giving Back to the City—and Her Players
For Bobb, providing entertainment to the people of Nashville is only half the goal of the Music City Icons. She also wants to give her players the opportunity to showcase their talent and make the jump to professional careers. She has taken a handful of players to WNBA tryouts; while none have inked a contract with the United States premier women's basketball league, she's had four players sign professional contracts overseas.
Now heading into the team's fourth season, Bobb is still working to empower more women in the Nashville community. She brings in guest speakers to talk to her team about goal setting, career development and financial literacy, and she's working with local colleges to meet seniors looking to continue their playing careers after graduation.
For Bobb, it's all about growth—both business and personal.
"When you are persistent and committed to making something happen, you will," she says.