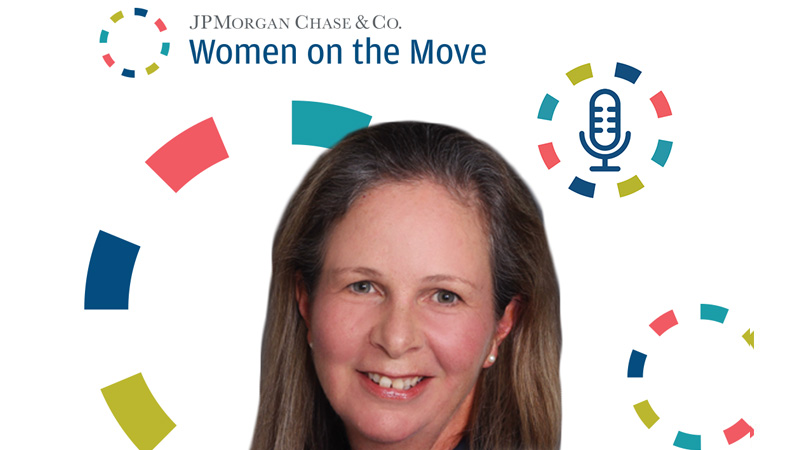 Morag Watson
Drones, 3D Printing and Driving Gender Diversity.
Morag Watson is the Chief Digital Innovation Office at BP and has been with the company since 1989. She currently leads a team that looks for technological innovations that help further BP's business objectives, including drones and 3D printing.
Morag discusses emerging digital technologies, career planning and the power of collaboration. In this episode, we learn what a Chief Innovation Officer does day-to-day and how the role has become a business imperative.
View Transcript

(updates content above)
Hide Transcript

(updates content above)
Morag Watson:
The conversation has changed from it being about any one particular group of people to being about inclusion, diversity of ideas and people having had different experiences, and actually the outcome is you have a diverse workforce.
Sam Saperstein:
Welcome to the Women on the Move Podcast from JPMorgan Chase. I'm Sam Saperstein. Women on the Move is a global initiative designed to empower female employees, clients and consumers to build their careers, grow their businesses, and improve their financial health. Each episode will feature successful and inspiring women who are breaking the mold. They're sharing their career journeys and leadership lessons, talking about their professional and personal goals, and making a difference in the lives of others.
Sam Saperstein:
This season, I'm taking you to the World Economic Forum in Davos, Switzerland, where I caught up with many of the women who inspire me every day. Today's guest has had a front row seat to the evolution of the oil giant BP since joining the company in 1989. Morag Watson is the chief digital innovation officer and leads a team that helps identify technological innovations. She also serves as a member of the company's Diversity, Equity & Inclusion Council. It was a pleasure to speak with Morag about technology, career mobility, and lifelong learning. I hope you enjoy our conversation.
Sam Saperstein:
Thank you so much, Morag, for being here with us. Really appreciate your time.
Morag Watson:
You're very welcome. I'm delighted to be here. I'm just interested to see what questions you're going to ask me.
Sam Saperstein:
Well, let's start with a really hard one. Tell us about your current role at BP.
Morag Watson:
Oh, my current role. I have an amazing role at BP. I'm the chief digital innovation officer, which is always a bit of a mouthful to say. And what we do is we look at emerging digital technologies, which is essentially the technologies that are not yet commercial, so not necessarily the ones that are talked about a lot. More things like future computing, quantum computing, remote sensing, cognitive computing, biocomputing; kind of cool stuff, robotics, drones, all that kind of stuff.
Morag Watson:
We look at these emerging technologies and we look at them in the wider sense as to really starting with kind of what's their impact? What could they possibly do? What's their impact? What's their impact actually on the world? What could you actually do with them? And then we kind of dial that back into what's the implications for our business today? Could it transform that? Could it make it faster, better, cheaper, more efficient, safer, anything? How might that disrupt current business? And then what new business opportunities might that yield? It's really exciting. It's kind of out there in the future, that looking back.
Sam Saperstein:
It's very exciting. Right, yeah. Was this a new role? Had the company had it before you took it on?
Morag Watson:
What I'm actually doing now has evolved over the last four years; and, no, the role did not exist as of four or five years ago.
Sam Saperstein:
It sounds like it should be a new goal because of what you're focused on.
Morag Watson:
No, absolutely. Prior to me, there were people that were looking at the startup world, really looking at some of the innovations coming out from that. But actually doing this big thinking if you like, and I did find the trends and then actually turning that into reality. It's not just about thinking and it's not just about identify, but it's actually, "Wow, I've just thought this. Let's go and try it out and see if it does what it says on the tin." So actually do stuff and get our fingers dirty, which is why it's so much fun. But no, this is really a role that's evolved over the last four years.
Sam Saperstein:
Some of the technology you mentioned, I'm having a hard time understanding how do you relate that back to BP and what you actually do. It's fascinating. For example, drone technology, how would you use drone technology in your business to improve things?
Morag Watson:
Drones are fantastic. They're actually now pretty much commercial. I mean, you can buy them as toys, right? The really interesting thing about drones is, not the drone itself, but we use it as a platform or a mechanism to be able to carry sensors. That's important thing for us to be able to go and do things in hard and hazardous areas.
Morag Watson:
For instance, the first use that we really had was actually doing a pipeline inspection in a very, very hard to reach area in the tundra in Alaska. And you could send the drone out with a sensor, it could send back both information and photos of what was going on on the pipeline without having to send people out miles into very remote territory that's really hard to drive. That's just one simple example.
Morag Watson:
Another example would be to actually have drones in some of our facilities. Our offshore facilities, again, pretty hazardous places to be. And to actually do a full inspection all the way up the stack, sometimes down the risers, around the platform, kind of hard to do that. And if you could use a drone to be your eyes and ears and actually do some sensing then that can be very, very transformational.
Sam Saperstein:
You can totally understand the people costs you're saving, the safety factor. Do you also get different information when you use that technology?
Morag Watson:
Absolutely. This is one of the great areas that's still really innovating and evolving, and that's the what you can actually do with a sensor. Lots of people think about sensors as being things that you can see, but there's a whole spectrum out there that's a non-visible spectrum. And so we delight in trying to make the invisible visible, and that's precisely what we did with them some of our work on our onshore business in the US where we're actually using drones with sensors mounted on them to actually be able to see methane, which otherwise you wouldn't be able to see it.
Sam Saperstein:
I bet that's super exciting. Talk about artificial intelligence and how you also see the future of that for the business.
Morag Watson:
Yeah, artificial intelligence, a very exciting area, but it's been around since 1940s, right? So there's been a few of those winters where it's all been hype and everything and then it's gone away and gone quiet. And this time, actually, I think it's really, really different.
Sam Saperstein:
Here to stay.
Morag Watson:
Yeah. Artificial intelligence is used to describe like a whole basket of capabilities and it starts at the lower end where it's really more about using data to predict things that are going to happen. More kind of big data analytics is kind of the most simple form and then applying machine learning to that. But there are so many layers of sophistication of what you could do with artificial intelligence and many things that still haven't actually been fully tested or out there. But it's really about applying these neural networks and deep learning, supervised learning, unsupervised learning, all the way through to capabilities to be able to do reasoning like almost human-like reasoning and reasoning in the absence of data.
Morag Watson:
Which is the bit that really excites me is when you actually don't have the data, that's kind of a uniquely human thing. You put a human into a situation where they're unfamiliar with the surroundings and they'll innovate out of it or they'll find a way in. And normally machines are more rule driven, so you go, "Oh well, a machine could never do that, could never think creatively like a human." And that's actually the area that really excites me. And that's what we call in BP, that's what we call cognitive computing, where it could actually start to truly mimic what humans could do.
Sam Saperstein:
I've read that you've called it augmented intelligence instead of artificial intelligence. Why? Why is that distinction important?
Morag Watson:
The way I think about artificial intelligence is really is about giving us new capabilities, additional capabilities. And a lot of people have said, "Oh, that's going to displace so many people's jobs because you could automate all these things." And so they've looked at it as replacing humans, and I don't see it as that. I see it as actually pushing humans to be able to do even more things that they couldn't do before because they have this augmented intelligence that's working alongside them. Sure, there'll be some bits of your job or some areas that will get automated away, but that's evolution.
Morag Watson:
I mean, that's ever [crosstalk 00:07:21].
Sam Saperstein:
It happens. Right, it's always been there.
Morag Watson:
Look at agriculture. My goodness, here's an augmentation. Here's somebody that could actually help you, could put different data in front of you. It's got a longer memory than you, can actually gather more things in you as a human could ever do. It's about making a human ever better, not taking over from them.
Sam Saperstein:
Yeah. No, that's very helpful and actually more optimistic. You've been with BP for 25 years, which is incredible. What's your career journey been like? Tell us some of the roles, the many roles perhaps, that you had there.
Morag Watson:
Yeah. It's interesting because so whenever I joined BP, and not long after I joined BP, we went through a massive, massive reorganization and there was a huge amount of people that actually left the company. And I kind of came in thinking, "Oh well, I'm going to stay here for maybe three or five years." And then I was like, "Oh well, maybe it's not going to be that long." But I always had this notion in my mind that I wouldn't stay at one place for more than three or five years because you had to get lots of different experiences. And the reality is that I've had so many different experiences at BP that I felt like I've worked for different companies all the way through, but I actually have not had the hassle of having to change my paycheck or anything, and maybe that's a downside. Maybe I should've done that. Maybe I would have got paid more, who knows?
Morag Watson:
But anyway, so I started out in the IT world but very much in the upstream part of the organization really working deeply with the exploration department, so understanding geophysicists and geologists and the subsurface and how do they find oil and what did they do with it? But very much working in the technical side, so I was also a software programmer. I was an analyst and I've probably done every job there is to do in the IT world somewhere in my career.
Morag Watson:
But some of the other jobs that I've done is I actually was privileged enough to go to Columbia in South America very early on in my career. And there my role was very much around pulling an organization from a kind of old architecture of how they worked and I was kind of around their IT architecture, but it was more than that. It was really bringing BPs ways of working and actually changing that into a more modern way of working and an introducing new technology, so that's kind of been a bit of a constant throughout my career.
Morag Watson:
But I think some of the big roles that I've done, that kind of really mark my career, so 10 years in our upstream business, predominantly in technology and in IT, different roles. Then I took a complete turn and I went to work the downstream, the marketing part of our business, and I started out being a CFO without really having many qualifications in the finance world.
Sam Saperstein:
That's a very different role and function.
Morag Watson:
A very different role. And in a margin business, in a marketing world, none of which I really had any direct experience in. But it was a liberating experience because you go in there and I'm like, "Okay, so I don't have the content knowledge here, but I know how to be a leader, so I guess that's what I do." And it was a very fulfilling experience I think for the team because I couldn't second guess what they were doing. The previous person had been like a full on financial professional. And I think for them, it was like, "Oh my gosh, I have to actually... Oh, I'm trusted with doing the whole forecast here because it can't be second guessed."
Sam Saperstein:
What did you do when you got into a role like that? How did you get yourself educated about that side of the business and feeling very confident as a leader?
Morag Watson:
I think one thing I learned early on is to always be humble. There's always people around about you that know more than you and that's just always going to be the case. Even in my current role, people think that I'm some expert on technologies. And I know enough to know more than lots of people, but my team are amazing. They know a lot more than I do. They are the real experts. I think realizing that you're never going to know at all.
Morag Watson:
I think the second thing is ask lots of questions and really be in listening mode. You're not listening necessarily for technical content, but sometimes you're listening for how things are said and that can actually give you much more insight into things that maybe need to change.
Morag Watson:
The other thing is to have confidence that you are bringing something to the role. There was a moment, I mean, it was not easy taking on the role. After about being there for about two or three weeks and having gone to work feeling like I'm really not contributing here, which is a horrible feeling because how can I, I don't know this stuff? And there was a seminal moment where I said to my husband actually, I'm like, "Oh, I've made a mistake. I can't do this." And he was like, "Yes, you can. Yes, you can." And I really had to pick myself up, but it's not easy. But then I got back in. I spoke to a few people and got myself back and, "Yes, I can do this."
Morag Watson:
And again, being surrounded by a great team, that's the thing. Don't ever, ever underestimate the power of a great team.
Sam Saperstein:
No, no, they will get you through something like that. And then you did marketing, a marketing role.
Morag Watson:
Yeah.
Sam Saperstein:
Tell us about that because that's, again, a totally different function.
Morag Watson:
It was born out of being in the CFO role. I moved the same business. I basically helped rewrite the strategy for, or did rewrite the strategy for the business and then they needed somebody to lead it. The person who'd been leading the business moved on to his next role. And by then, yes, I did feel confident enough that I knew enough about the business and it was kind of just a natural progression to be honest. And I probably ended up being in the role before I knew it and I was like, "Whoa, what just happened there? Me, VP of marketing?" Yeah, it was great.
Morag Watson:
The transition was not as wild as you might think just because-
Sam Saperstein:
Because you had been working on that plan.
Morag Watson:
Right. Well, I hadn't planned the role, but I envisaged what the business could do, fully expecting them to bring somebody else to run it. And then when they said, "Actually I think you could run it." I was like, "Oh, okay. I did one of these before not so long ago."
Sam Saperstein:
Yeah. Right, so the second time, you knew you could do this.
Morag Watson:
Yeah.
Sam Saperstein:
You had done it already. Your career has been fantastic.
Morag Watson:
My career has been so much fun. I mean, I look back at it and people always say, "How did you plan?" People always say you plan it, and I'm like, "You know what? I don't write career profiles." People have these personal development plans and everything that has all this is what I want to do it, this what I want to do next. I never had that. I never did it. And I could only write mine in reverse now because there was no way in this world you could ever have predicted I would do what I would do.
Morag Watson:
And so my advice to people is always don't restrict yourself by writing down what you think your steps will be. Write down the kinds of experiences you might want to have and the kind of qualities, the things that are really, really important to you. And by the way, don't just do it for your career, do it for a holistic view of your life because you're not just an employee, you're a mother or your sister or an aunt or whatever. And you have to look at it completely, otherwise you're going to be a miserable person at work because you only considered half your life.
Sam Saperstein:
Oh my goodness. Well, it seems like a very consistent theme here is you took risks. You were really open to different things. It sounds that you probably communicated those things also to people around you, to bosses and mentors when you were ready to take on something new.
Morag Watson:
Yeah. I think actually they also pushed me. I do think the mentors are people that are close to you, whether they're official mentors or not, are really important because I'm not sure I would have known some of these things if they hadn't pushed me or inspired me or inspired confidence in me to do it. Probably like most females, I probably didn't ever think I was ready for any of the things that I ever did to be honest because that's, I think, what we do. We don't think we're ready. But yet, there was people that were always there like say, "Yeah. Go." And now I know that when I'm not ready, I'm ready.
Sam Saperstein:
Now that you're in a role leading innovation, how do you bring this all together? What does that war room look like at BP in your office where you're bringing together all these different strands of thinking?
Morag Watson:
It's more about being a virtual connected set of individuals. Our team is in Shanghai, it's in London, it's in Houston.
Sam Saperstein:
Really global.
Morag Watson:
A small team, it's 30 people or less, very close. We use lots of collaboration tools and lots of collaboration time. And we build off each other. It's not like there's a room but it's... I don't want to say it's casual connections, but it's about putting people in an environment where they are regularly connecting such that they can actually build on each other. And yes, sometimes we'll go away and spend some time together offsite or with stimulus. Like we spent some time in Boston getting lots of input from different startups and from laboratories and from big thinkers. And then we would sit and go like, what are the implications of everything that we've just heard and how does that build on some things that we've heard before? Where does that go?
Sam Saperstein:
It sounds fun.
Morag Watson:
But I think one of the things is I always say my team is always on, so there's no time when you're not thinking, observing. Even when I'm here, I'm like looking at stuff and going, "Oh, how would that impact... Ooh, must remember to put that into the conversation."
Sam Saperstein:
That's interesting. Is it changing your mindset in sort of how you're processing-
Morag Watson:
It's a mindset.
Sam Saperstein:
... information. We here at Women on the Move talk a lot about gender diversity in the workplace and that's what we're here at Davos also to have this conversation. How does BP think about gender diversity? What does the company doing around that topic?
Morag Watson:
Diversity inclusion has been a huge topic for BP for many years and there's been several iterations of it where you focus on one thing, you do it for several years, you make some progress, and it's like, "Oh, we need to reset. Not going as fast as we'd like to." But certainly for the last four or five years, we've had a gender ambition, which has been very front and center of all the businesses, but kind of a bit of a uniting force across the company because there are so many different aspects of diversity inclusion that you could focus on.
Morag Watson:
Picking one is hard. Because by picking it, you are naturally excluding focusing on other things, maybe by perception. But there has been a huge focus on female diversity in the leadership, so in terms of upping our executive leadership and upping both our senior leaders below that. And there's progress has been made, but it's hard. It's still not where we would like it to be, but the last four or five years has taught us a lot that actually you can't just do it one way. There probably needs to be a different approach for women in frontline operational environments versus women in tech versus women in more functional roles.
Morag Watson:
It is a huge focus. And if you look on our board, the female question there is definitely gone way up compared to three or four years ago. I think we have four women on the board now-
Sam Saperstein:
That's a big deal.
Morag Watson:
... which is amazing. And I had the privilege to be at a board meeting just in September there, and it's brilliant because they were probably the most vocal people in the room. And there's our executive team level in the last year, I think there's been at least two females upped on the executive level and that's been amazing to watch that too, so that's within running the company. But certainly our senior leadership is definitely way improved, but there's still more to do. It's challenging.
Sam Saperstein:
Well, how does a company then think about bringing more women in just at the start of their careers and how do you personally go out there and talk to women, young women, about having a career at BP or in the industry?
Morag Watson:
Yeah, so a huge focus for me. I mean I'm very passionate about this. I have a daughter, who's now 12, and I want her to be treated equally and have equal opportunity and follow her passions. And she's huge on science right now.
Sam Saperstein:
That's great.
Morag Watson:
I mean, she loves it, so I want to see her follow that through. Inside BP, certainly, we are recruiting graduates and certainly when we're doing recruiting that we've had some great success in some areas of the company where sometimes it's 50/50 the intake. What we've discovered though is it's the retention somewhere further down the line, I don't know, four or five years. That's where the numbers seem to not be so favorable, so really looking at that.
Morag Watson:
And then the other thing that we've been looking at is pull through. We have women, how do we get them into those more senior leadership roles and how do we give them the experience? There's not one answer to this as you well know, but there's been certain focus in different areas around that.
Morag Watson:
Back to going into the schools is one thing that I'm super passionate about. We do a lot about STEM. And particularly in the area that I work, which is innovative and really attractive technology, we take that on the road, we take it at school. We did a day of drones. We did a day of robotics, day of VR, just to see students excited. This was for 10, 11 year olds. They're partially get attracted by the technology, but also they actually look at your team and they go, "These kinds of people work at BP? Oh, does that mean I could work there one day?"
Sam Saperstein:
Right, they look like me or they're diverse.
Morag Watson:
Yeah, "I can see myself there." And we regularly go out to a group of schools that are related to BP in Houston and other sites do exactly the same, where we will go and focus on females in middle school so 12 through 14, 15, and actually take them through a day's experience of doing team building and collaborating generally around some kind of tech, but it's very focused around girls. There's just so many things that we do in that space, but that's a couple of examples.
Sam Saperstein:
That's great. So they can see what they could do when they're in the workforce and what technology could mean to them personally.
Sam Saperstein:
Well, have you seen progress over your career in terms of having women at the company and people of color? And if so, what encourages you about the progress that you've seen so far?
Morag Watson:
I think there's been huge progress; and it's not just in the company I'm in, but actually in lots of the people I interact with, the companies I interact with. I came from a place where I would be the only woman in the room, whether it was suppliers or partners or BP to a place where there's more. I wouldn't say that it's at a place where it's anywhere near equal or anything like that, but I think the conversation has changed. The conversation has changed from it being about any one particular group of people to being about inclusion because that is the most important thing.
Morag Watson:
At the end of the day, it's about the diversity of ideas and how those ideas come out from people having had different experiences. And actually the outcome is you have a diverse workforce. If you start with inclusion, you're going to end up with a team that actually looks radically different from you in all forms and facets and not just gender and not just ethnicity but also LGBT, socioeconomic. And I've seen that change. I've seen that visibly change inside BP and not just from my team. And the conversations that you have, a conversation around speak up around making sure you could hear the quietest voice in the room, that's just present.
Sam Saperstein:
What do you do when you are around the table and you're trying to dry out different views and opinions from your team? Do you actively work to make sure everybody's heard?
Morag Watson:
I do. I'm generally quite quiet in those conversations. There's times when I'm noisy and talking like crazy, and then there's times when I'm just on the back seat. And sometimes that annoys people because they're like, "Well, you're the leader. What do you think, Morag?"
Sam Saperstein:
Right, right. They want to hear from you first.
Morag Watson:
Yeah, no, no, no. You guys talk. And what I'm looking for is body language and I'm looking for how are people interacting and is somebody being shut out or is there specifically somebody who we haven't heard from? And I will always call them in and say, "Hey, Rebecca, you didn't get to say anything. I'm sure you've got something... You're thinking about something or how did that strike you?" Find an easy way to bring them into the conversation.
Sam Saperstein:
That's great. I think that really goes a long way. And it's not only bringing in those folks and their voices, but it's a real message to everybody else around the table that you're interested in that and they should be interested in that too.
Morag Watson:
Yeah, exactly.
Sam Saperstein:
And you have that go down to their own teams.
Morag Watson:
Be the change you want to be.
Sam Saperstein:
Exactly. With your career now, having been there so long, what's next for you? What do you think your next role is, if you even know?
Morag Watson:
All right, so my next role hasn't been invented, there you go.
Sam Saperstein:
That's right.
Morag Watson:
I have no idea. What I currently do, I love, and it has changed so radically from when we started out four years ago. I mean, I couldn't possibly have imagined what we do now. It would be silly of me, I think, to actually think too much about where it could go. But I firmly believe there's a lot more in what we do and a lot more for us to go in this space, and so I just look forward to it.
Morag Watson:
I'm just passionate about making a difference. I mean, whether it's making a difference in my team or at home or in what we do at work, positive impact is just... That's what keeps me going-
Sam Saperstein:
That is a great driver.
Morag Watson:
... That's my purpose.
Sam Saperstein:
Well, thank you so much for joining us. We really loved hearing about your perspective and your careers, and the way you're helping women and young girls.
Morag Watson:
Thank you. It's been fun.
Sam Saperstein:
Thanks to Morag Watson for sharing her experiences at BP. We can all take something away from her remarkable career.
Sam Saperstein:
Thank you for joining us today. The mission of Women on the Move is to help women in their professional and personal lives. Our goal is to introduce you to people with great ideas, inspiring stories, and a passion to make a difference. If you enjoyed this episode, please rate, review and subscribe so you won't miss any others.
Sam Saperstein:
Thank you to our partners at the Female Quotient and Magnet Media for helping us tell these stories. For JPMorgan Chase's Women on the Move, I'm Sam Saperstein.
Subscribe