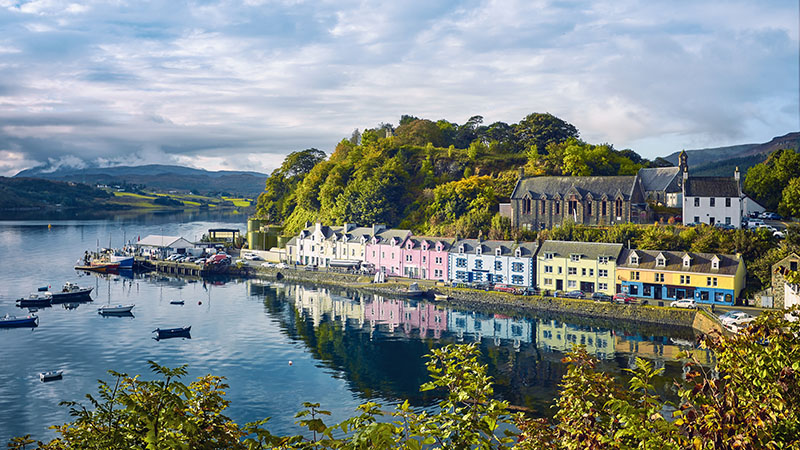 Stories
Money Advice Scotland: Helping People Stay Secure During COVID
The face of banking is changing, especially during the pandemic. Money Advice Scotland—with help from JPMorgan Chase—is making sure the most vulnerable banking customers aren't getting left behind.
Technology is changing how people bank—and erasing the traditional ways they once used to access their money. Over half of bank branches in the United Kingdom have closed since 1989, and more than a third of Scotland's branches have shuttered in the last eight years alone. The COVID-19 pandemic further fueled the transition to online banking, as branches have experienced lengthy closures and many customers have opted not to enter buildings.
Bank customers who once handled their finances with a paper ledger and a face-to-face conversation at the local branch are feeling left adrift by the transformation. Many are having a hard time making the switch, says Marlena McFarlance, Financial Capability Manager at Money Advice Scotland, a charity that helps people across Scotland to achieve financial wellbeing.
"A lot of people we work with are intimidated by online banking," she explains. "They want to learn but are scared because they are dealing with real money and are afraid to mess up."
Building New Skills
This problem is especially pressing in Scotland, where roughly one in five adults lacks essential digital skills, according to the Scottish Council of Voluntary Organisations.
For these people, learning how to bank online is not simply a matter of convenience. It can prevent them from the penalties associated with going unbanked, including higher interest rates on loans and credit cards and steep fees on utility payments. For that matter, governments don't transact in cash, so a bank account is necessary for receiving unemployment assistance, tax refunds, and other government payments.
To MacFarlance, the solution was obvious: Money Advice Scotland needed to develop a virtual banking environment where users could learn to use online banking tools and techniques, without worrying about messing up their real-life finances.
Unfortunately, MacFarlance's organization is small, and only has one IT staffer. There was no way it could hope to develop the tools necessary to teach hundreds of people the skills they needed.
Enter Tech for Social Good, a JPMorgan Chase initiative that pairs the company's technology employees with area charities to address pressing social problems.
Scott Morrison, a software engineer at JPMorgan Chase, was immediately drawn to the idea. "I come from a poor area of Glasgow and from a low-income family," he says. "When I read about the project, I thought to myself that that is the kind of thing I'd like to help with because I know how much of an impact it could have if it works."
Adapting Old Tools...And Building New Ones
The Tech for Social Good team's first step was learning about Money Advice Scotland's existing training tools, in order to better understand the charity's specific needs. The Money Advice Scotland team started by walking the Tech for Social Good volunteers through a typical training session to spotlight existing challenges and demonstrate the online training software already used by the charity.
Once the Tech for Social Good software engineers were confident they could work with the current platform, they created a simulation and about a half-dozen profiles, based on the demographics of Money Advice Scotland's clients. For example, one profile was a seventeen year-old who purchases lots of coffee drinks from a café and struggles with overdrafts. Another was an older consumer who needs to set up reoccurring direct debits for utility bills.
"It was important that the tool not only serve as a safe practice space," says MacFarlance "It also needed to provide us with opportunities to introduce topics that are important to financial well being, like how to bank safely online, credit, savings, and all the other pieces of banking."
The Tech for Good Team strove for authenticity. "Our platform has the same screens and features you see in mobile banking," says Sarah MacNeill, a JPMorgan Chase software engineer who worked on the project. "You can create a new payee, pay them money, monitor your balance on the homepage, look at credit card offers, and set a standard payment or debt—all the customary things people do when banking online."
Making a Difference
The new training tool is proving a big win for Money Advice Scotland, says McFarlance. "I actually had this idea about four years ago, but as a small charity we have never had the resources to do it, nor the budget to hire someone else," she says. "Working with Tech for Social Good, our only cost is the platform, which is something we already use. So, it's proven an incredibly cost effective way for us to bring this idea to life, and it's something we have wanted to do for so long."
And Money Advice Scotland isn't the only charity using the tool, says McFarlance. "A lot of other great organizations have signed up to use it as well," she explains. "It's not even just for us. We are sharing it with other charities."