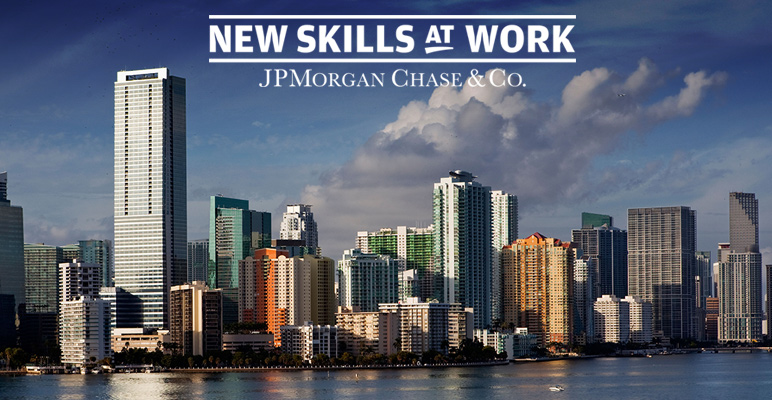 Miami Skills Gap Report
High-demand for middle-skill workers in the information technology and trade & logistics sectors
Unemployment remains high across the globe, yet recent data reveals that employers are having trouble finding workers in key sectors. As part of our five-year, $250 million New Skills at Work initiative, we are releasing a series of skills gap reports in nine metro areas in the United States, as well as in France, Germany, Spain and the UK. The reports focus on middle-skills jobs — those that require a high-school degree and technical training, but not a BA diploma.
In July 2015, we released the Miami-Dade County Skills Gap Report, which shows that Miami-Dade County has a diverse economy, providing a wide array of middle-skill jobs.
As the "center of the Western Hemisphere" and one of the country's largest import/export hubs, Miami-Dade County is a magnet for bringing businesses, goods, services and people to the region. Though hard hit during the recession, Miami-Dade's economy is rebounding and gaining momentum across a range of industries. The information technology (IT) and trade & logistics (T&L) sectors are flourishing particularly well.
T&L has a broad reach in the region, creating jobs in the port, airport, and many distribution and supply chain enterprises that connect the region to the nation and the world. IT's impact as an economic driver is growing significantly as well.
But whether from unemployment, low educational attainment, or lack of technical skills, too many of the region's residents are not benefiting from economic growth. 52% of Miami-Dade County residents —regardless of whether they completed high school — lack the basic literacy skills (reading, writing, math) needed to enter career pathways in the IT and T&L sectors. And despite strong collaboration among some business leaders, many IT and T&L employers perceive that the region's skilled talent supply is insufficient to meet demand, resulting in a barrier to hiring local jobseekers.
The county now faces an important opportunity to integrate existing strategies into a comprehensive career pathways system that can scale efforts to prepare residents for middle-skill T&L and IT jobs, expanding to other sectors over time.
Using real-time data drawn from online job postings, traditional labor market information, and input from local stakeholders and employers, the report provides an overview of middle-skill job prospects in these industries, and the challenges and opportunities for creating an inclusive talent pipeline to meet the demand for middle-skill workers. It also offers recommendations for developing a demand-driven career pathways system that can bridge the opportunity gap and skills mismatch so that the workforce can help to fuel the region's economic growth.
Learn more about the Skills Gap