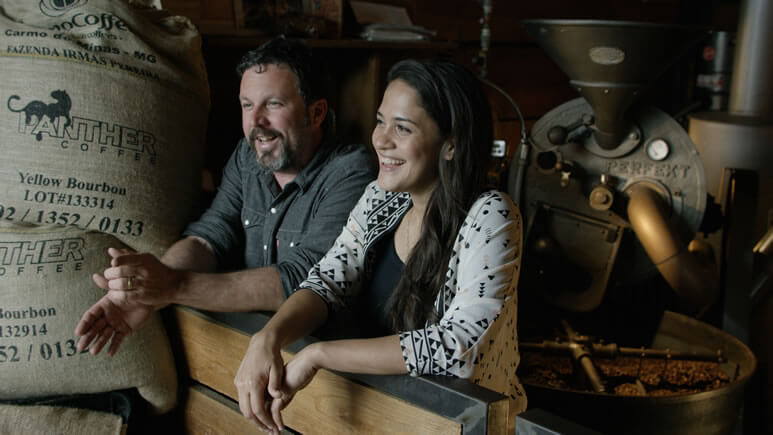 Stories
Panther Coffee
How a business built on coffee grounds is breaking new ground all over Miami.
Joel and Leticia Pollock arrived in Miami in 2010 with a dream of launching a world-class coffee business. Drawing on their knowledge of roasting, brewing and serving coffee, they opened Panther Coffee in Wynwood—an emerging neighborhood north of downtown Miami that has risen to become the city's artistic and design hub.
We knew how to make great coffee, but had to learn how to run a business.
Joel Pollock
The couple borrowed money from their parents, received a loan from a local foundation and tapped the business expertise of their landlord, the late Tony Goldman, a legendary real estate entrepreneur dedicated to revitalizing Wynwood.
"We worked really hard to establish ourselves," says Leticia Ramos Pollock, who was eight months
pregnant when their store opened. "But we were also in the right place at the right time."
Panther Coffee quickly became a gathering spot for the artistic community, generating buzz and attracting long lines of customers, first at its Wynwood store and then at its second and third stores in Miami Beach and Coconut Grove. Before long, the company's wholesale business also took off — hotels and restaurants around the country began ordering Panther's special roasters to capture the subtle tastes and aromas of green coffee beans for their customers.
Reflective of the Pollocks' commitment to quality, Panther Coffee began winning a long string of awards in 2011. Their coffees' distinctive flavors appeal to Miami's global palate, while the preparation of each cup is cultivated to sublime levels.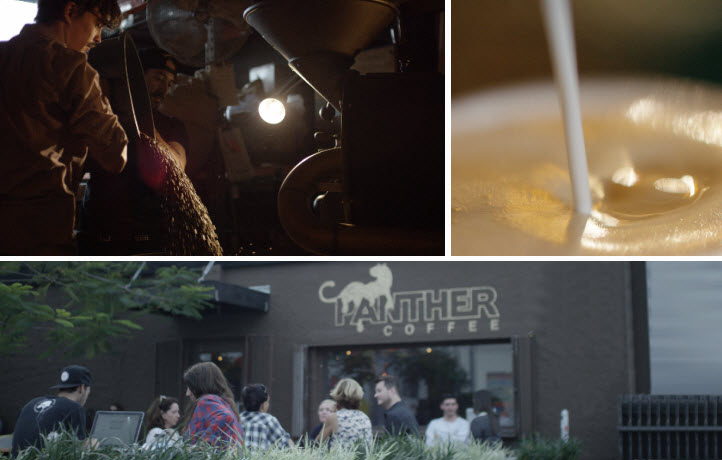 Throughout Panther's phenomenal business growth and expansion, the Pollocks received steady support from Chase, beginning in 2011. When Joel and Leticia were ready to grow their retail and wholesale businesses, Chase was able to expand the scope of the relationship to allow for their continued expansion." Having access to credit was huge for us," says Joel Pollock. "It allowed us to keep building our family business without having to bring in equity partners."
Chase relationship manager, Fabio N., was happy to play a role in helping Panther Coffee become a staple of the Wynwood community, and expand into multiple neighborhoods in the Miami area. "Panther Coffee is a great success story, not just for one neighborhood, but for the entire Miami community," he says.
The Pollocks are currently transforming a large commercial space in Little Haiti into Panther's headquarters, which is slated to open by 2017. The new building will feature a coffee store, a wholesale facility, and a barista training lab—made possible in part by a real estate loan from Chase. The new headquarters in Little Haiti plans to create another 5-10 jobs—ultimately helping to strengthen the local and neighborhood economy.
"Buying a building was a major step for us," says Joel Pollock. "It gives us the ability to take our business to the next level, create new jobs in the community and continue our quest to become one of the top ten coffee brands in the world."
To learn more about Panther Coffee, visit: www.panthercoffee.com
By Richard Westlund
Richard Westlund lives and works in Miami as a freelance journalist and focuses mainly on business, finance, healthcare, technology, economic development and education.