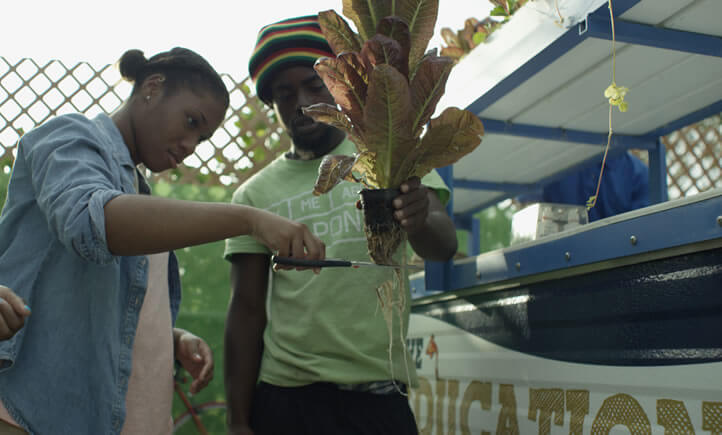 Stories
Workforce Ready
Helping youth prepare for South Florida's growth opportunities.
As one of the country's largest import/export hubs, Miami-Dade County has a diverse economy that creates a wide array of middle-skill jobs, including a significant number in the information technology and trade and logistics sectors, in particular.
However, according to the Miami-Dade County Skills Gap Report released by JPMorgan Chase in July 2015, 52% of residents—regardless of whether they completed high school—lack the basic skills needed to enter career pathways in these sectors.
Helping people gain the skills they need to compete in their local labor market is a powerful strategy for expanding access to opportunity and promoting economic mobility. As economies have evolved to require a more skilled workforce, the next generation of workers needs education and training beyond high school in order to find well-paying jobs that enable them to move up the career ladder and firmly into the middle class.
"Every time we invest in broadening opportunities for our youth, it's an investment in a better Miami and skills acquired through these programs are a great springboard for well-paying, meaningful paths to jobs and stability," said Guillermo Castillo, a market leader for JPMorgan Chase in South Florida and head of the commercial bank, who works regularly with the County's top employers.
Empowering Local Students
JPMorgan Chase has been supporting programs that create more opportunities for workers to obtain well-paying, middle-skill jobs–that is, jobs that require more than a high school diploma but less than a college degree–since 2011. Our initial support began with a seed investment in The Education Effect1, a partnership between Florida International University (FIU) and Miami Dade County Public Schools.
That initial program sought to get students ready for post-high school success, graduating with industry certifications, college credit and/or skills in high-demand industries such as urban agriculture, welding, hospitality and others. The program is now in its 5th year and 10 percent more students are going on to post-secondary education–and they are receiving millions of dollars in scholarships to get there, according to FIU.2
To replicate this success and help students more broadly, JPMorgan Chase also worked to expand the Summer Youth Employment program—doubling its size to 500 students who earn experience, college credit and get paid while developing the skills local employers need.
"The internship opened my eyes to the many opportunities available in this career path. And the health science courses I took in the Career and Technical Education program prepared me to take advantage of this opportunity," said Julius, a high school student with an internship in Advanced Orthopedics & Neurosurgery Group, Miami. "I got so much hands on experience–even observing up to four surgeries per day. I also learned the importance of timeliness and punctuality, because they reflect commitment to the job."
Helping Businesses Thrive
Workforce programs are important for the success of local businesses as well. Many employers today are looking for skilled workers in the top industries driving economic growth locally: trade and logistics, and cybersecurity. Jobs in cybersecurity and trade and logistics earn more than $20 an hour at the entry level, and offer great career mobility and income growth potential, but more needs to be done to develop the talent pipeline.
That's why the Career and Technical Education Department at Miami-Dade County Public Schools in partnership with the National Academy Foundation (NAF) launched the career-themed academies to prepare underserved high school students for viable careers. Five Academy programs in Global Trade & Logistics and Cybersecurity have been created throughout the Miami-Dade County, with support from JPMorgan Chase. Students who are enrolled in these programs participate in industry-specific internships, attain industry recognized certifications and take dual enrollment courses that can help to jumpstart their college career, while at the same time engaging them in the career field.
As big investments are made in Port Miami, tech companies expand operations in South Florida and the cyber field grows in demand, private and public collaboration will accelerate workers' readiness to grow along with opportunities opening up in the county.
For more on how JPMorgan Chase helps people develop skills they need to compete for today's jobs, visit: www.jpmorganchase.com/corporate/news/stories/creating-opportunity-thru-syep.htm