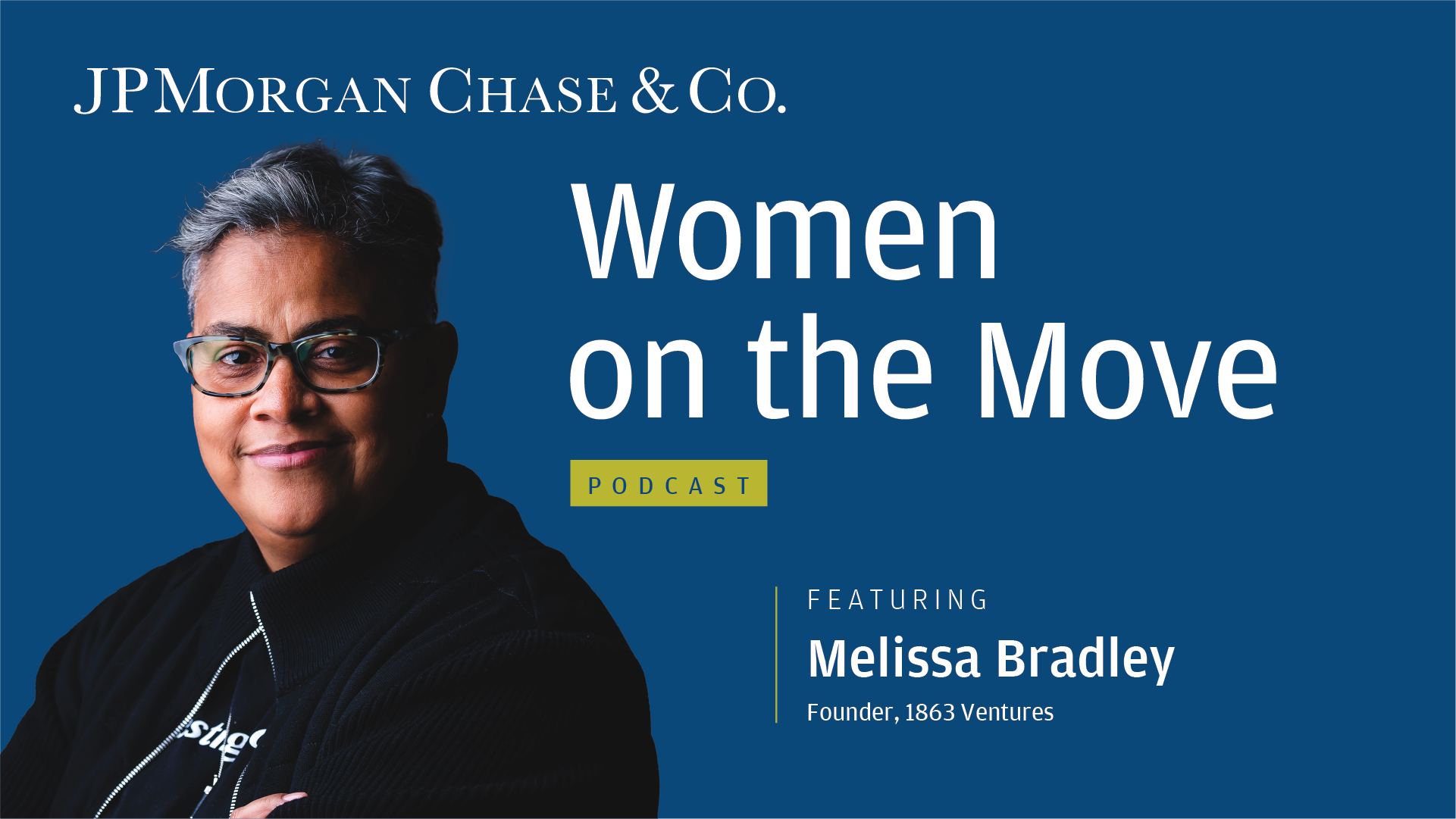 Stories
How Melissa Bradley is creating $100 billion in new wealth for the New Majority by 2030
Helping women and People of Color achieve their entrepreneurial goals has been Melissa Bradley's driving force throughout her career. Along the way she founded 1863 Ventures, a nonprofit that helps underserved entrepreneurs move from high potential to high growth, and she co-founded a separate platform that provides support for small- to medium-sized businesses. On this episode, she sits down with Women on the Move's Sam Saperstein to discuss these two ventures, the lessons she's learned, and her progress towards creating $100 billion in new wealth for the new majority by 2030.
Empowering women, black and brown entrepreneurs
Melissa first realized that entrepreneurship was a pathway to financial success when she was bartending as a student at Georgetown University. When she returned to Georgetown as a professor, a student project to organize an entrepreneurial summit in Anacostia quickly grew, eventually becoming 1863 Ventures.. The organization is dedicated to accelerating black and brown entrepreneurs from high potential to high growth, through rigorous leadership training and strategic market access. A key differentiator is their focus on ongoing operations for established companies, rather than startups.Their methodology was proven out by the high survival rate of their companies during the pandemic.
Following the success of 1863 Ventures, Melissa co-founded Ureeka in 2018. Ureeka offers "always-on coaching" to minority entrepreneurs, with 24-7 access to peers and colleagues via an app or website. "We essentially partner with accelerators and incubators all over the country and now corporations and others who want to help women and entrepreneurs of color and provide a scalable platform," Melissa tells Sam.
1863 was Ureeka's first customer. After businesses "graduate" from 1863, they receive on-going support through Ureeka. At Ureeka, Melissa and her team "made a commitment that every conversation, we would solve a single problem," rather than offering theoretical advice.
Qualities of a successful entrepreneur
The environment for entrepreneurs has changed in just the past decade. Ten years ago, Melissa notes, there was a stigma attached to entrepreneurship—that people starting businesses were either crazy or had graduated from Harvard. Today, "there's diversity in who shows up," she says. "I think people are much more open to asking for help because they don't worry that people are going to make fun of them."
In addition to the three most common mistakes entrepreneurs make, Melissa shares the three key qualities entrepreneurs must have to be successful. The first is blind optimism, "if you believe and see it for yourself, then go for it." The second is a dose of tenacity and resilience, she says, noting that many people are going to tell you no along the way. The third quality is self-awareness and the ability to recognize "when you're not the right person to do certain things"and then move on to the next big problem that needs solving.

How Melissa Bradley is creating $100 billion in new wealth for the New Majority by 2030
Melissa Bradley
Founder, 1863 Ventures
Subscribe