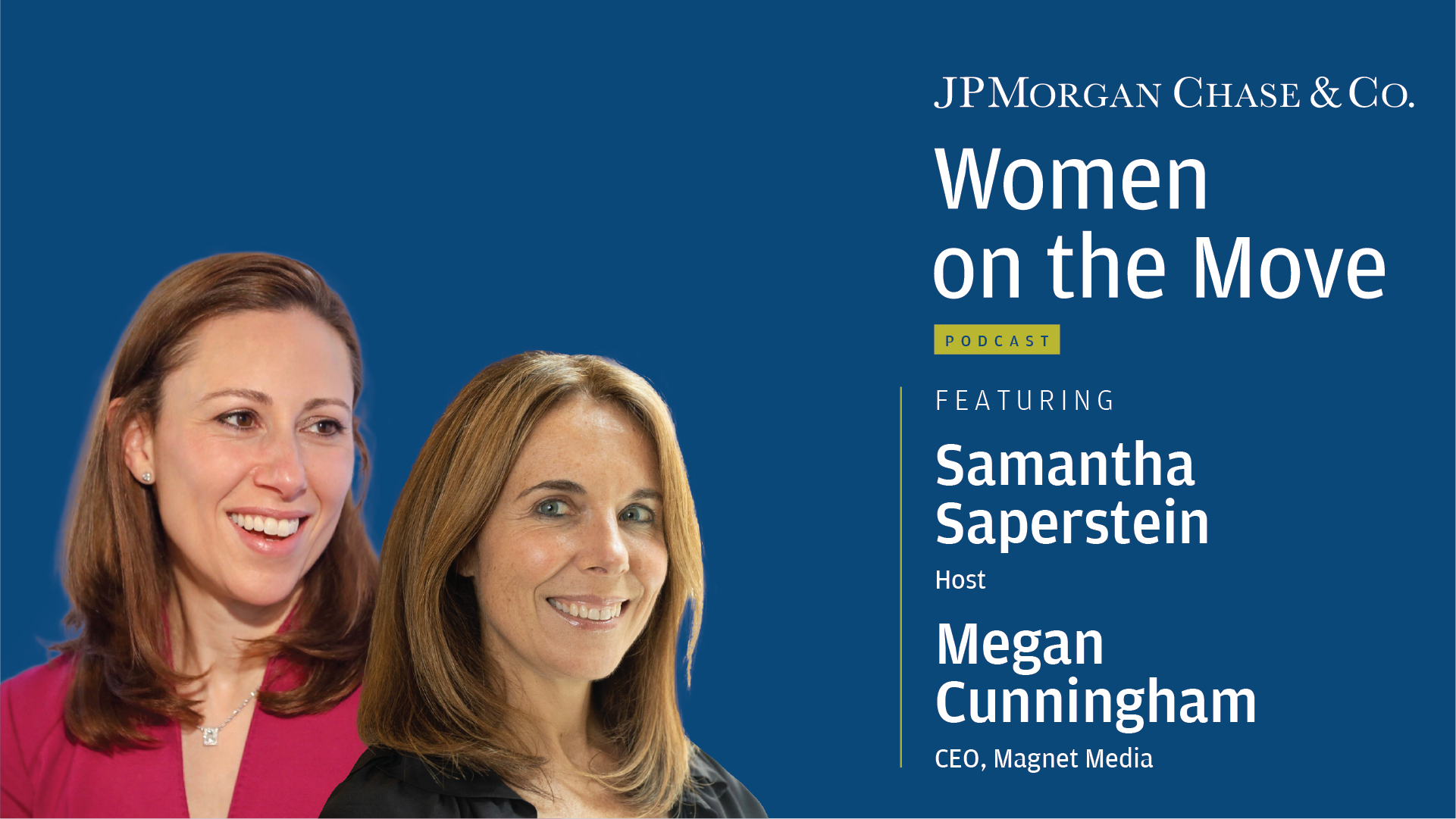 Stories
Year-end lessons on business, the pandemic, and women, with Magnet Media CEO
In this final episode of the Women On The Move Podcast for 2021, host Sam Saperstein sits down with Megan Cunningham, CEO of Magnet Media, the podcast's production partner. They talk about Megan's journey as a female founder, the impact of COVID-19 on the business, and the power of mentorship, all while discussing some of the wonderful lessons that WOTM guests have shared all year.
Telling stories that matter
Megan took an unconventional path to becoming a female founder and CEO: She started out producing "guerilla activist films" in college, later worked in a corporate environment making films that were broadcast on PBS and HBO. From the beginning, she says, she realized that she wanted to focus her career on telling stories that matter, but she quickly found that the corporate environment wasn't a fit for her or her personality.

It was a lunch with a respected mentor that helped her see what was unique about herself. She recalls him saying, "Megan, you're really smart, and hardworking, and creative. However, you're in an environment where everyone is those things. Everyone is smart, everyone is hard working, everyone is creative, and the thing that really makes you unique is that you're good at computers." As a liberal arts major with a desire for storytelling, Megan was taken aback at first.

"But I took a cue from that conversation and left the production world temporarily to join [a start-up] as employee number two," she recalls. After positioning that start-up for success, Megan applied that experience to founding Magnet Media, a company dedicated to using storytelling and data together to drive business results. As she tells Sam, "I think Magnet's aspiration is to really look at the storytelling qualities, the craftsmanship that is put into that type of storytelling, and apply that to brand storytelling because in my view, that's where everything's headed."
Pandemic impacts
Sam and Megan also discuss the challenges brought about by the pandemic. As a business leader, Megan indicated that navigating the pandemic was easily one of the hardest challenges of her career. "And that's saying a lot, right?" she notes. "I've been in a scenario where we had to evacuate our offices at 9/11. I've been in a scenario where people were freezing their payments to us during the mortgage crisis. However, this was by far and away the most difficult part because it affected everyone personally, and it affected everyone's family and their friends, their loved ones."

Early on in the pandemic, Megan says she focused on figuring out how Magnet could leverage their best work in this new environment. "And most importantly, starting with our people, how do we take care of our people and set them up for success?" she recalls.
At the same time, Megan tells Sam, she was cognizant that some of the worst impacts of the pandemic were being felt by women. Sam and Megan discuss many of these themes that were highlighted by other 2021 Women on the Move guests such as Katica Roy, Fatima Goss Graves, and Rebecca Minkoff. "A lot's been written on the she-cession, so to speak, of 2020, and how deeply disturbing it is that women have been inordinately affected and impacted by this period, by the pandemic, and continue to be," Megan says. "And I think as leaders, it's upon all of us to look in the mirror and see what we can be doing to better support the women on our team, to recruit more women, to create policies that are favorable to attracting female candidates, and to really support them as the company grows."
The power of mentorship
One consistent theme throughout Megan's career has been mentoring other women. As someone who benefitted from amazing mentors in her own career, Megan's been deliberate about giving back and supporting other women. She mentions three broad groups she focuses on helping: female filmmakers, female founders, and women at all levels within Magnet.

Megan describes her belief in the need for improving gender balance throughout media and other industries. At Magnet, she says they've only gotten sharper about metrics and measurement over the years, doubling down on tracking how many female crew members, how many people of color, how many people with diverse abilities are represented on the team.
Megan says she recognized that the pandemic had impeded her and others' ability to be good mentors. "So that's something that I'm taking note of as we start to reopen and do more in terms of face-to-face meetups [and virtually]," she says. "As we think through the future, really committing to intentionally mentoring and making time for women on my team is something that is my 2022 commitment."

Year-end lessons on business, the pandemic, and women with Magnet Media CEO
Megan Cunningham,
CEO Magnet Media


Subscribe