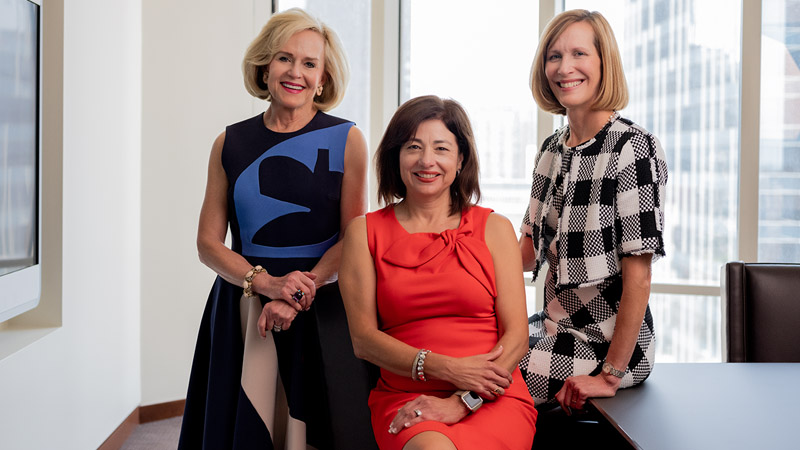 Stories
Meet the Powerful Women Leaders at JPMorgan Chase
A trio of women executives at JPMorgan Chase's Dallas-Fort Worth location have spearheaded several acquisitions and instituted a forward thinking culture that have made a positive long-term impact on the company and its culture of inclusivity.
This article was originally published by D CEO Magazine.

A trio of women run most of JPMorgan Chase's North Texas operation, which employs 12,000 people locally. Although they share the same xx-chromosomes, they bring radically different leadership styles to their jobs. Elaine Agather, chair of the banking giant's Dallas region, is a larger-than-life personality who has had to temper the blunt criticism she has sometimes delivered to subordinates. Anne Motsenbocker, who runs Chase's middle market banking in the Midwest and South, is a self-described people pleaser who has learned tough lessons about making demands and doling out feedback.
"My proudest moments as a manager happen when I see young people join the firm and grow into mature, talented, and successful advisers and leaders," Agather says. "The feeling that I might have had a little part in helping them get there keeps me going."
Elaine Agather
Exception to The Rule
Agather is something of a Dallas business icon, but she and her fellow women leaders at JPMorgan Chase remain the exception, not the rule, in the executive suites of large corporations in America. In commercial banking, a recent study shows that women made up 56.7 percent of all employees, but only 30.8 percent of executives and others at senior levels, according to Catalyst, a New York-based nonprofit that pushes for female-friendly workplaces.
"Among Fortune 500 companies, there are more male CEOs named either 'John' or 'David' than there are female CEOs," says Tracey Rockett, professor of management practice at the Neeley School of Business at Fort Worth's Texas Christian University.
Executive diversity challenges extend beyond gender. Only three Fortune 500 CEOs are African-American and just 11 are Latino, according to Mickey Quiñones, O. Paul Corley Distinguished Chair in Organizational Behavior at SMU's Cox School of Business. "Those are total numbers, not percentages," he adds.
At first blush, Motsenbocker may have seemed ill-suited to play in the sometimes bare-knuckle sandbox of executive management when she joined a JPMorgan Chase predecessor, Texas Commerce Bank, in the mid-1980s. Growing up in Houston, she often played peacemaker in her family of four. "I like people to get along," she says. "I had to learn to accommodate that as a strength and not let it become a weakness."
Still, her father, associate dean of students at UT Health Science Center at Houston, often baited her into debates—something he admitted years later that he intended to make her a critical thinker and toughen her up.
"'If I'm the biggest asshole you meet in life, you'll be lucky,'" Motsenbocker remembers him telling her. She adds: "I had a hard time backing down."
But perhaps what shaped her perspective most was two volunteer trips she took in her teens to Latin America. The first, with the Houston nonprofit Amigos de las Américas, saw her spending five weeks in a Nicaraguan village during the summer before her junior year in high school. Motsenbocker got the itch to do it from watching her parents volunteer with the nonprofit starting when she was 12. Her mother, a nurse, helped train her to give vaccinations. She practiced first on oranges, and later on other volunteers.
Motsenbocker personally gave about 1,000 vaccinations in the remote mountain region near the Honduran border of Nicaragua. She also learned to dig latrines. The experiences broadened her horizons and helped form her leadership sensibilities, she says: "I learned how to have productive conversations with people of different mindsets and cultures who didn't necessarily agree with you."
Learning to Deal With It
Another life-shaping moment came the following year, when she arrived at a Colombia airport to start her senior year of high school in a student-exchange program. The welcoming party that was supposed to greet her was nowhere to be found. The 17-year-old Motsenbocker, who's Spanish was rudimentary at best, initially thought she was going to break down. "Then I thought to myself, 'You can get back on a plane and go home, or you can deal with it,'" she recalls.
The family Motsenbocker was supposed to live with eventually arrived. By then, she had learned something about herself. "You have to choose fear and conquer a problem," she says. "I am not uncomfortable now when I am in uncomfortable situations."
The lessons continued to be absorbed. Early on in her career, Motsenbocker viewed constructive feedback as a personal failure. "I didn't like to receive it, and I didn't give it well," she says. "I have learned over time that feedback, given constructively, is a gift to be cherished. Personally, I now seek out feedback, and I am committed to sharing feedback with others to help them be their best."
Working-Class Roots
Agather's father supported his wife and four daughters largely on his wages as a bulldozer operator. She got her first job at 14, wrapping gifts at Tappan's Jewelers in her hometown of Sherman. Her boss was cranky and gruff.
"I learned right there and then that hard work, showing up early, and having a great attitude were tools that help you be successful in difficult—and different—work environments," Agather told D CEO in an interview for its Dallas 500 publication. "Those qualities work at 14 and they work at 60. That experience made me appreciate different kinds of bosses and realize all of them have something to teach you."
Rodriguez also grew up in a working-class household. Her mother, equipped with a sixth-grade education, supported her two sons and two daughters by doing migrant jobs, mostly in Texas and Indiana. She also made tamales to sell to neighbors and worked in retail, both on the sales floor and stocking shelves.
"She'd drive us up to Chicago, drop me off at one end with relatives, drop my sister off at the other end, and take the boys with her to Indiana for odd jobs," Rodriguez remembers.
Still, her mother found time to help others and volunteer at her church. The childhood experiences taught Rodriguez to never take anything for granted, to work hard, and exceed expectations. "If someone gave me a task that was due on a Friday, I tried to get it done by a Wednesday," she says.
But as she rose through the ranks at JPMorgan Chase's predecessors, she found that others didn't listen much when she tried to share her views at company meetings. She mentioned her frustrations to Todd Maclin, a now-retired Chase exec who had been assigned to advise her through a formal mentoring program.
"He said, 'Why are you surprised? You are so siloed, they don't know you. Tell me who you personally arrange to have meetings with when you are in New York, such as going out for coffee or lunch.'" Rodriguez follows his advice to this day, building allies in the bank with face-to-face get-togethers when she travels across JPMorgan Chase's far-flung operations.
About a year ago, she took on a new role, developing strategies for Chase building banking relationships with people who traditionally have not had them, such as young adults and immigrant families. "This segment represents 70 percent of the households in America," she says.
Prior to that, she had run Chase's consumer banking operations in large Texas metros. Rodriguez says she views her new job as a way to build a legacy of helping people who have similar backgrounds to her own. "If I can do that," she says, "it has been a complete career."
Trickling Up
Women are closing the leadership gender gap in industries like healthcare and education, but significant inequality persists across the broader business spectrum. According to the World Economic Forum, if current patterns hold, it will be another 200-plus years before true economic gender parity is achieved globally.
Many companies will not see the need for diversity in their executive ranks until they realize how beneficial it has been at lower management levels, says Orlando Richard, an associate professor of management at The University of Texas at Dallas. Motsenbocker previously worked for Agather in the private bank. As Agather climbed the corporate ladder, she recommended that Motsenbocker also be given more responsibility.
To be sure, diversity may trickle up like this more because somebody on top thinks, "She can do the job," rather than, "Having different viewpoints helped our group made better decisions." But the end result can be the same.
Beyond making better decisions, bringing more women into senior management has been shown to improve net margins. According to EY and the Peterson Institute, which studied more than 21,000 public companies in 91 countries, businesses with 30 percent female leadership could expect to add up to six percentage points to its bottom line, when compared with similar companies with no women leaders.
Companies like JPMorgan Chase are listening, and working to support diverse employee populations by providing amenities that help with life issues. For example, new parents can receive up to 16 consecutive work weeks of paid parental leave after a birth or adoption. And at JPMorgan Chase's new $400 million campus in Plano, the company has a wellness center that provides basic health services—most of which are free of charge.
Last year, Agather hosted CEO Jamie Dimon and the company's board of directors to show off the new campus, which is home to about 6,500 North Texas employees. "It's so motivating to know that your company stands behind your community with a massive investment like this," she says.
"Not many people realize Texas has more JPMorgan Chase employees than any state outside of New York."
Elaine Agather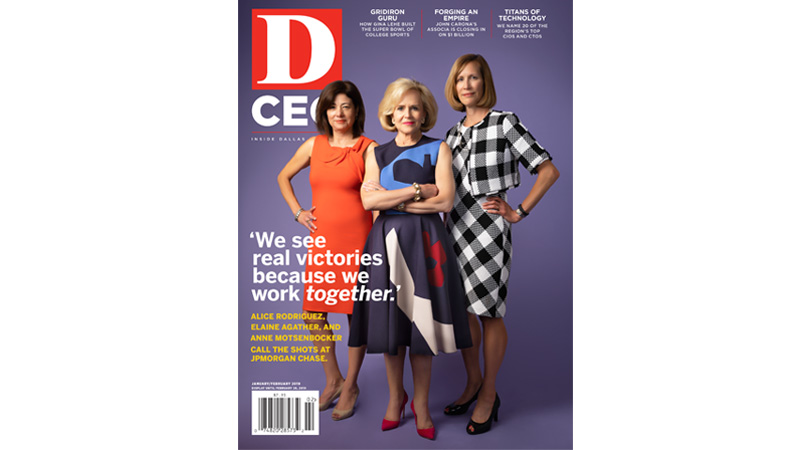 Getting the Job Done
It's difficult to measure the impact a diverse executive team has had on JPMorgan Chase's Dallas-Fort Worth operations, which, as of June 2017, had more than a third more local offices (239) than any other commercial bank. With Agather in charge, JPMorgan Chase's area office count has climbed nearly five times from the 48 its predecessor, Texas Commerce Bank, had in 1994, the earliest date for which numbers are available. Similarly, Chase as of last year controlled nearly 22 percent of area deposits ($58 billion), compared with 8.3 percent ($3.8 billion) in 1994.
Agather argues that the bank's culture has helped it be a consolidator rather than be gobbled up by competitors. "We see value in it," she says of what she and other execs characterize as an 'all-for-one' atmosphere. "We grow and see real victories because we work together."
Most any C-Suiter will say something similar about his or her employer's culture, internal realities notwithstanding. But consider this about Agather, Motsenbocker and Rodriguez: Somewhere between 70 percent and 90 percent of corporate mergers fail to produce benefits that the companies intended going in. The most typical culprit is internal strife between employees of the companies that are part of a given transaction. Since joining Chemical Bank (a Chase predecessor) in 1979, Agather alone has helped implement 10 mergers and acquisitions. Motsenbocker and Rodriguez have both worked on multiple deals.
The result: Chase today is by far America's largest bank, with $2.6 trillion in assets, government data shows. In short, all those mergers the three women worked on … worked.
---
Learn more about our commitment to diversity in the workplace.