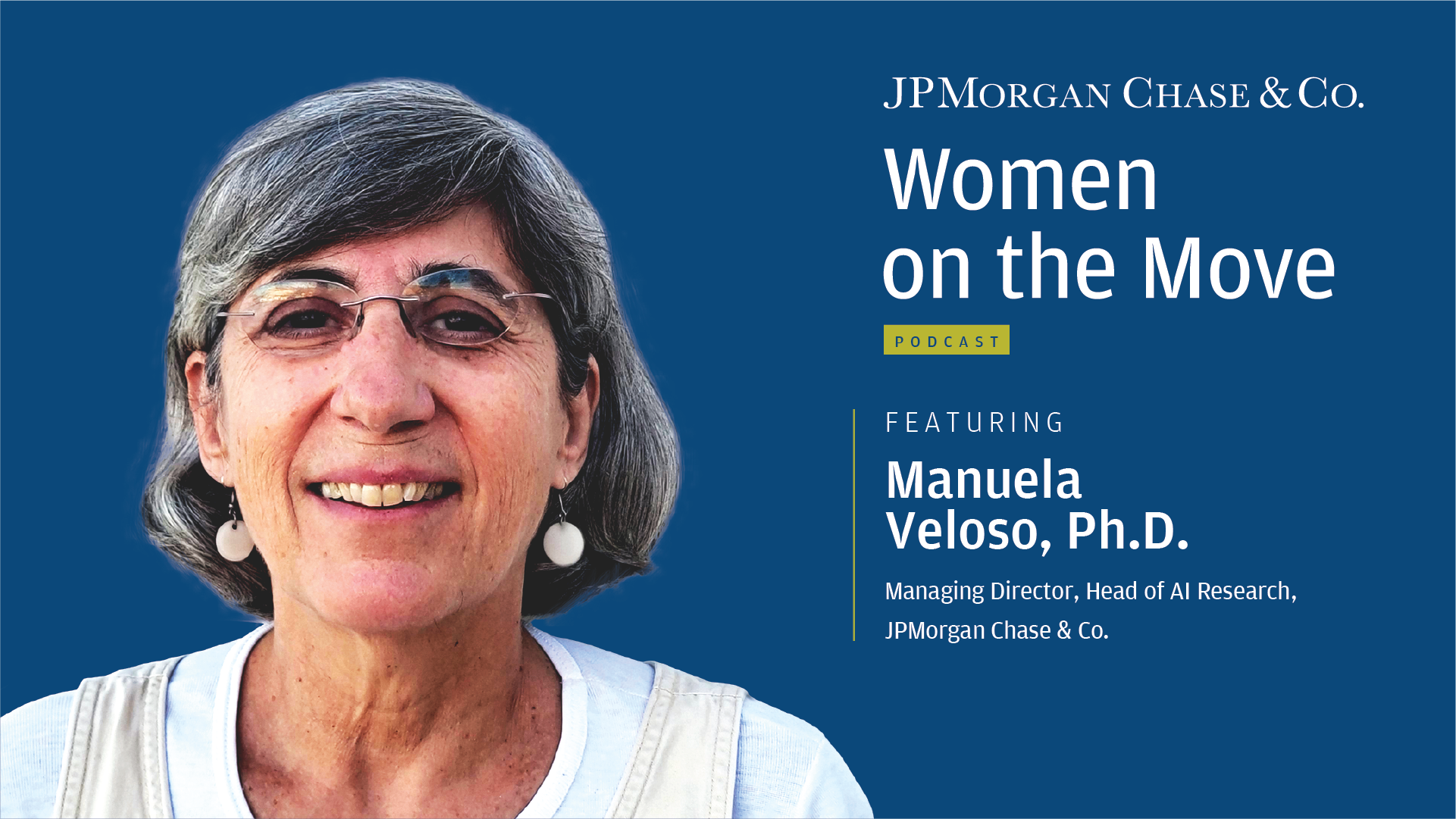 Stories
Head of AI research sees a collaborative future
A world-renowned expert in the fields of robotics and artificial intelligence (AI), Dr. Manuela Veloso was a professor in the computer science department at Carnegie Mellon University and she took a leave of absence three years ago to be head of artificial intelligence research at JPMorgan Chase. In this role, she has applied AI to problems in economics, data management, and gender equity. She sits down with WOTM's Sam Saperstein to talk about her journey, what she loves about her job, and the future of AI and robotics.

Working as a team
Manuela Veloso earned her Master of Science in electrical engineering in Lisbon, Portugal, before coming to the United States in 1984 to begin work on a PhD. She made the switch to computer science after she came to see how computers can solve problems for people, a purpose that still resonates for her today. She became interested in robotics because while computers and AI could create plans, it took robots to execute them. She tells Sam that she never had interest in science fiction or robots before that. "I began addressing the robotics only because of my interest in seeing these plans that we'd created theoretically eventually, through a generation of actions, being executed," she says.
In 1996, Manuela cofounded a robotics soccer competition known as RoboCup, bringing together people's love of games, and soccer in particular, as a way of promoting robotics and AI research. The RoboCup is still held every year and has advanced from the days of single robots on wheels acting independently to today, where humanoid robots work as a team.
A collaborative future
Manuela sees a future in which humans and intelligence systems are inseparable. She relates this vision to a breakthrough she had at Carnegie Mellon about ten years ago when she was developing robots that would not be able to solve certain novel problems. "These robots would move down these corridors and then they would face a closed door, or they would have to press an elevator button or someone talked with them and they didn't understand what people were saying." The robots would never be autonomous if they kept being stymied by these problems. "And then one day I decided that we wouldn't be able to solve this problem with more arms for the robots or better language technology. There will always be these limitations, intrinsic limitations in the robots."
Her solution was "cohort robots," or robots that work together with humans to solve problems. Manuela explains: "Basically if there was an obstacle in front of them, they would say, please, can you help me please? Excuse me, get out of my way, open the door, press the elevator button. They became autonomous, but asking for help." She calls it "symbiotic autonomy." She also calls it "the secret of the future."
"One day I believe that we will be always asking for assistance from AI," she says. Because of the huge amount of data we've accumulated and continue to accumulate, the scale of our problems—whether it's at work, getting advice from a financial advisory, or just sorting the photos on our iPhones—is only getting bigger. Manuela says that humans who leverage AI to make decisions will be more trustworthy.
Advice and Legacy
Manuela hopes her legacy will be the simple notion that "problems can be solved." But not even AI can solve them easily or right away. We have to put in the work, but we can celebrate progress. "And this is true for women in the job," she adds. "This is the advice I always give: Break the difficult problems into pieces. Try to reward yourself, be happy when little pieces are accomplished. It's perfectly fine that the big piece is not there yet." Take satisfaction in the steps along the way.

Head of AI research sees a collaborative future
Manuela Veloso,
Managing Director, Head of AI Research


Subscribe