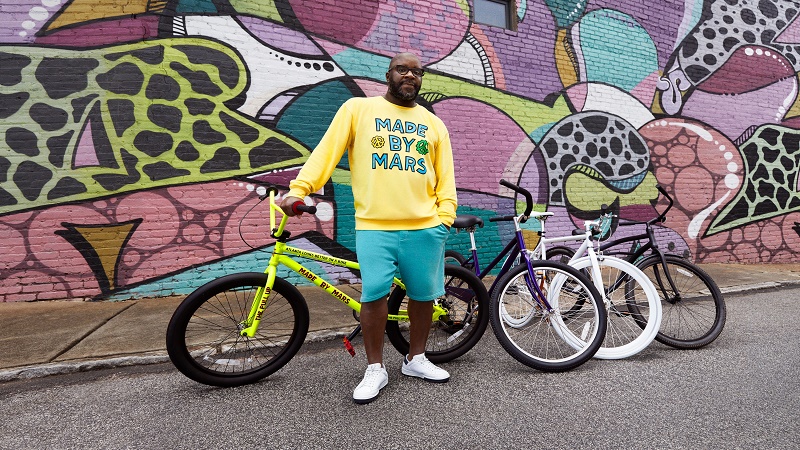 Stories
From Records to Bicycle Wheels: How an Atlanta DJ Found a New Business "Jam" to Get People Moving in a Pandemic
Chase is Helping Local Entrepreneur Build National Customized Bicycle Brand with Atlantic Station Storefront
Marshall Thomas knows a thing or two about getting people moving. Known around Atlanta as DJ Mars, Thomas has been the go-to DJ for big R&B acts in Atlanta for nearly 30 years. He has traveled the world, from one country to the next, performing internationally alongside some of the biggest stars in entertainment. That was before COVID brought live touring to a screeching halt in 2020.
At the onset of the pandemic, Thomas bought two bikes as a birthday present for himself and customized them to showcase different aspects of his hometown in Massachusetts. He planned to ride the bikes on his birthday, but instead posted a photo of the bike online to show off his design to his social network of friends. He never imagined the response it would create.
Soon after posting the photo, Thomas received an offer from a customer in the United Kingdom to buy the bike. Without hesitation, he customized a second bike and posted it on social media – this time asking his friends to come to him with new ideas. It wasn't long before Thomas was flooded with requests. It was then that his business, Made by Mars, was officially born. Thomas's bicycles reflect his passion for individual expression and community pride. For Thomas, he knew these bicycle designs would provide him with the opportunity to showcase his authentic love of Atlanta which has become a second hometown.
"If you position yourself right in this city, you will never be obsolete," said Thomas, citing Atlanta's bustling international airport and tourist destinations. "You have access to new customers every single day, so you will always be new to someone new."
Trusting the Growth Process
The early success of Made by Mars shifted the lifelong artist's passion project into high gear. While Thomas owned his own business in the past, he quickly realized different pain points with his first product-based venture. A desire to better understand cash flow and business credit led him to a longtime friend and fellow Clark Atlanta University alumni Rashida Winfrey, a Vice President and senior business consultant with Chase.
As part of JPMorgan Chase's $30 billion commitment to drive an inclusive economic recovery and advance racial equity, the firm launched a new program in 2020 to help strengthen sustainable business growth for entrepreneurs in historically underserved neighborhoods. Through this initiative, which is available to Chase customers and non-customers alike, small business owners in 21 cities across the U.S., including in Atlanta, were matched with a Chase senior business consultant who provided advisory services such as mentorship, business development coaching, resources and financial planning.
Winfrey got to work immediately with Thomas to begin mapping out his entrepreneurial journey. She helped Thomas consider a more permanent storefront location – the company secured its first pop-up store in Atlantic Station in late 2020 – and build inventory through business credit. She also understood that, while the bicycle business was booming during the pandemic, there were some significant supply chain issues that made the business very labor intensive for Thomas. Her goal was to help solve for some of those issues and remove some of the barriers to success for Made by Mars.
As the daughter of a successful Atlanta-based small business owner, Winfrey understands how a successful small business can change the trajectory of an entire family. She is particularly passionate about working with owners of non-traditional businesses in creative industries because she is inspired by clients like Thomas, whose products emulate the character and vibrancy of her home city.
"I was fortunate to grow up in a city that has, for a long time, supported Black entrepreneurs," Winfrey said. "This program is an incredible resource for budding entrepreneurs, but it also provides me with a fulfilling opportunity to act as a bridge from the world of finance and banking to help our minority communities achieve entrepreneurial success."
To learn more about how Chase can guide your business to the right resources, share your information using the request form on our homepage: https://www.chase.com/business/minority-businesses.
Member of the Federal Deposit Insurance Corporation.
###