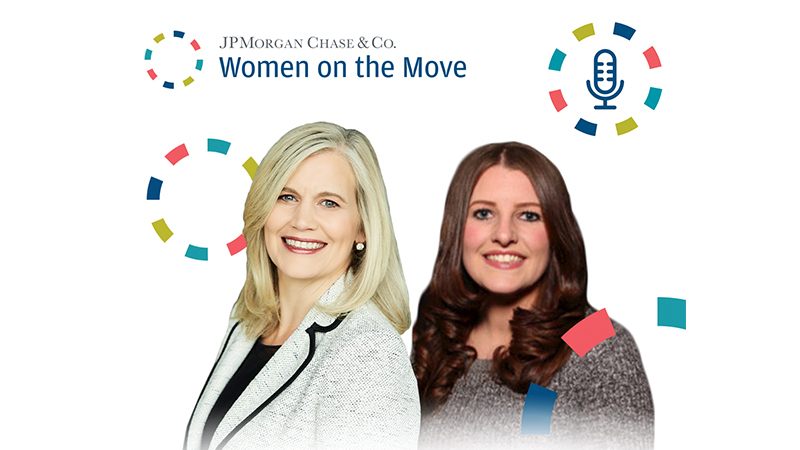 Lori Beer and Elinda Welsh
Attract, retain, promote

Currently, women represent about a quarter of the computer science workforce. Beer understands why and as Chief Information Officer for JPMorgan Chase, she has led the strategy to put an end-to-end solution in place for young women.
Elinda Welsh, one of the strategy's benefactors, is a software engineer who is on the fast track for new, exciting and challenging opportunities. Elinda's opportunities started with an internship back in Glasgow, and following that was tapped to participate in a variety of highly coordinated and focused skills-based programs. Along the way she received critical support provided by mentors, technology leaders and business managers.
In this episode, two successful women in technology share their experiences and perspectives from uniquely different ends of the career spectrum.
Technology: From a bank's perspective
From a cross-enterprise point of view, Lori's global organization of industry experts are tasked with ensuring the integrity of the organization's data. This translates into three overarching priorities for Lori and her team; protecting customers, clients and the firm. They spend the majority of their energies focusing on data use, data rights, A.I. and cyber security.
In the consumer space, Lori touches on the work they are doing to improve client experiences by providing more virtual assistance capabilities and intuitive credit cards. For the latter, their goal is to lower potential fraudulent activity by making credit cards innately and preemptively 'smarter'.
Brightest and smartest
With the growing need to attract top talent, it doesn't hurt to have an annual working budget of $11 billion and over 50k technologists globally. Lori's organization is constantly scouting for bright minds and high achievers and believes JPMorgan Chase's industry leading position in technology creates a competitive advantage. This advantage gives her team the ability to gather extensive thought leadership and diverse perspectives
For Lori, the competitive differentiators boil down to having the capacity to engage top talent, deliver seamless execution and provide a collaborative environment.
View Transcript

(updates content above)
Hide Transcript

(updates content above)
Lori:
We have to have programs that are sustainable that you can't just support diversity, you have to be actively engaged. And we're not just focusing on how do we attract but retain, promote, develop.
Sam S:
Welcome back to the Women on the Move Podcast from JP Morgan Chase. I'm Sam Saperstein. Women on the Move is a global initiative at the bank. It's designed to help women grow their businesses, improve their financial health and build their careers.
Sam S:
In each episode we feature individuals who are breaking the mold. In our last episode, we spoke with Gordon Smith. Women on the Move exists in large part because of his support and prioritization of diversity, equity & inclusion efforts at JP Morgan Chase. In that episode, we talked a lot about talent identification and mobility within the firm.
Sam S:
Today, I'm excited to have two more incredible guests with me. Lori Beer is Global Chief Information Officer of JP Morgan Chase. She's also a member of the company's operating committee and is responsible for the firm's technology systems and infrastructure worldwide. She's also a huge champion of promoting women in technology, and it's because of her leadership that so many women in our technology organization have the support and mentorship to excel in their careers.
Sam S:
Our other guest today, Elinda Welsh, is in Lori's technology division II. Elinda started her career at the firm in Scotland and has participated in a few of our leadership development programs. These programs have given her many opportunities, and she now mentors other women who are starting their technology careers. They both have a great story to tell and I'm so excited for you to hear it.
Sam S:
Lori and Elinda, thank you so much for being here. Lori, I'll start with you. So you're the Global Chief Information Officer at JP Morgan Chase, responsible for the firm's technology and infrastructure around the world, so a very big job with a lot of responsibility and a large budget of $11 billion plus 50,000 technologists that we employ, which is a lot of people. So, can you share with us, just to start, your career path and how you got to this role?
Lori:
Yeah, thanks Sam, happy to. I started my career path as a software engineer. While technology's changed a lot over the last several years, it's really helpful. And so, I went from being a software engineer into leadership roles, and I ultimately, I also spanned industries. So I was in telecom industry, healthcare, ultimately making my way to financial services, doing various roles from running major programs to being a CIO at another Fortune 50 company to running operations and technology, running a large P and L. and I think all of those experiences, that breadth of experience is really what helps me when I think about my role as the Global CIO at JP Morgan Chase, really understand what the needs of the businesses are, the needs of the technologists are, and how we can deliver all of that for our customers and clients every day.
Sam S:
So interestingly, you didn't start out as a tech major in college, but you did find it early on, and it became an interest.
Sam S:
What was that like? So how did you come to it, and what sparked your interest in it?
Lori:
Yeah, I started as an electrical engineer. And it was interesting because I always have been very analytical, great in math and science, so I went down that path. I was in my first circuits class, and I realized that wasn't really driving my passion, but I was taking this programming class and I love the ability to sort of, here's a problem, and how do I apply algorithms to solve that problem?
Lori:
And so, early on in my freshman year I made that switch from electrical engineering and to computer science. Was only a few women in computer science in those early days. But it ended up being a passion that continues for me today. So it was a great, I guess, wise decision I made very young in my college career.
Sam S:
So from circuits to programming was a good move. So Elinda, you're a vice president in software engineering, and you focus on cloud services. So tell us about your role and what you do day to day.
Elinda:
I worked predominantly with the private cloud within JP Morgan. And I am in an enablement possession. So I work really deeply with our engineering community to understand what are their peer end points when they're trying to build applications to run in our private cloud? What's their experience? How can we make it easier for them? And how can we take all those little bits that we need to join together and make that really fluid.
Elinda:
So I try to really understand what our developers need, and then try and help with our engineering teams to drive out those priorities to make sure that we're delivering what our engineering teams needs so that we can then allow them to deliver business value for our clients.
Sam S:
And so tell us about the private cloud versus a public cloud and what both of those things mean.
Elinda:
The private cloud, just basically cloud infrastructure that we built out within our physical data centers. So it's internal to JP Morgan. We own it and we can host all of that.
Elinda:
The public cloud is where we would be utilizing the likes of public cloud vendors, those external, all ready and viable public cloud vendors.
Sam S:
So you've had other roles at the bank too. You've been here for a while. Tell us about your path.
Elinda:
I started in JP Morgan as an intern. So in my penultimate year of university I came in for a 10-week internship, and that's where I instantly just fell in love with the company. I had the most amazing team. I was working in [inaudible 00:05:31] engineering and architecture at that time. And I just had the most amazing manager who was really deeply in set with agile principles and doing things in the right way. I just fell in love with it.
Elinda:
I then got the opportunity to take mobility into an iOS, so a mobile development role that was off the back of a little innovation competition that I did in Glasgow. So I thought, Hey, I can build a mobile app. I can give this a go. So I was given a Mac Book, I was given some resources, and I went off and tried to write a little application for three months. And I thought, well, that was great. That was a fun little competition. That's great.
Elinda:
And the head of the CIB Mobile Center of Excellence at the time was like, so we're trying to employee iOS developers, and we're really struggling. Would you be interested in coming in, and we'll give you the training that you need. We'll train you up if you want to be an iOS developer. And at that time I was kind of like, Oh God, Oh that sounds really hard. I don't know if I can do that. I'm a Java developer, this is had my head on where I wanted to go. But that was a like my first big kind of setup, like, okay let's do something completely different.
Sam S:
So this competition really led to a different career path-
Elinda:
It did.
Sam S:
Or at least a new step on the career path for you.
Elinda:
Exactly.
Sam S:
And what got you over that hurdle of thinking, you're a Java developer and weren't sure about doing mobile development? What pushed you really in there and showed you that you could do that?
Elinda:
When I first came out of college, and I'm inherently quite an introvert. I was very, very self conscious. I have an amazing mentor that I've had since I was on the graduate program. She has seen me through all of my panics, like, Oh my God, what am I doing? And she really helped me see some perspective. She's like, you know what? Go and try this. You have this opportunity that's came to you, a new technology. It's going to be something that's going to have an impact. It's something that's going to give you that little bit something a little bit different. Go and try it. You have a lot of support.
Elinda:
And, just by having her there to give me that, help build up that self confidence, and it really did have a spear point on the whole rest of my perspective of what I can do. I wouldn't be in America, I don't think, if it wasn't for that.
Sam S:
That's amazing to have people like that in your life. Lori, let's go back to this general question of women in technology, and the fact that there are such low percentages of women in technology. Why do you think that is?
Lori:
When you look at the national average, at least in the US, it's about 24% women that represent computer science. And so I think part of it is a little bit of a misunderstanding of what the roles are. There's actually less women graduating in computer science than were when I graduated in computer science.
Sam S:
That's unbelievable.
Lori:
Part of that is having the confidence and believing. It's difficult to get through the training, the education for anybody tackling it, women, men, et cetera. Again, continuing to make sure that I have the confidence that you can do it.
Lori:
And I think, some of the great programs that we have to help women and others build technology capabilities, coding skills, have really paid off for us. But I think that's some of the fundamental things behind it.
Sam S:
Do you think people feel like these jobs are just sitting in front of a computer by yourself, and it's very lonely and isolating?
Lori:
Yeah, I think that's part of it. And a lot of it sometimes gets co-related with gaming, is that kind of, and again, we have a lot of people that have a lot of great critical thinking skills that have come out of other degrees that have actually proven to be very successful.
Lori:
And when you think about going forward, how much now technology is at the forefront of human computer interaction. We actually need a lot of people that can visualize, people that can understand how to interact. Again, and it broadens the diversity of skills and perspectives we actually need in technology.
Sam S:
So you've done so much work trying to get more women here at JP Morgan Chase Technology and reaching out to younger and younger girls. So talk to us about the programs that you've put in place, a few of them that you think have really made a difference.
Lori:
Yeah, we have a lot of programs I think that have really helped. We really have done a lot of the programs into high school, whether it's the coding programs, the code for social good-type programs. You can think of many different brands, Girls Who Code, things like that, doing those sponsored hackathons, having our employees work very directly with talent, whether it's in college or at the high school level.
Lori:
A, helping show and breaking down the myth and the mystery of what technology jobs really are, but also pair programming with them so that they understand how to build the skills, how to understand, and we also get an early view of the talent and the capabilities. And so those programs have become great. They've been great lead-ins to the talent we ultimately hire.
Lori:
The internships is a great way for us to bring talent in at the university level. We've really changed some of those programs quite a bit. You've heard a little bit about that, but by design, we want to bring our young talent in to work on the emerging technology, to work on some of the more exciting and challenging things that we have to solve.
Lori:
Alternative pipelines we've also explored have been things like how do we get talent in that has demonstrated critical thinking? They don't necessarily have a computer science degree. We put them through a coding bootcamp, and then we put them into our software engineering program.
Lori:
And then finally I would say, we're really pushing on the pipelines around autism, people that are in the autistic spectrum. We've had great early results opening up a diverse pipeline there, as well as veterans and more we can do around the reentry programs too.
Sam S:
Tell us more about the bootcamp. So if you come in to do that, and you have no technology experience, what is that like? What do you actually go through, and how do you find the results of the program?
Lori:
One great thing is it's a cohort and creates this community because everybody going through the program is in the exact same position. We make sure that we're bringing in great mentors and coaches that can help those that are going through the program work through those confidence issues, but they work on challenges together. It's not like you're alone. They're getting trained, they're working on challenges together.
Lori:
We try to make it fun. Then coming out of that, what I think is, because they have the courage to really say, I'm going to jump in and make a career move, make a career change, go into something. We find them to be incredibly successful.
Sam S:
So, Elinda, I think you've been through some of these training programs.
Elinda:
Yes.
Sam S:
Maybe more than one. So can you describe some of them? And what was the experience like for you? Let's say pick one of them, and what did you go through, and how did you feel afterwards?
Elinda:
So yeah, obviously I went through the internship, and what's now called the Software Engineering Program. When I went through the Software Engineering Program, we had 23 people in Glasgow. And it's very, very similar to the likes of TechConnect.
Elinda:
And I completely agree with your sentiment on TechConnect with the community. One of my direct reports actually just went through TechConnect, and she's just ruled off of their Software Engineering Program. And her and the other six girls that went through that are so unbelievably close. They have a core unit of people that will travel through their careers together. And she's doing amazing as well.
Elinda:
So I completely agree that TechConnect has been an amazing start for her. I have that group of 23 people from Glasgow that I am very, very close to, that I know that I have various different people and different parts of the bank that I can go to if I need to. I can see where their careers have gone. I can get advice from them in any kind of way.
Elinda:
We had various different leadership activities. We went away to the countryside, and were like building rafts, and doing crazy things like that. And that just brought a completely different side to how you can work together, in addition to a lot of the other more official leadership trainings like how to give feedback, and how to observe people, how to understand yourself, and how to reflect on things like that as well.
Elinda:
So in addition to Take It Forward, there's another women's training program called Transformational Leadership. And that particular training course had quite a big impact on me. It really kind of focused in on what are the kind of stereotypical things that hold women back? What are those little niggling things in your brain? And how can you start to recognize that, Oh, I'm being self-deprecating here, or I'm holding myself back from doing that. And that was very, very powerful.
Elinda:
And one of the really good things about that program is I'm now actually able to give back to it.
Sam S:
So it sounds like some of those things you learned really stayed with you and gave you tools to use in the future, such as, when you felt not confident about something, you were able to push through that? What would you tell yourself now if you came upon something new, and you weren't sure if you could do that, what tools would you use in that toolkit to power through?
Elinda:
I like to write lists, the stereotypical, if you have a job spec and you're write, okay, well I can do this and that, but there's all these things I can't do. What I like to try and think about is more important, the transferable skills I have. So maybe I don't know our particular language, or maybe I don't know our particular technology, but I have a lot of transferable skills. I know I can learn things quickly. I know that I can pick things up. And I know that I can join the dots and see up at the bigger picture, and very easily.
Elinda:
So I try and make sure that I focus on that. It's like, so maybe it's going to be a little bit painful for the beginning while I try and figure out how to get my head around the technology. But being excited about being able to see an even bigger picture, and see another part of the bank, and being another part of a really interesting problem, that's what ignites my passion. And now that I've taken two steps in my career to do that, I'm not really afraid. I'm actually looking at like, what else can I get involved in? How can I broaden myself?
Sam S:
So Lori, given where you started in your career with the number of women you saw in it and where we are now, and hopefully there are somewhat more, what have you seen have been the biggest changes in technology where it comes to women? Either their representation, or just how they approach the field? Are there changes that you've looked at and said, no, that's for the good?
Lori:
I think the awareness that we have to have programs that are sustainable, that you can't just support diversity, you have to be actively engaged and actually making a difference. The depth of the programs, that we're not just focusing on how do we attract, but retain, promote, develop, and really integrating that into the whole, the way we think about it. And I think that's something that's really changed for the positive. I think there's a lot of great momentum.
Lori:
I think that there's also a lot of men that are engaging with us, and so much more support, and so really being open to, how do we get great talent? You have to think about talent as a longterm strategy, which means you have to be comfortable about helping people broaden their skills through mobility. And I think there's been such a lot of positive momentum in that space.
Lori:
I also think we're doing a better job, although more to do around really helping articulate what are the jobs of the future? And the number of technology jobs and need for technology skills continues to grow. So, making good progress, but there's clearly a lot more we can continue to do.
Sam S:
So you mentioned getting men on board with this conversation, and JP Morgan Chase overall has a great program called Men as Allies, where we're talking to our male colleagues and really rallying their support, which there is a lot of support.
Sam S:
A lot of men in technology have come forward, and start talking about these things, and have created their own groups to even talk about this among other men, which I found really intriguing. We welcome conversations across the board. And sometimes, we have women come together only as women to talk. And it looks like men sometimes want to come together and talk about some of these changes.
Sam S:
What are you seeing out there? How is that helping to further the conversation?
Lori:
One of the stereotypes that we had to get through in technology is that women are not perceived to be as technical as men. And so sometimes, it's just nuances of how you're having a conversation, or how things, nonverbal communications, and I think one of the things that that has come out of this, as we've started to have more open, comfortable conversations because they have a seat at the table with us, is being more comfortable raising when you see those things. That people may not be aware that that is actually having an unintended consequences or a perception.
Lori:
And it's just really, I think, opened the dialogue. A lot of our male colleagues are incredibly supportive. They have daughters, they have sisters. They want to see a world where diversity is well-represented. And I think part of it is just having the courage to have the open, honest dialogue.
Sam S:
When women come to you and say they want to leave the firm because they're not sure how to make a career here, or they have growing family responsibilities, what do you tell them?
Lori:
First of all, I always fundamentally believe that as individuals, people have to make the choices that are best for them. We want to support, and we want to have the best talent we can possibly have at the firm. But, part of it is getting to the root at, what's really driving the change.
Lori:
We often find that many times people want to leave because it's really about opportunity. And so sometimes the conversation pivots to, Hey, have you thought about mobility? Have you thought about these opportunities? Are you thinking about your career from a longterm perspective? If you have family needs at home, are there alternative ways in the shorter term where you can make those decisions?
Lori:
I made those career decisions. I worked part time for six years. I've stayed in software engineering jobs versus management jobs because it was a better balance for my family. And I think sometimes when you can share those personal experiences it helps.
Lori:
But in the end, for some people they need to make a change. And I think finding the balance of making sure they've pursued all the options internally, they thought about their career from a longterm perspective, and then just being supportive of their decision ultimately that's best for them.
Sam S:
So let's switch gears a little bit. Data security is such a big issue to our firm, to the industry in general in many companies. We invest a lot in this, and we know that our customer's data is incredibly sensitive. Can you talk about that work? How do you approach that? What are the big things that you work on to really ensure the integrity of the data here?
Lori:
I think that the one thing that we focus a lot on, is we look at it from a customer or client point of view. And, protecting our customers and clients, protecting the firm, those are the key priorities that drive a lot of the premise of what we do every day. This is a space where we are very actively engaged in looking at emerging technologies. And some cases, we lean in with technology companies to help where we see a gap, and where we see that more investments should be getting made. And that's one great thing that we have the ability to influence the ecosystem as well.
Lori:
So first of all, we have lots of layers of defense around cybersecurity. That is a big priority because that's the layer of defense of getting access to our data. But then at the data layer there's also a lot of focus around who has the ability to use that data, so even protecting the data on the inside and who should have access. So, we spend a lot of time on data use, data rights, and so that's really important, especially as we start thinking about emerging technologies in the AI space, like machine learning, natural language processing, and how we use that information, the ethics of using that information.
Lori:
And then another thing is, a lot of emerging technology around the data protection space. So when data leaves our bank because it needs to, to go to a third party, how do we make sure that we can keep control? And there's a lot of great emerging technology around that space as well.
Lori:
And so, we'd like to be on the leading edge of those capabilities. It's fundamental to what we do as a company, and we look at it across all dimensions of the technology architecture, but also the regulatory side of it, the legal side of it, the data use side of it.
Sam S:
You know, given that we spend so much on this area and really are invested in this, what are some of the advantages you think we have as a bank when it comes to just this whole space?
Lori:
One of the things that I always go back to, a lot of people have common strategies when you think about a bank, or even you think about any company, but the differentiator is always comes down to talent and execution.
Lori:
And so, I do think we have an incredible ability to attract leading talent in this space. We have the ability to work with leading companies. And that allows us to, again, bring the best thought leadership and minds together, again as we're trying to solve some of these complex problems.
Lori:
I think it makes a differentiator from that perspective. I think we also do a lot of focus and work, end to end. We try to think about all elements of how we deliver an end to end business process or service, and how these pieces integrate together. Those would be a couple of things that come to mind.
Sam S:
So Elinda, when you, in your work on cloud services, how does data privacy and security come into play with what you do?
Elinda:
It's obviously a very big topic, particularly when you're thinking about utilizing the public cloud. So data security is a big concern.
Elinda:
But we have very, very strong relationships with our cyber teams, and we have that cross line of business collaboration that we have going on to make sure that everything we do within cloud services has security upfront. We take that as a high priority. It's thickly ingrained in what we do and our and our principles. So anything that we build, anything that we do, we'll always have that in mind from the start.
Elinda:
And for a long time within cloud, we actually put self imposed restrictions. So we're like, nope, we're not going to take any confidential data. We will start small. We will build confidence because obviously moving to the cloud is a scary thing for a lot of people, certainly within the financial services. So starting small and building up that confidence, and making sure we have the data protection layers for the different cloud providers that we have, that's been really and ingrained from the start. So we're making good progress with that.
Elinda:
And certainly within day the private cloud, because we are within our data centers, we have a lot more control about that as well. So we're able to have that kind of extra layer of confidence with protecting data and protecting all our clients as well.
Sam S:
So when it comes to technology, so much of it is for our own infrastructure and use, but so much of it is for the end client, whether that's our consumer clients or our business clients. So, what are those technology areas that you're so excited about from a consumer perspective?
Lori:
Well, I think in the consumer world you can clearly see that AI is really a part of what everybody's interacting with today, whether it's the Alexa or Google Home, the voice interaction. And that's just sort of the beginning. We really see AI machine learning embedded in every, starting to embed really in everything we think about, every business process, how do we bring intelligence?
Lori:
Sometimes, and there's multiple levels of AI, sometimes it's just advanced analytics, all the way up to algorithmic prediction, and then ultimately into AI has always been about mimicking human behaviors. So, the part that's the hardest there is the EQ side of decision making, et cetera.
Lori:
But we are really excited that, from multiple dimensions, from a fraud perspective, we've shared a lot of good data that we've been able to put more intelligence into our credit card fraud processing that's actually delivered a better experience and saved a lot of fraud losses, to protecting from a cybersecurity perspective. The threats are getting more sophisticated, more complicated. So, we apply a lot of AI in that space as well.
Lori:
But then frankly, driving a better employee experience. We're automating the process of travel and expenses where we're doing lots of different things to make the lives of our employees.
Lori:
And then how we serve our customers. So on the consumer side, effective interactions with virtual assistance, or just even intelligence that we're building into, especially from a protection perspective. We have a voice print, so we know we're talking to you, and someone calls and it's not a fraudulent call, things like that.
Lori:
So, it's really getting ingrained in the way we think about all of our business processes, not only from a consumer experience perspective, but certainly from a protection, risks, cyber data protection perspective as well.
Sam S:
So if I call into a call center and you know my voice, that's something that I didn't even know existed. I might not even know that's out there. That's really interesting. It's not just your fingerprints on your phone anymore.
Lori:
Yeah. And obviously those are things that consumers would validate, that they're comfortable that we have their voiceprint. But again, it's much more, a lot of fraud is people calling in, they've hacked your credentials. So again, it's just another layer of defense that we know it's you. And that's just one way. There's a lot of biometric maturity that's happening.
Sam S:
Well, thank you both for being here and telling us your stories, and sharing some lessons. We really appreciate it.
Lori:
Thank you. It's great to be here.
Elinda:
Yes, thank you very much.
Sam S:
Thanks to Lori Beer and Elinda Welsh for sharing their experiences within the technology organization at JP Morgan Chase.
Sam S:
And thank you for joining us today. Women on the Move exists because all of us at JP Morgan Chase want to see women be more successful in their professional and personal lives. Our goal is to introduce you to people with great ideas, inspiring stories, and a passion to make a difference.
Sam S:
We hope you enjoyed this episode and will explore the whole series. On behalf of JP Morgan Chase's Women on the Move, I'm Sam Saperstein.
Subscribe