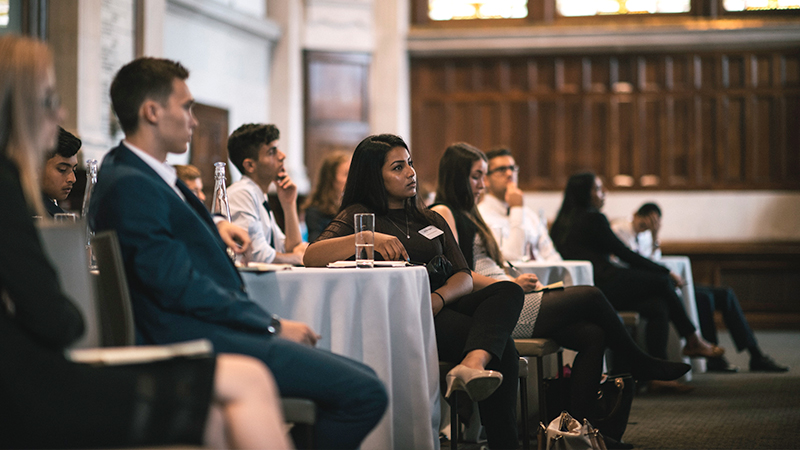 Stories
How One Mentorship Program Grew to 1,300 Success Stories
We're helping the Social Mobility Foundation improve the prospects of more young people across London.
What if you could increase the chances of a student going to a top university by up to 43 percent?
According to a study by the Institute of Fiscal Studies (IFS)1, the Social Mobility Foundation does exactly that by providing support to students who have potential, but lack access to the work experience, skill development and mentoring needed to succeed. Students (targeting 16 to 17-year-olds) from less affluent backgrounds who lack the resources are given front-office experience and paired with professional mentors from various industries to help them expand their ability and position them for long-term career success.
The Social Mobility Foundation's programme includes direct work experience at trading desks and front-office jobs, mentoring, internships, university application support and skill-development workshops. Participating students walk away prepared for ambitious universities and jobs, not to mention with an established network.
"Fully realizing one's potential requires support," said David Johnston, CEO of Social Mobility Foundation.
Beginning with a select number of teens, Social Mobility Foundation has since grown to nearly 1,300 participants, and with J.P. Morgan assistance, has expanded outside of London to programs around the U.K. In addition, 50 students per year work with firm the, significantly more than any other private sector participant – expanding the opportunity for real-life work experience for young people. Starting with one of its more unique elements, a two-week in-office experience over the summer, often at trading desks and in front-office jobs alongside full-time employees, students who meet specific academic and socio-economic background criteria are paired with a mentor from within J.P. Morgan. Students receive hands-on direction, tips and encouragement on navigating university and the finance world, eventually positioning them to attend top Russell Group universities at a higher rate than normal and to be more likely to attend a university that leads to a job with a top employer.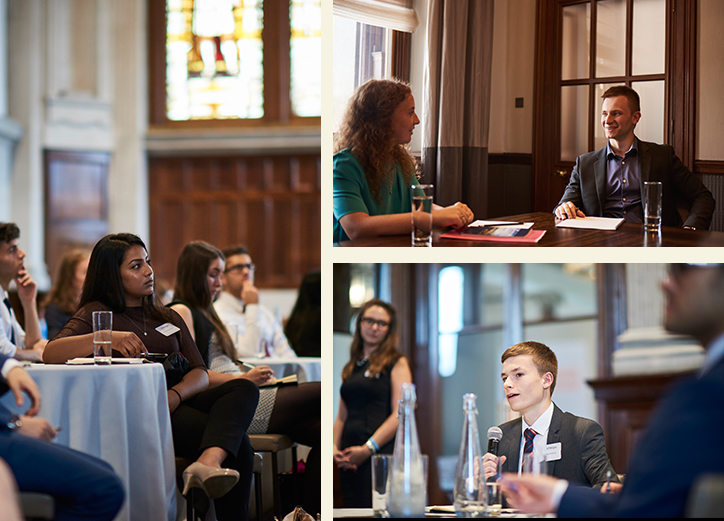 In an effort to create a more inclusive economy, Social Mobility Foundation participants attend a two-week program at J.P. Morgan's offices in London where they're paired with mentors.
Whether one's mentor is a banking executive, investment analyst or trader, participants learn about careers in corporate finance far beyond what's taught in the classroom. "These mentors give the students tailored advice, guidance and boosts of confidence to encourage them along the way," Johnston said. "J.P. Morgan employees are able to make a huge difference."
Students echo the sentiment. "I look forward to gaining invaluable knowledge from a professional who has already achieved what are only aspirations to me at the moment," one enthused.
The goal? "Making the students strong candidates for the job market at the end of the programme," Johnston said. In fact, Social Mobility students are 130 percent2 more likely to attend a higher education institution that is amongst the most visited by top employers, in turn leading to competitive jobs. The program itself is the beginning of a relationship that continues throughout the journey to success; case in point, two students from the 2012 class were recently hired by J.P. Morgan to graduate roles. Securing viable employment right after university is key to creating an inclusive economy and building the next generation of leaders.
Learn more about J.P. Morgan's commitment to helping communities—in London and across the globe—turn visions into realities.