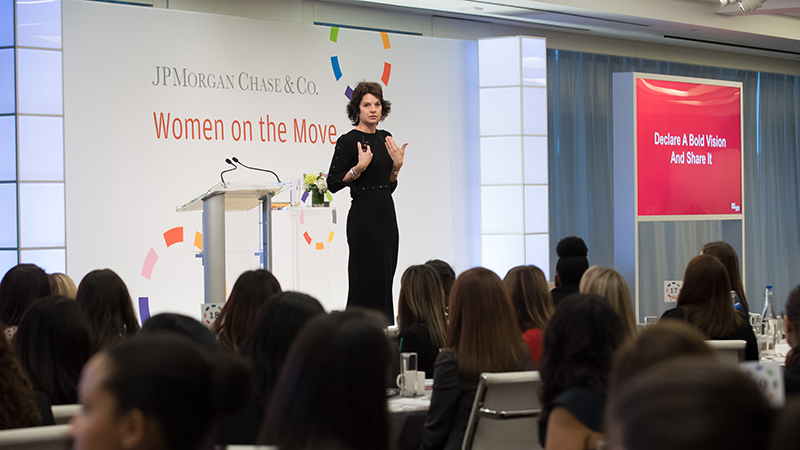 Stories
Declare a Bold Vision and Share It!
Lisa McCarthy, CEO, Fast Forward Group shares insights with JPMorgan Chase employees during our Women on the Move Leadership Day.
Do you want to improve relationships, including the one with yourself? Are you looking for more peace and joy? Do you want to grow your career and work less? Lisa McCarthy, CEO of Fast Forward Group, recently shared practical advice for answering "yes" to those rhetorical questions.
Achieving "extraordinary success and high performance living" is something McCarthy has made happen for herself by setting a clear vision. Prior to starting Fast Forward Group, she was a leading sales and marketing executive for media, or as she put it, another hamster caught in the "oh-I-can't-I'm-so-busy-and-tired" wheel of work and parenthood. Fifteen years later, having established and followed her personal roadmap for success, McCarthy is a healthy and happy entrepreneur, author and inspirational speaker. She speaks proudly of her fulfilling marriage, three well-adjusted teenage children and ability to clock seven hours of sleep per night.
Lisa challenges women to "clear their inner voice," the one that chirps and chips away at women daily, reminding them to do this, that and the other task. She asked JPMorgan Chase employees to introduce one another to their inner critic. In a matter of seconds, voices airing anxieties over health, money, relationships and parenting quickly filled the event space.
Venting session complete, McCarthy invited women to "declare a bold vision and share it" for the future.
"The most important relationship you have is the one with yourself," McCarthy said.
The first step to setting a clear vision was identifying and dismissing "limiting beliefs," the ideas that women claim as truth and prevent them from taking on extraordinary opportunities at work and in life.
"We construct limiting beliefs about ourselves, others and our circumstances that can hold us back. We say 'I'm not smart enough,' 'I'm bad with this or that,' 'It's hard to be successful at home and at work.'" Then, because we always like to be right, we collect evidence to back up our limiting beliefs."
McCarthy challenged women to "fast forward," and while suspending disbelief, describe what they wanted their reality to look like in the coming year. One courageous employee shared her vision: she wasn't happy in her current role and desired to move into a higher-level, more global opportunity. In her magic ball, she wanted a richer opportunity, but wasn't willing to sacrifice valuable relationships at home with her husband and daughter.
McCarthy asked the audience member to embrace her ambition, and encouraged the rest of the audience to do the same. By keeping that vision close and giving it the same attention one would give to her employees, friends or family, McCarthy said, the payoff would a better, happier and healthier version of yourself.
"Be selfish. Nothing is more important than your definition of success."
After you've cast aside limiting beliefs and created a clear, detailed picture of where you want to be, follow McCarthy's tips for using your vision:
Share with your manager and people that are important to you
Put it in your smartphone
Take time to read your vision regularly; use it as your north star
Track progress and gaps quarterly
Refine as needed and update annually
---
Learn more about Women on the Move, our initiative that supports the advancement of women by addressing the unique challenges they face.