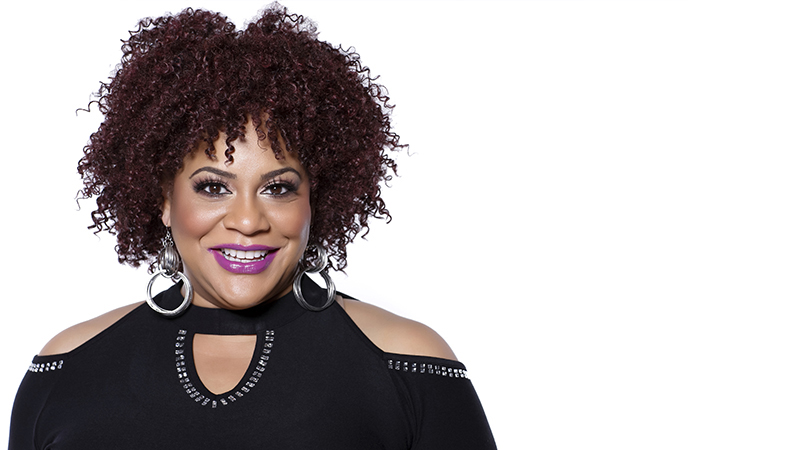 Stories
Living Single's Kim Coles Talks About Life After a Hit Show and the Lessons She's Learned in Hollywood
Living Single star Kim Coles opens up about her financial troubles after the hit series ended, and how she regained control of her life and finances.
Kim Coles rose to fame in the 1990's, and is best known for her role on the hit sitcom Living Single. But when the show ended, she struggled to maintain her celebrity lifestyle and spiraled into debt. Much has changed for Coles since then, and we caught up with her to talk about her professional evolution, how she got her personal finances back on track, and her advice for younger Hollywood actors. Here are some highlights from our talk.
When did you realize you needed professional help with money?
My parents taught me to save. It was the old school way that we're taught of "save your money and don't spend too much," and that was the extent of my education. But no one taught me what to do when you're making the kinds of money that you make as an entertainer. People would make comments here and there, but no real plan was given to me on how to survive the drought and ride the wave of feast times.
The real understanding that I needed help was after having an extreme feast of being on a hit TV show and doing really well. When that money began to dwindle and I wasn't working as much, I started shopping and went through all the money I made, thinking "it'll come back around. I'll get another series or something else will happen."
But there's plenty of talented amazing people that never work again even though they've had success. I went through a depression that was borne out of not working, shopping through my money and having bill collectors call on a regular basis. That was when I realized I needed help.
What were the biggest challenges of managing celebrity and personal finances?
You can make lots of money very quickly or nothing at all, so it's managing the feast or famine. The other thing is the optics of looking like a star—people expect that you wear designer purses and drive a fancy car.
Our society is set up so that we compare ourselves to others and to look the part even if we're not the part. The whole phrase of "keeping up with the Joneses" is real. I was trying to keep up with the Joneses and realized that even the Joneses were broke!
For me it was trying to keep people from seeing that I was broke and broken. I remember going to a red carpet event and having $27 to my name, yet everyone on the red carpet was calling my name. And it was like, I can barely pay to get back home tonight. It's that feeling as if you're incongruent, and that's not just a celebrity experience. I think a lot of people are doing that.
What are you up to now?
What's different now from back then is I had one source of income and it was the entertainment industry. I figured out really quickly that I needed to diversify and have different streams of income.
Now I am a coach, speaker, teacher, and I have my own academy where I teach people from my own wealth of knowledge and experience. I'm building my "Kim-pire" by teaching, coaching, and using my gift to help others broadcast their brilliance.
So now I have KimUnity, which is a monthly mentorship program where my business partner and I mentor people—primarily women—who are building their entrepreneurial life and their personal life. We meet twice a week and I get to share with these amazing women who are building their businesses, and give them resources and tools to help them build their businesses and brand.
I've also took my knowledge as a comedian and transferred it over as a speaker. In May 2020, I did a week long summit, "Captivating Conversations: How To Thrive With Certainty In Uncertain Times," where I interviewed 30 experts from various aspects of business on personal coaching and meditation, and we had these conversations on what we're doing to pivot and stay sane during this time.
Just as I set myself up to have better conversations and actions around financial wellbeing, I'm doing so with my spiritual wellbeing. I'm stronger now in this crazy pandemic than I've ever been because I've shored up my spiritual self.
What's your best advice to the current generation of Black TV stars?
To really invest in yourself. Invest in your wellbeing, your spiritual health, your mental health and your financial health first.
Don't be blinded by the shining light, be willing to be a beacon of light instead. It's not about the light that's shining on you, it's about the light that shines within, and that light can never be dimmed.
I remember I was on the red carpet one time and the photographers were calling out my name and all of a sudden they sort of stopped. I realized that Halle Berry had come on the red carpet right behind me and that they'd turned away from me. And I was like "Oh wow, there's the moment where they're like 'I'm done with you.'"
Luckily, Halle was so gracious and came up to me and hugged me. I couldn't even be mad at those photographers—I had my moment and now it was Halle Berry's turn. And of course, she's Halle Berry! But because I had already taken care of my ego and understood myself, I couldn't be mad at that. I had my moment in the light, but nothing was taken away from me because I already had that light that was within myself.
Take care of the light that shines within you, and that light will never go out.
What are you watching now? What are your favorite shows?
I am currently watching "Lovecraft Country." I binge watch it. It's crazy, but done really well! But you just may jump out of your skin while watching. Jurnee Smollet is killing it!
Click here to learn more about Kim Coles.
Explore financial insights from Kim Coles in the Currency Conversations Fab 50+ series.
Reprinted with permission from JPMorgan Chase Bank, N.A