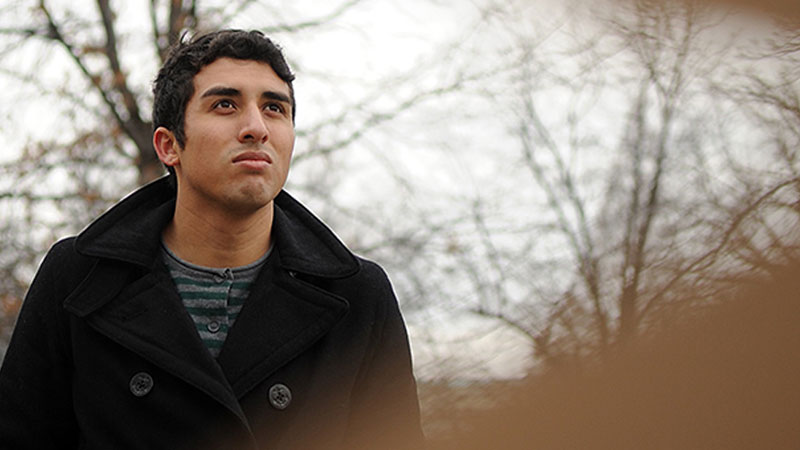 Stories
The Live-In Nanny Turned Artist Holding a Mirror to Our Country
How Hispanics help fuel American society on a daily basis.
Originally published by OZY on September 21, 2017.
When seminal British pop artist David Hockney began depicting Los Angeles homes and swimming pools in the late 1960s, the works embodied an outsider's fascination with luxurious Southern California living. Little wonder — Hockney hailed from Bradford, an industrial city in West Yorkshire, northern England, a place not exactly known for sunny skies and swaying palms.
Almost half a century later, the works of Mexican-American Ramiro Gomez offer a new, more complex take on the older artist's enchantment — a perspective that is both inside and outside the lifestyle. Maybe most affecting is Gomez's reimagining of a major Hockney work A Bigger Splash (1967), which captures the spray following a diver's plunge into a pool in a well-tended backyard; Gomez's No Splash (2013) shows dark-skinned workers cleaning the water and scrubbing at glass patio doors. Gomez has painted a number of pieces that riff on Hockney's by including Hispanic domestic workers, making visible the invisible who maintain these glamorous images.
It's appropriate, then, that there are two major exhibitions of Gomez's work in LA during Hispanic Heritage Month, a national celebration of the contributions of Hispanic and Latino Americans to the United States. The Los Angeles County Museum of Art is displaying artwork by Gomez in which domestic workers are painted into the glossy pages of home decor magazines, while the Charlie James Gallery at the West Hollywood Library is exhibiting photographs of life-size cardboard cutouts Gomez made of immigrant maids and gardeners, then planted in lawns and playgrounds around West Hollywood. In both exhibitions, Gomez represents the ways in which Hispanics contribute to and enrich American life, whether within the labor market (as depicted in his works) or art and culture (Gomez's own contribution to the canon).
The artist himself knows both worlds. In his early 20s, Gomez dropped out of the California Institute of the Arts owing to financial struggles and became a live-in nanny. He told The Guardian that his works are "talking about representation in art history and inclusion." But both his paintings and his own experiences raise questions about adequate representation of, and opportunities for, Hispanics in the U.S. economy.
A perhaps unexpected place that Gomez's art is inspiring answers to those questions is at JPMorgan Chase & Co. The company's art collection — named by Forbes as one of the world's greatest corporate art compendiums — includes several of Gomez's works, among them Glitzy New Hollywood (2016), which incorporates a domestic worker into a glamorous scene torn from lifestyle mag Top Billing. "Gomez's work is an outstanding example of art that comes from both the head and the heart, bringing attention to a subject that concerns him directly," says Mark S. Roe, the collection's head curator. It also brings into focus a problem JPMorgan Chase is working to address: better representation of Hispanics in its own workforce.
According to the U.S. Census Bureau, 79 percent of financial advisers are white, while 7 percent are Hispanic/Latino.
At JPMorgan Chase, representation outpaces that national average, employing a greater number of Hispanic financial advisors (8.7 percent of JPMorgan Chase employees are Hispanic/Latino). But CEO Jamie Dimon has publicly stated diversity at the company "is not good enough."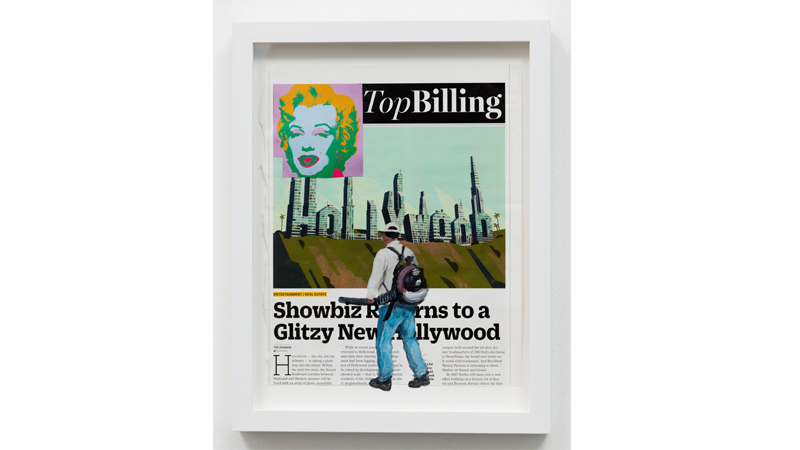 Valerie Rainford, who leads a strategy to advance Black talent at the company, says a more representative staff is crucial to business success, pointing out, "As a company, we develop products and services to meet the needs of our diverse clients and customers, so it's critical we have a diverse workforce to overlay those efforts." Now consider that according to the Pew Research Center, Hispanics accounted for more than half of the country's population growth between 2016–17. To better serve the America of the future, the country needs a more representative workforce.
Of course, it won't be easy. Take the statistics on diversity in the financial services industry, and compare them with the fact that almost 18 percent of the U.S. population is Hispanic, and it's clear there's a long way to go to achieve equality.
But if Hispanic Heritage Month, and the cultural contributions of someone like Gomez, can remind us of that fact, we can be inspired to make the journey.