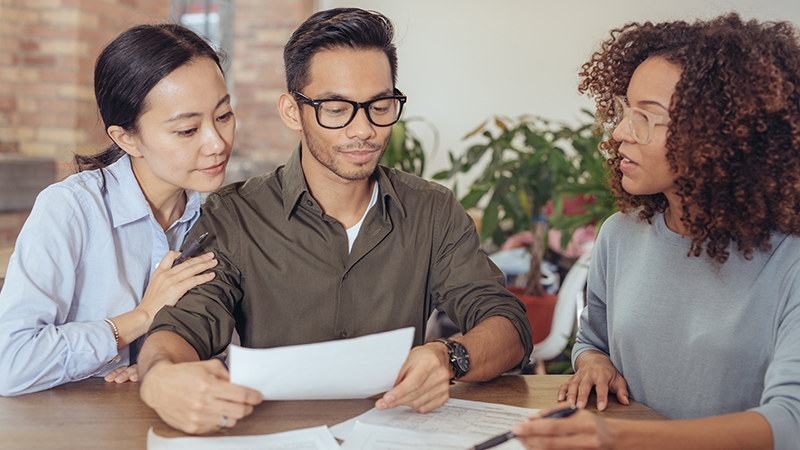 Stories
With a Little Help from Your Friends
Nonprofit Uses Lending Circles to Help Chicago Residents Improve Finances, Buy Homes
When Temur Ahmed, a retail manager, began working and making a regular paycheck, he was hit with the hard reality that he did not know how to effectively manage his financial life. He had money coming in and yet his credit seemed beyond repair. Unsure of where to turn for help – without being taken advantage of – he was certain that he would never live the life he imagined for his family.
When he came cross The Resurrection Project (TRP), a nonprofit founded over 24 years ago on Chicago's Southwest Side, he hoped that with their free services, he had nothing to lose. Little did he know at the time all that he would gain.
Ahmed is just one of the 20,000 Chicagoans that TRP has helped build wealth and assets through financial coaching, foreclosure prevention and homeownership education services. Through these services, families have been able to leverage $147 million in home mortgages and rehab loans, avoid foreclosure and save $33 million in community wealth.
"The demographic that we serve, which includes immigrant communities, are often facing one of two challenges – either damaged credit or no credit," said Madeline Cruz, Financial Empowerment Manager, TRP. "So we start by educating them on the importance of having that relationship with a financial institution and how to make financial products work for them. We pair each individual or family with a financial coach, who evaluates their current financial situation and maps out a plan to reach their individual goal whether it's creating a credit profile, improving credit and/or increasing their savings. The coach then works with them on a regular basis to keep them motivated, track their progress and celebrate their achievements."
But the secret sauce that Cruz revealed has most dramatically changed the financial trajectory of TRP's clients is pairing their financial coaching with an age-old savings program – lending circles. Through JPMorgan Chase funding, TRP was able to partner with Mission Asset Fund (MAF) to implement their incredibly successful Lending Circles program.
Each month, the Lending Circles members deduct a set amount of money from their checking or savings account and contribute to their Lending Circle. Also each month, one of the Lending Circle members is chosen to receive the lump sum contributed by the circle. Not only does this system create a unique and proven way to help members work together to reach their common goals of saving, their participation is also reported to the credit bureaus. This enables each Lending Circle member to either build up their non-existent credit profile or improve their existing credit.
TRP currently has 14 Lending Circles with 8-12 clients in each. Since the inception of TRP's Lending Circles program, 153 participants have lent a total of $178,000 to each other. The total amount these clients saved in interest and fees is $37,036. Participants without a credit score before beginning the Lending Circle reached an average of a 640 credit score after one year and participants already scored experienced an average credit score increase of 50-70 points.
"One year into working with a TRP financial coach and joining a Lending Circle, I was able to walk away with savings – something I had not dreamed possible during my struggles," said Ahmed. "Two years into working with TRP, I began receiving applications for car loans and bought my first new car – a true game-changer for transporting my family around during the cold Chicago winters. My wife is also now building her credit profile through TRP and we hope to one day own a home. When the time comes, we'll check in with TRP to be sure we are financially ready."
In fact, because MAF has built such a successful program, JPMorgan Chase also helped that organization expand the reach of its ancient Mexican savings tradition and – through technology – make it widely available to Americans while also tracking their progress.
"The financial health of community members has a strong impact on the overall economy of a city. According to FDIC, 1 in 4 families turn to fringe financial services for their daily needs because they are credit invisible," said Charlie Corrigan,Relationship Manager, JPMorgan Chase in Chicago. "After working with TRP for several years and seeing the success they have helped local Chicagoans achieve, we knew that Mission Asset Fund could take their impact to the next level and we were pleased to be able to support that partnership. We don't succeed as a business if our community members and local economy are struggling."
---
About the Resurrection Project
After 25 years and an initial seed capital of $30,000 from area parishes, The Resurrection Project has become a powerful and effective social enterprise that seamlessly blends community development, community organizing, and advocacy with human services delivery to create vibrant, healthier and involved communities. Its efforts have resulted in leveraging $346 million in community investment.
Read more about our commitment to Chicago.
Learn more about our work to improve the financial health of families across the world.