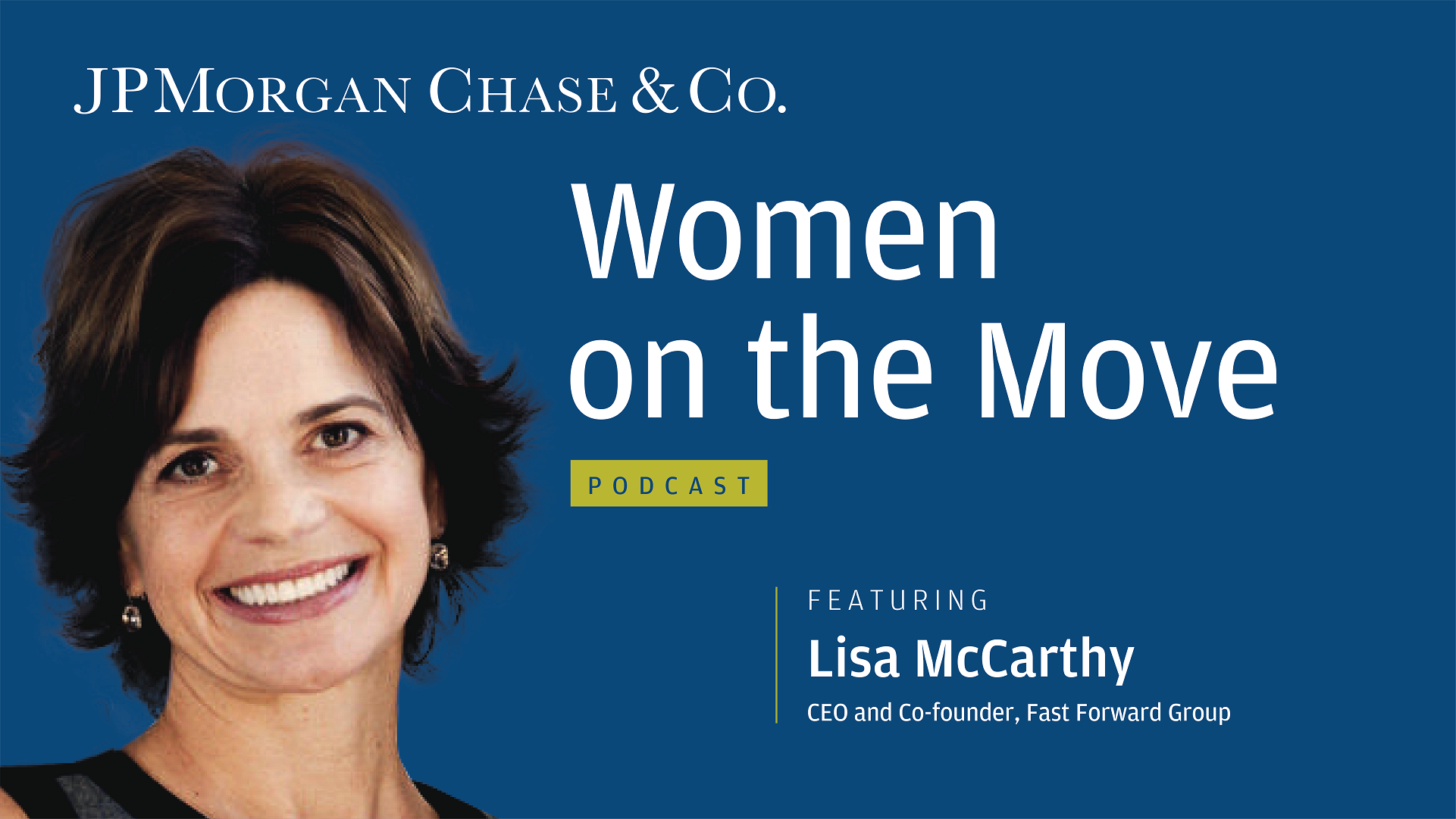 Stories
Fast Forward founder talks thinking big and achieving dreams
Like many talented and ambitious professionals Lisa McCarthy once believed that professional success required personal sacrifice. But when she found herself at a career crossroads in her mid-40s, she took a leap of faith and left the corporate world to start a business aimed at proving that old assumption wrong. Today, she's the CEO and co-founder of Fast Forward, a training and coaching company whose mission is to help organizations create a culture where professional and personal success go hand in hand.
In this episode, Lisa sits down with Women on the Move host Sam Saperstein—who has been through Fast Forward coaching herself—to discuss her company's approach to helping individuals think big, focus on what matters, and achieve success in their whole lives.
Dreaming big
Lisa and her co-founder, Wendy Leshgold, started brainstorming about the company when they were in their 30s and shared the epiphany that it is possible to have both professional success and personal fulfillment. But it wasn't until nine years ago, when she was in her mid-40s and encountered an unexpected twist in her successful career as a sales executive, that Lisa made her dream a reality.
"When we launched the company, I literally moved from a corporate setting with a big team and a lot of infrastructure," she recalls to Sam. "And all of a sudden I was in my home office on video with Wendy on the west coast. And so I knew that I was choosing to be uncomfortable, but similar to what we do in the program, we created a bold vision: At the time we went two years out and we really imagined What would extraordinary success look like for our company? What are we known for? What type of leaders are we working with? What impact are we having on their culture, on their talent, on their business?"
Lisa shares that the biggest critical success factor in starting Fast Forward was putting that bold vision down on paper. Sam wholeheartedly agrees, as she recounts her own experience as a Fast Forward participant through a JPMorgan Chase program. "It really did change my life and my career," Sam says. "I wrote this vision down and I shared it with my Fast Forward buddy, who was a senior executive here at JPMorgan Chase. And when she heard it, she said to me, you know what, there's a job that's going to be created to run our new Women on the Move group, and it might be something of interest to you. I was amazed that I'd written something down, I shared it with someone else, and lo and behold, she had another idea for me, and look at what's happened. Four years later, I'm in this job which is really a dream come true."
Plan the work and work the plan
Lisa explains that Fast Forward is based on a simple, science-backed framework aimed at helping people identify and achieve their goals. Their clients are organizations that recognize the commercial benefit to having employees thrive in all areas of their lives, but the program participants are the ones who do the work of visioning and achieving. "We talk about getting clear on how you personally would define success and fulfillment because it's different for all people. What is truly important to you?"
Fast Forward participants are matched with coaches who help them stay track and develop actionable steps to achieve your goals. "Then you're chunking it out into bite size things that move it from daunting to doable and getting somebody else's input, because sometimes you don't know how to do it," she explains. "And your buddy or a colleague may see a lot. So the first step is declaring a bold vision and sharing it. And then we plan the work and work the plan."
Scaling up
In response to a request from JPMorgan Chase, Fast Forward has intensely scaled up their programs. As Sam explained, leadership wanted the Fast Forward program to reach employees broadly across the company, to move it from serving 30 to 40 people at a time in a room to reaching thousands of employees. Fast Forward met the challenge by developing more digital assets and using online meet rooms. "The punchline is 6,000 people have gone through this program entirely during COVID, which is really remarkable," Lisa shares.
Pre-COVID, 80 percent of Fast Forward's trainings were in person. Rather than letting the pandemic impact the company, Lisa and Wendy re-envisioned what success could look like for the company. Today they offer organizations virtual options and online resources for individuals who aren't part of a formal Fast Forward program. Anyone can download the bold vision exercise and two samples to help them get started at FastForwardGroup.net.

Fast Forward founder talks thinking big and achieving dreams
Lisa McCarthy,
CEO & Co-founder, Fast Forward Group


Subscribe