News
JPMorgan Chase Earns a Perfect Score for LGBT Equality, 14 Years in a Row
November 18, 2015 – The news is out, and it's a reason to be proud: we have earned a perfect score of 100 percent on the 2016 Corporate Equality Index (CEI) and the designation as a Best Place to Work for LGBT Equality. JPMorgan Chase & Co. is the only financial services company to receive a perfect score for each consecutive year on the Corporate Equality Index since the benchmarking survey began 14 years ago.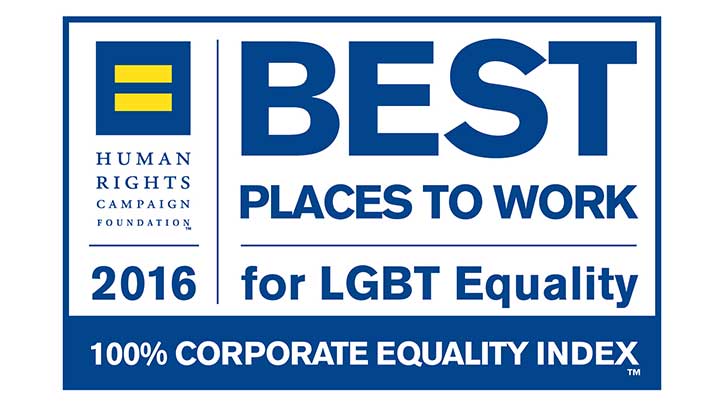 "We're proud to receive a perfect score on the Corporate Equality Index for a 14th straight year," said Mary Callahan Erdoes, JPMorgan Chase Asset Management CEO, who serves as the Operating Committee sponsor of our company's PRIDE business resource group. This group comprises a community of employees across the globe who come together and advocate for workplace equality and inclusiveness for LGBT employees.
"This honor recognizes JPMorgan Chase's longstanding support of the LGBT community. By fostering a diverse and inclusive environment in our firm, we can approach challenges and opportunities with myriad viewpoints, enabling us to best serve our global client base," says Erdoes.

CEI, the national benchmarking survey and report on corporate policies and practices, is administered by the Human Rights Campaign Foundation (HRC), America's largest civil rights organization working to achieve lesbian, gay, bisexual and transgender equality. By inspiring and engaging all Americans, HRC strives to end discrimination against LGBT citizens and realize a nation that achieves fundamental fairness and equality for all.
"In this 2016 Corporate Equality Index, hundreds of major businesses responded to our new standards for workplace equality with exceptional leadership," explained HRC Foundation Workplace Equality Program Director Deena Fidas.
"JPMorgan Chase not only meets these standards — it goes above and beyond the call of duty, making commitment to equality a fundamental aspect of its corporate values."
The 2016 CEI rated 1,027 businesses in the report, evaluating such LGBT-related policies and practices as non-discrimination workplace protections, domestic partner benefits, transgender-inclusive health care benefits, competency programs and public engagement with the LGBT community.
For more information about the 2016 Corporate Equality Index, or to download a free copy of the report, click here.
About JPMorgan Chase & Co.
JPMorgan Chase & Co. (NYSE: JPM) is a leading global financial services firm with assets of $2.4 trillion and operations worldwide. The Firm is a leader in investment banking, financial services for consumers and small businesses, commercial banking, financial transaction processing, and asset management. A component of the Dow Jones Industrial Average, JPMorgan Chase & Co. serves millions of consumers in the United States and many of the world's most prominent corporate, institutional and government clients under its J.P. Morgan and Chase brands. Information about JPMorgan Chase & Co. is available at www.jpmorganchase.com.