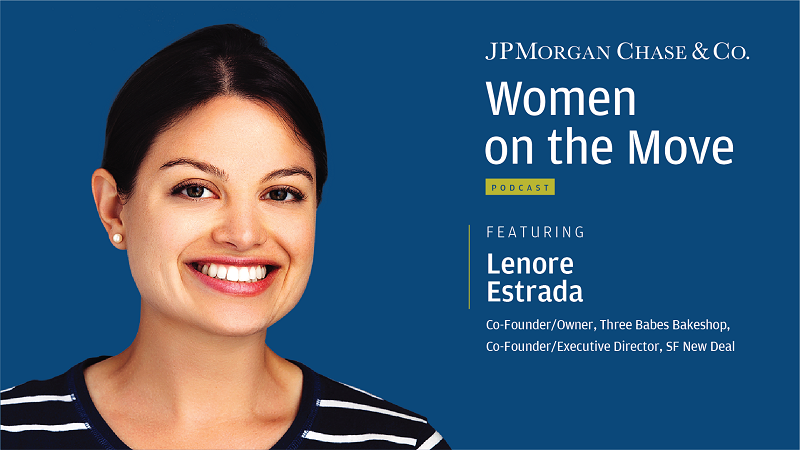 Stories
Three Babes Bakeshop owner on pandemic lessons and the importance of community
Lenore Estrada co-founded Three Babes Bakeshop just in time to have business upended by the pandemic. But rather than shrink from the challenge, she went on to co-found the SF New Deal, a community support and food relief organization dedicated to helping other small businesses—and individuals in need of food—make it through the pandemic. Here she sits down with WOTM host Sam Saperstein to discuss how she created her business, what she's learned, and what she thinks about the future.
Launching a start-up
By her early 20s, Lenore had experienced a lifetime of challenges—including growing up around poverty, the sudden death of her college boyfriend, and cancer diagnoses for both her and her mom. Something told her it was time to take stock of her life, starting with her career. She made a list of the day-to-day job experiences she actually liked. Her list included talking to people, and community work. "So then I made a list of jobs where I could use these skills every day, and one of them was entrepreneurship," she tells Sam. "So I decided to start a business."
First up was determining the where and the what. She landed on northern California for the where—to be closer to mom. For the "what" she picked baking. She had a lifelong friend who already worked in the food industry, and she realized a bakery business had a low "barrier to entry," which suited her since she had little money to invest. She and two friends launched a Kickstarter campaign, and soon raised $10k. Three Babes Bakeshop was born.
"When I started my company, I really was coming from a kind of a place of no other options," she recalls. "And I started it, and immediately the feeling was so different [from] working for someone else." She was hooked on the entrepreneurial life, but faced many curveballs from the beginning. After an early focus on fruit pies, she and her partner realized the product was too seasonal to offer the stability they needed to grow the business. They soon found that stability in contracts to provide a variety of baked goods to corporate offices.
Start-up ups and downs
Selling baked goods for corporations offered Three Babes the stability to plan in advance and invest in the future. But less than a year later, Three Babes Bakeshop faced a big challenge: The pandemic crashed into their space like a natural disaster. In early 2020, Lenore was warily watching news of the coronavirus. But it was Pi Day (March 14th) that really drove home the impending catastrophe. Clients weren't ordering their usual large Pi Day orders. "That sort of told me that people were feeling uncertain," she tells Sam. It wasn't long before Three Babes scaled down to nearly no business.
Helping the community
It was still the very early days of the pandemic shutdown when an old friend called Lenore and said he was concerned and upset about what was happening to small businesses in San Francisco. "And he offered to donate a million dollars if I was willing to sort of be the leader and form a non-profit to get that money out to the community," she tells Sam. "So we started this organization and basically we started just buying meals from small restaurants and delivering them to hungry people."
That's how SF New Deal was born in March of 2020. Before long, they were helping small businesses band together to apply for federal grants. Businesses were getting the revenue they needed, and food insecure individuals were getting tastier and fresher food than they would get at a food pantry.
Today, Lenore is still the executive director of SF New Deal and running Three Babes. As far as what else the future might hold for her, she tells Sam that she's always wanted to run for office.

Three Babes Bakeshop owner on pandemic lessons and the importance of community
Lenore Estrada,
Co-Founder/Owner, Three Babes Bakeshop,
Co-Founder/Executive Director, SF New Deal
Subscribe