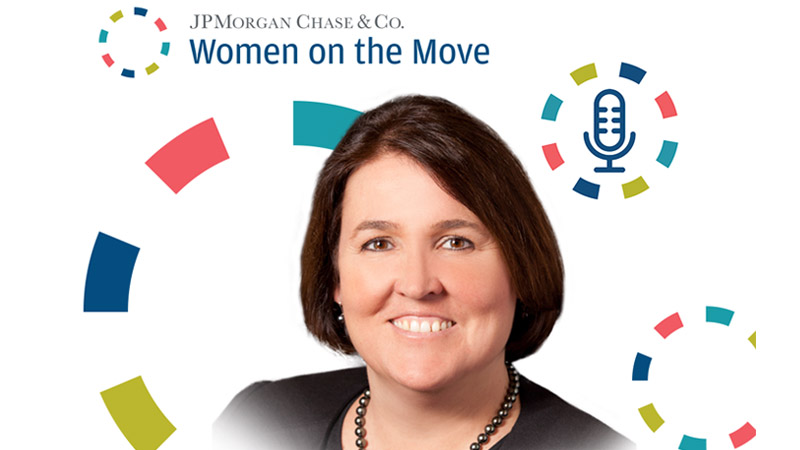 Kelly Kramer
Driving Pay Parity from the Inside Out.
Kelly Kramer is the Executive Vice President and Chief Financial Officer of Cisco. Throughout her eight years with the company, she's implemented hiring practices to promote diversity, facilitated mentorship programs, and pushed for gender pay parity and salary transparency.
Before joining Cisco, Kelly spent 23 years at GE across disparate businesses such as aerospace, healthcare and transportation.
In this episode, we learn about the importance of career mobility, effective leadership and mentoring.
View Transcript

(updates content above)
Hide Transcript

(updates content above)
Kelly K:
Because you're not only bringing the mindset in there, but also being able to work through the inertia that are in big corporations of driving a change at this big. I think it's been great having a team that's diverse and open and all trying to drive that.
Sam S:
Welcome to the Women on the Move Podcast from JP Morgan Chase. I'm Sam Saperstein. Women on The Move is a global initiative designed to empower female employees, clients and consumers to build their careers, grow their businesses, and improve their financial health. Each episode will feature successful and inspiring women who are breaking the mold. They're sharing their career journeys and leadership lessons, talking about their professional and personal goals and making a difference in the lives of others.
Sam S:
This season, I'm taking you to the World Economic Forum in Davos, Switzerland, where I caught up with many of the women who inspire me every day. Today's guest knows the importance of retaining and developing diverse talent. Kelly Kramer is the executive vice president and chief financial officer of Cisco. At Cisco, she's implemented diverse hiring practices, launched mentorship programs and pushed for salary transparency and equal pay. Prior to joining Cisco, she spent 23 years at GE. I'm excited to share my conversation with Kelly and hope you enjoy it.
Sam S:
Kelly, thank you so much for being with us here.
Kelly K:
It's great to be here.
Sam S:
So I wanted to start off  by understanding your current role at Cisco. You let us know what you do there.
Kelly K:
Sure. I am the executive vice president and chief financial officer for Cisco. I handle finance, but I also own our mergers and acquisitions part of the business as well.
Sam S:
Great. Which is active.
Kelly K:
Very active. We're very inquisitive.
Sam S:
Very good. And tell me about your path at the company. When you got there, did you come into that role directly? Did you have other jobs before that?
Kelly K:
So I came into Cisco about eight years ago. I spent the first 23 years of my career at another company and I came into Cisco into a corporate finance role, which was a great way to come into the company because I could learn about Cisco by being in the center of all the businesses. And then after a couple of years of that, I moved into the CFO role about six years ago.
Sam S:
That is great. That other company you were at was GE.
Kelly K:
That's correct.
Sam S:
For a very long time. And GE has always been one of those management standard bearers out there. We all looked at GE as really teaching us a lot of great things. Tell us about that management training culture.
Kelly K:
Oh yeah. So I did join GE right out of college onto their financial management program and what I liked about it was, it was designed to show you a variety of different roles in finance, like six month rotations combined with classwork, and then after that, their whole model for people who wanted to take advantage of it was to move you around to different industries. At the time there were many, many different divisions. So I started off in the aerospace business, I worked in their locomotive motive business, I worked in their corporate headquarters, I worked in their medical business and they tried to expose you to both long cycle businesses and short cycle businesses. I lived overseas. I did three different assignments with GE, but it gives you the opportunity to just see all kinds of different business cycles, all kinds of different working environments and it was just huge training that I'm quite positive, made me fit for the role that I'm in today.
Kelly K:
So I was hugely appreciative of that model and we've stolen a lot of that. And I say that proudly. I used to always say steal shamelessly the best practices. We have at Cisco built a very similar financial management training program and a lot of the different opportunities to encourage movement and some of our hot talent, we try to have them see different parts of the business overseas and everything like that.
Sam S:
That's amazing. That mobility story is so important to people. We hear it a lot too at a big company like ours that people just want to know how to move around.
Kelly K:
Yes.
Sam S:
But it sounds like you've even brought that to Cisco and are making it a part of the culture there. Tell me, how does that mobility help with diversity? In other words, by giving people all those experiences, what does that do for a diverse culture?
Kelly K:
I think it's hugely important and a huge part of the diversity because I think diversity means all kinds of different things. It's certainly way more than just gender diversity. It's diversity of opinions. And the best way to get that different appreciation is to be in different environments, walk in other people's shoes, bring those experiences to new experiences. So I think the opportunity for mobility, and again, it's always, everybody has different career paths and desires, but giving people the opportunity to kind of learn new parts of the business or try new parts of the business, I think just builds everybody's tool kit and prepares them.
Sam S:
And what about their confidence? What would you say to that?
Kelly K:
Oh, it totally builds confidence. Because again, you're thrown in different situations. You got to learn that agility to be able to adapt, by doing that and forcing yourself to do that, I think it just naturally builds your own self confidence for all kinds of things.
Sam S:
So tell me about taking risks too. Because I would imagine being able to go from different businesses, you just get used to taking on risks and feeling good if you fail at a few things.
Kelly K:
Yeah, I think you have to take risks. I'll tell you, it certainly helped in my GE part of my career moving around a lot, just meeting people in all different environments helped. But when I chose to leave GE after 23 years to go to Cisco, I'd say that was a risk that I had to kind of think through. Because I had built a very long career at the company, had a huge network, and was going to a completely different industry. But I'll tell you, it was the best thing I ever did.
Kelly K:
You find sometimes taking the biggest risk has the best reward and I think if you're confident in yourself and what you're trying to do, I think it's a good risk to take. There's no better risk to take than on yourself, I'd say.
Sam S:
Yes. Yes, that is for sure. So having that diverse perspective around the table, what has that meant for your business, for just doing things better? Have you found that that's paid off?
Kelly K:
For sure. I mean, just to put it in perspective, our leadership team is almost 50% female that we have. It's not just I'm the CFO and or CHRO is also female, but our head of sales marketing is a female. Our head of services and customer experience is a female, our head of our collaboration, technical engineering unit is a female; having that on the leadership team has been transformational.
Kelly K:
And part of it is because we're trying to transform our business. So we're trying to shift Cisco to be recognized as more software and subscription type business and going from our traditional kind of hardware systems business to that requires different skill sets. So for example, we hired Maria Martinez who designed customer experience from Salesforce, which is a much different software model. She runs it for us now and it's rewriting how we run the business and it's across all the functions, operations, sales, compensate, and so it takes the whole team to be on the same page to push it through. So it's because you're not only bringing the mindset in there, but also being able to work through the inertia that are in big corporations of driving a change of this big, I think it's been great having a team that's diverse and open and all trying to drive that.
Sam S:
And they appreciate each other's perspective.
Kelly K:
Absolutely.
Sam S:
And where each of them are coming. What do you say to other managers who don't move people around as much or don't take chances on people with alternative backgrounds?
Kelly K:
Yeah, I think that's one of the biggest risks of losing great talent. And it's a challenge, right? It's not easy to naturally encourage, especially like the middle managers, to take risks on people. People tend to hire people they know or people that look like them. So we do things, for example, like in finance in my organization, we have made panels, we call them the talent councils, that are made up of just finance employees that want to do this. It's just volunteering, and it's about highlighting what roles are open across the finance organization, or even other organizations.
Kelly K:
We have people go to sales and that kind of thing. But making people aware of roles and opportunities, we talk about it a lot. We measure and encourage people to make cross business moves. So I think you really have to be intentional about driving it. It does make employees more engaged and retains them. And again, it grows the talent.
Sam S:
Right. So I think often managers too, when they get the good talent, are reluctant to let them go. So they might not move people around for that reason. How do you encourage people to let go the good talent?
Kelly K:
That's also what we measure. You're a bad manager if you do that. I think you have to push it down as they do their talent reviews and everything else. So if you're hoarding talent, that's a negative mark for your leadership.
Sam S:
It would be picked up on.
Kelly K:
Absolutely, we will find that.
Sam S:
One thing Cisco has really taken a lead on is pay parity among employees. So did you find large discrepancies among different groups at the company when you were?
Kelly K:
Yeah, we were one of the founding signers about three years ago when that came out. And so the first time, we didn't know what to expect the first time we went through it. We did find some changes that we immediately fixed and we do it every year. And even now we still will find, less than 1% of the population, but small tweaks that we have to make. But it's a really good discipline to have. It's never been huge, but we always can find it and we route it out and people know that we're looking for that. So I'm a big believer in it.
Sam S:
And so when you started that out, I could anticipate some people saying, "I don't know if we want to know what it's going to look like, so maybe we shouldn't do that work." How did you overcome that to be able to go forward and do it?
Kelly K:
I think, again, I give a lot of credit to Chuck, our CEO and the leadership team. You have that first reaction, but then at the end of the day, we all know it's the right thing to do. And again, it's one of those, part of our culture of the company is equality and everything else.
Sam S:
And do employees feel like since you do that regularly, annually, that they're in good stead? Meaning...
Kelly K:
Yeah. You know, it's funny, I really underestimated the impact, the positive impact it would have on the employees. Just the fact that they know that we're looking and then we actually make the changes. I mean, and we talk about it. So one of the things that we do is, we have every month, we call it a Cisco Beat where we talk to all the employees on video. The questions come up about that all the time. They'll ask, "What'd you guys find?" So it's, it is of interest but it does help employee morale knowing that we care and that we do it.
Sam S:
Does it help people feel like if they think they're underpaid, they can ask to be evaluated?
Kelly K:
Absolutely. Absolutely.
Sam S:
What would you say to other companies then who haven't gone that far and taken that step?
Kelly K:
I think transparency and doing something, I mean I think that should be mandatory. I'd say things like that is how you, you fix the wrongs, but it's also driving the right behavior. It's the same thing when you, like for example, all of the tech companies in the Valley, we all share our representation numbers in technical fields and none of us like our numbers. But that's how we try to drive it up and drive awareness. And really try to move the needle.
Sam S:
How would you describe your management style?
Kelly K:
I would say I'm very direct. I'm very hands on, but also we have a very tight team or we have a good environment, fun environment. One of the things that I find is most effective is if you can get the whole team rowing in the same direction, you can accomplish a lot. So I'd say also I'm known for being very data driven, which is I think really critical for a good finance team to be able to really get information in real time. I'd say all those things.
Sam S:
And what do you think your team would say makes you an effective leader?
Kelly K:
I would say it is clarity of what we're trying to accomplish. Very clear goals and metrics of how we're getting there as well as they would say that I certainly would have their backs, driving in the organization, making progress, having influence, that's the key of making sure that your teams are at the table helping to drive the direction of the company, those kind of things.
Sam S:
Well, and especially with the business partnering so closely with all functions, tell us whether it's sales or another function, how you work so closely together to make sure you're helping them realize their goals and you're doing the right thing by the finance organization?
Kelly K:
Yeah, I mean our job in finance is to help grow the business for longterm. Our job is business partnering. Of course we have the foundation fiduciary responsibilities, but driving the business for growth. So we're embedded in their businesses and whether it's finding companies to acquire, making the right R&D investments for programs that are going to be out three years from now, driving, go to market changes. I mean you just have to be part of the conversation. Part of their strategies. And again, we don't operate finance as a function. You're embedded in the businesses. You're on that business unit team. You've got to help them be successful. I try to have our finance people think of themselves not only as the stewards and the finance people, but like the chief operating officers. You got to kind of like help drive the operations, help drive along goals.
Sam S:
Tell me about your approach to mentoring others at the company, especially women and people of color.
Kelly K:
It's hugely important and personally I have many mentees, all genders, color, but it's not just women mentoring other women. I expect my entire leadership team to be also doing that. So I think it's a responsibility of any leader, male, female, to do that and help bring along people in the company. It's good for the people. It's good for the team. It's good for just different views, it's something that I'm passionate about.
Sam S:
Do you learn anything from your mentees?
Kelly K:
A ton. Yeah. I'm a big believer of the reverse mentoring, and that's why I like to do it. For me personally, I learn a ton from the mentees. You also learn really what's happening in the business. And sometimes things can get filtered by the time they get to the C-suites.
Sam S:
So culture.
Kelly K:
How are things resonating? What are people worried about? It's hugely helpful I find.
Sam S:
And what about any specific functional area, what would you expect someone else to help you with?
Kelly K:
If I'm mentoring somebody in engineering, that's one of the challenges we have, especially in tech. The percent of female in the technical fields, the engineering field is very, very low, below 20%, which is across many of the Silicon Valley companies. And so it's very helpful for me to kind of walk in their shoes to understand what it's like to be a female, a young engineer working through our technical fields, versus if I go to our sales organization, which is a much higher percentage of women in that function.
Kelly K:
Understanding those challenges helps us figure out what we need to do a little better. We take it back and we'll work with our leadership team and our HR team to figure out how it can make some changes.
Sam S:
That's a nice closed loop.
Kelly K:
Absolutely.
Sam S:
So can you tell us about any mentors who've been helpful to you during your career and what they did for you?
Kelly K:
Yeah, again, I think everybody has mentors throughout their career. I've benefited from having many mentors. One specifically was when I was early in my GE career, of the division I was in, the CFO of that division, she identified something in me that I didn't even think I had in myself and she would give me these big projects, this huge opportunity to work on things, really testing me.
Kelly K:
And she ended up, it was Charlene Begley who ended up being like one of the most senior women in GE. And just having that mentoring, which turned into sponsorship actually and in a company, at the time that I was there, was 300,000 employees, getting picked from the pile. Part of my success was her saying too, "Hey, you should put Kelly in that job in this other division." Just having kind of that sponsorship has really helped. And again, we were friends and we still are, she has since left the company and retired, but we still email, her daughter is in college out in California. We get together. But it's a 30 year kind of relationship.
Sam S:
Wow. That's so special. And the feedback she was able to give to you and how you were able to take it in, describe that. I think often managers are reluctant to give people feedback and women sometimes feedback. They don't know how they'll respond to it. But you have to be open to hearing it.
Kelly K:
Oh, absolutely. And again, as I said, it was early in my career and she'd be very direct. That's what I liked about her. She'd be like, "Kelly, you got to make sure you're making the eye contact" or "Speak up, you know the answer to that." Those kinds of things.
Sam S:
And in real time.
Kelly K:
Real time, like right after the meeting or even in the meeting sometimes. That was helpful.
Sam S:
Very helpful then. So you've urged women to really overcome some gender stereotypes and pursue careers in finance.
Kelly K:
Absolutely.
Sam S:
And go for that. How do you do that? What do you think can be done to further reduce the gender gap there?
Kelly K:
It's a challenge that every company faces. What we do is, so I mentioned the financial training program that we have, so we go out and get the best college grads to come into this program and when we start out, it's 50-50. It's half male, half female. And again, we encourage identifying great talent. You've got to make sure that you have the diverse panels of course, and that the people that you're putting in the roles or trying out for the next role as you got the balance there. But you have to be very, very intentional. You have to make sure if you know a role is coming up that would be a great fit for a young talent, I've done this many times, you're going to this role, even if the woman isn't even thinking she's ready for that role, intentional moves I find is helping making that change.
Kelly K:
And again, we still have a long way to go. Even in my own staff, I'm only at slightly more than about a third females at the higher levels. And that's what happens, right? You start out-
Sam S:
Classic pipeline problem.
Kelly K:
It is, and so the more we can do to keep the pipeline equal higher up in the organization, that's how you change it. It's just time.
Sam S:
Has technology actually changed how you do your job?
Kelly K:
I mean, I don't think you can be an effective finance team without technology. Our job is information. I mean that's what finance does. You look at all the data that's out there, you connect the dots and you use that to help drive the business. And so I'm a huge technology fan. Most of what we try to do is automate.
Kelly K:
We want the data to be just real time at your fingertips so you don't have to waste time. We don't want reporting, it should all be real time depending on what you want. So we've invested a lot. We have a finance IT team that just builds.
Sam S:
Just for you delivering your needs?
Kelly K:
So you just remove the work in the field so they can work more on the strategic stuff or getting the right deals done. But having real time information to be able to access it. And again, it helps when we're having reviews you can really zero in on what's happening, getting away from anecdotes, having real time data. So I'm a huge believer in it. And again, you have to encourage the teams to take advantage of it because what we find is, you still have the people that rely on their layers below to give them the reports. I will say public shaming is fine to make fun of people, if they're not leveraging the tools to drive the right behavior.
Sam S:
So how do you encourage collaboration among your teams? It sounds like what you're working on all the time really relies on good relationships.
Kelly K:
Exactly. No, it is, and it's an expectation for one, you have to collaborate. If we look at the tenets that we have with a team, it's of course, the financial integrity and ethics, but then it's business partnering. That's our goal to help drive the business. I really don't want finance people to think of themselves as finance people. I want them to be driving the business of the partner. Yeah, absolutely.
Sam S:
Do you find that that's a skill people readily come to the table with? Is that something you have to-
Kelly K:
I think you have the gamut, right? I think some people are more natural at it than others. But you know we spend a lot of time also on training and we have training at all different levels of the organization and you start at the earliest levels, which is all about financial acumen. But every one of these classes that we have all the way up through the VP level, it combines the acumen, the business acumen, business analysis as well as leadership. Because you're always trying to make sure that, they could be a very low level person in the organization, but just learning the benefit of diversity or learning the benefit of moving talent, all through the different types of courses we have.
Sam S:
And is that training in person or a combination with digital?
Kelly K:
We do both. We do both, but there's huge value, especially for big global companies to bring people in as well so they can network even within the organization.
Sam S:
I think the in person meetings are so important to everybody. It's a networking, it's the learning, I think you learn differently when you're talking to people.
Kelly K:
I totally, and again, it's really, I would say almost even half of the benefit of the classes, just the networking and benefiting from that.
Sam S:
There's always someone you meet at a training program and you never forget that, or you have that lifelong relationship with.
Kelly K:
Exactly.
Sam S:
And so what do you do to stay abreast of business trends?
Kelly K:
So I'll tell you the best thing that I do is I probably spend about half, a third of my time, inside running the business, whatever. A third of my time with investors and I'd say in a third of my time with customers, I spend a ton of time with customers, with our sales guys, right? So, you know, all kinds of different customers.
Kelly K:
But that's where I learn what they're saying. I'm always asking, "What are you seeing in your industry?" And it helps tremendously because again, we have such diverse customers. What might be happening in the public sector is so different than what might be happening in the media industry, and it just helps you understand the macro of what's going on. So that's from a business context, but then it's just I do a lot of reading too, of what's happening in the world.
Sam S:
That's great. But you're on the front lines and they're talking to the investors and bringing it all together.
Kelly K:
Yeah. Yeah.
Sam S:
That is great. Well, thank you so much.
Kelly K:
Been a pleasure. Thank you so much.
Sam S:
Thanks to Kelly Kramer for sitting down with me and offering her insights into how to build and lead a diverse team. Thank you for joining us today. The mission of Women on The Move is to help women in their professional and personal lives. Our goal is to introduce you to people with great ideas, inspiring stories, and a passion to make a difference. If you enjoyed this episode, please rate, review and subscribe so you won't miss any others. Thank you to our partners at the Female Quotient at Magnet Media for helping us tell these stories. For JP Morgan Chase's Women on The Move. I'm Sam Saperstein.
Subscribe