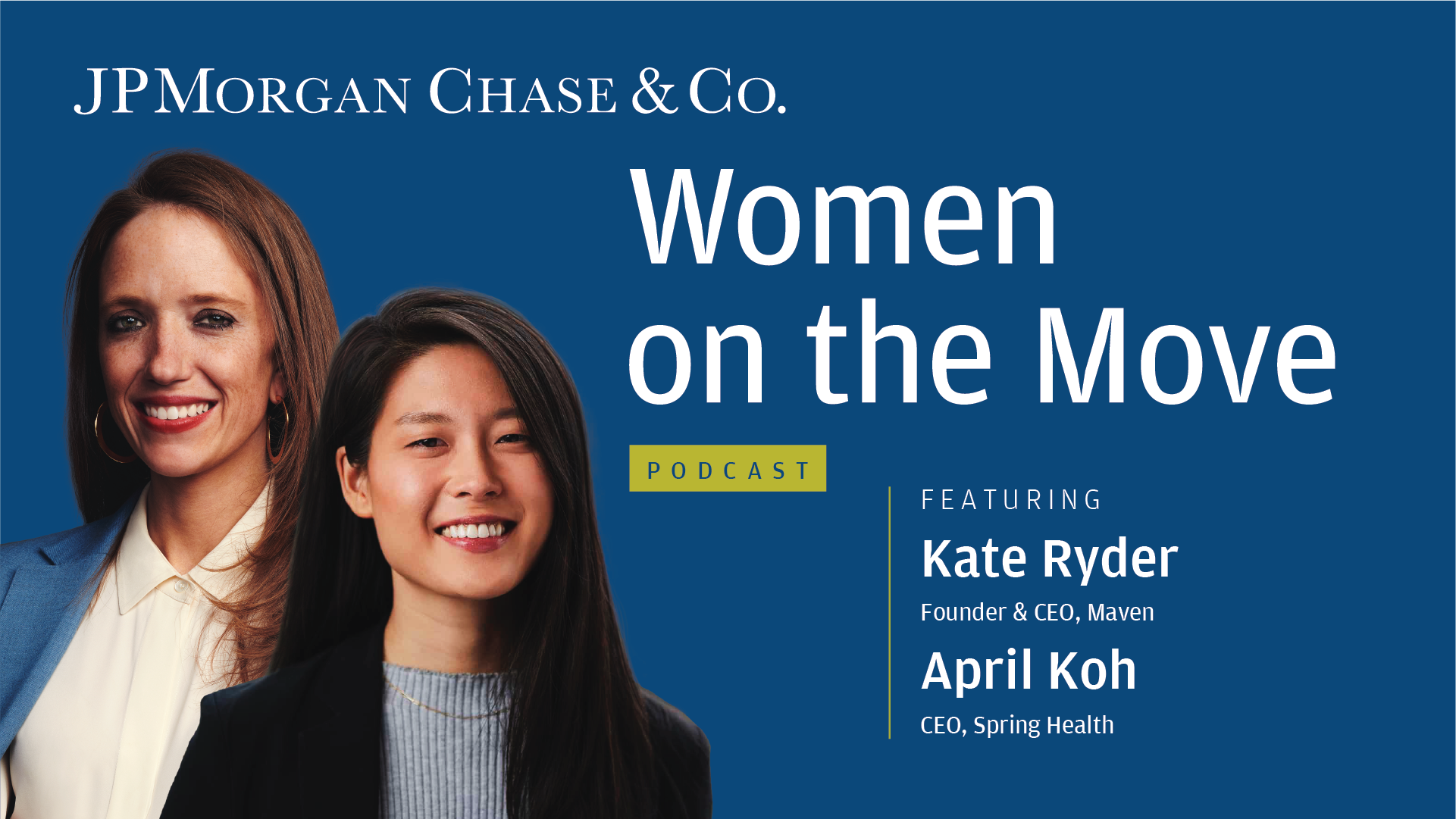 Stories
April Koh, Spring Health & Kate Ryder, Maven
The future of mental health and women's health with two healthcare CEOs
Innovation in healthcare is one of the biggest stories of the last few years, and in this episode, host Sam Saperstein, talks with two CEOs who've been at the forefront of that acceleration. Kate Ryder is the founder and CEO of Maven Clinic, the largest telemedicine health provider for family health and women's health. And April Koh is founder and CEO of Spring Health, a digital wellness platform aimed at making mental wellbeing easy to navigate for businesses and employees. In this conversation, Kate and April discuss how they each drew from personal experience as they built their companies, how COVID-19 impacted telemedicine, and how sometimes knowing when to pivot is the key to continued success.
Leveraging personal experience into start-up success
Both Kate and April drew on their own experiences as healthcare consumers when they started their companies. For Kate, it was her interactions with the complex maternal healthcare systems that led her to believe there must be a simpler way for women to access the range of care they deserve. She recalls thinking in 2014, when she started Maven Clinics, that "there was a lot around the telemedicine space that was really exciting, but nothing was really geared toward women and families." She also knew that it could be hard for women to access the range of specialty providers they needed as they navigated fertility, pregnancy, childbirth, and beyond. So, she founded Maven with the goal of providing women with a multidisciplinary care team to help them fill in the gaps that often exist in women's healthcare. Digital health or telemedicine is a key component of that, though Maven also offers in-person options for those who prefer that experience.
For April, it was her decade-long struggle with mental health that inspired her to start Spring Health. "I went through a really lonely and a really long process of trial and error to figure out something that would work for me," she recalls. "And I found kind of randomly what worked for me, but I know so many people are struggling in that way today." While so many other aspects of life were becoming data-driven and personalized, she felt that mental healthcare "felt like a total guessing game, it felt like it was stuck in the dark ages." When she learned of groundbreaking research showing that machine learning could be used to personalize mental healthcare, she reached out to the researcher, Dr. Adam Chekroud. Together they launched Spring Health with the mission of making mental healthcare more accessible and personalized for everyone.
Navigating change and knowing when to pivot
As healthcare CEOs at a time when telemedicine was just taking off, both Kate and April learned to adapt and move fast. Recalling a time when she had found a great mental health care provider a few blocks from home, but could not make herself leave her bed to get to an in-person appointment, April says, she always knew that "the future of mental health care is virtual." The pandemic accelerated trends toward telemedicine that had already started. Spring Health was off to a fast start, leveraging AI to provide personalized care, and benefiting from the overall trends toward telemedicine. But they faced a hiccup when their original model of selling into provider systems was being hampered by those system's entrenched workflow issues. April's response was to pivot quickly to owning their own provider network and eliminating the workflow bottlenecks. "It's helped us move forward in our vision to deliver care," she says. "And it's one of the things I'm most proud over the past five years. I recommended a hard pivot."
At Maven, Kate recalls a different type of pivot: shutting down a failing product. The product was birth-control subscriptions for college students, which Kate says they launched after hearing from enough parents that they would buy such a subscription for their college students. "And we realized later on, they were just being polite," she says. "Actually, they didn't want to think about their daughters having sex in college." Eight months after launching the product, Maven shut it down. Luckily, they were already achieving success on other fronts and the quick pivot to shutting down the failed product spared them from big losses.

April Koh, Spring Health & Kate Ryder, Maven
Kate Ryder
Founder & CEO, Maven
April Koh
CEO, Spring Health
Subscribe