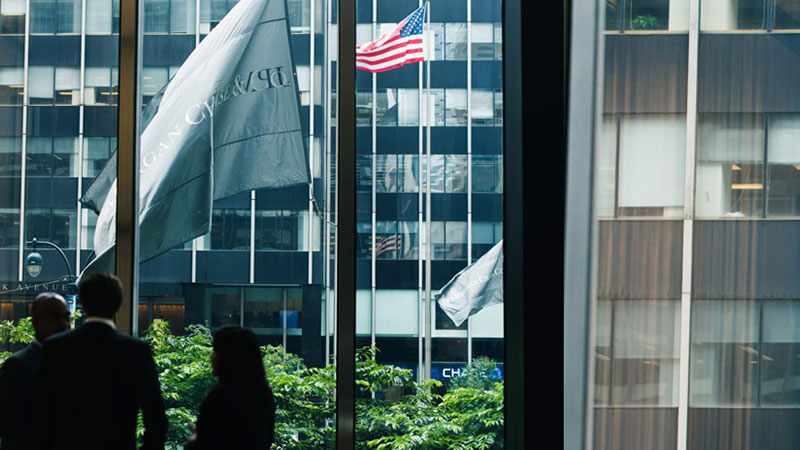 Insights
JPMorgan Chase Turns 150, Invests in Higher Education
JPMorgan Chase celebrates its 150-year anniversary with a $2.5 million investment in Ohio State University as part of its $350 million global initiative, New Skills at Work.
Columbus has always been a very special place for me. At the time of Bank One's merger with JPMorgan Chase, 12,500 people in the area worked for our firm, and I promised to former Mayor Michael B. Coleman that central Ohio would continue to play a major role for us.
Since then, our company has thrived and we have more than made good on this promise. JPMorgan Chase now employs nearly 20,000 people in this region, and we raised wages over the years for our local branch and customer service employees to no lower than $15 per hour. We have worked closely with local government officials and Ohio universities to create an environment that is good for business and has led us to become the largest private employer in the region.
I am visiting Columbus today to celebrate the 150-year anniversary of JPMorgan Chase and our predecessors here. As we reflect on the innovation and strategies that keep this region competitive, we are thinking about the lessons we can apply to the future of the American workforce to keep our economy humming.
While parts of the American economy improved in the past decade, economically vulnerable young people around the world are being left behind, a problem at the heart of our current national discourse.
Without the right skills and meaningful education, many young people entering the labor market find themselves stuck in low-skill, low-wage jobs or, worse, unemployed and out of school.
But only half of high school graduates who go on to four-year colleges end up completing a bachelor's degree within six years. Young people of color and those who come from low-income families fare even worse. Universities must do more to support students of all backgrounds who arrive on their campuses.
Looking to the successes of central Ohio, one reason JPMorgan Chase has been able to increase our hiring here is the steady stream of talented women and men graduating from local colleges and universities. As an example, we recently partnered with Otterbein University, JobsOhio and the city of Westerville to bring a fintech research and development arm to Otterbein. And Ohio State is one of our largest sources of new employees globally.
Today we are announcing a $2.5 million investment in two of Ohio State University's scholarships for academic excellence for students from diverse backgrounds. As part of the investment, our executives will serve as guest speakers in Ohio State classes, mentor the scholars and volunteer in community activities.
But four-year universities are only part of the answer. Community colleges are a critical path for economic mobility and help future employees develop skills that companies like JPMorgan Chase need. More than 5,000 of JPMorgan Chase's local employees work in technical fields, some of which are developed in community colleges. We need to eliminate any stigma attached to career and technical education.
JPMorgan Chase has invested more than $60 million in community colleges across the country as part of our New Skills at Work program to develop a talented workforce that can meet evolving employer needs. This includes the $2.5 million we invested in 2014 at Columbus State. We've since hired 630 CSCC students to work with us, and we are exploring more ways to continue this partnership in the next year.
We wholeheartedly support Columbus State's Central Ohio Compact and its bold goal that 65 percent of central Ohioans will attain a postsecondary degree or certificate by 2025.
Through New Skills at Work, our $350 million global workforce initiative, we are creating more opportunities for workers to obtain well-paying, middle-skill jobs — those that require education beyond a high school degree but less than a college degree — while providing employers with the skilled employees needed to grow and compete.
More than 6 million Americans are unemployed, while there are 7 million open jobs in the U.S. This is why we are reaching out to other companies across industries to create more workforce partnerships like this — particularly in digital fields like cybersecurity, data analytics and machine learning.
As we celebrate the history and success of JPMorgan Chase today — made possible by tens of thousands of people from central Ohio — we are committed to applying the lessons we've learned here to help solve one of our country's most important issues.
---
About the Author:
Jamie Dimon is Chairman & CEO of JPMorgan Chase & Co.