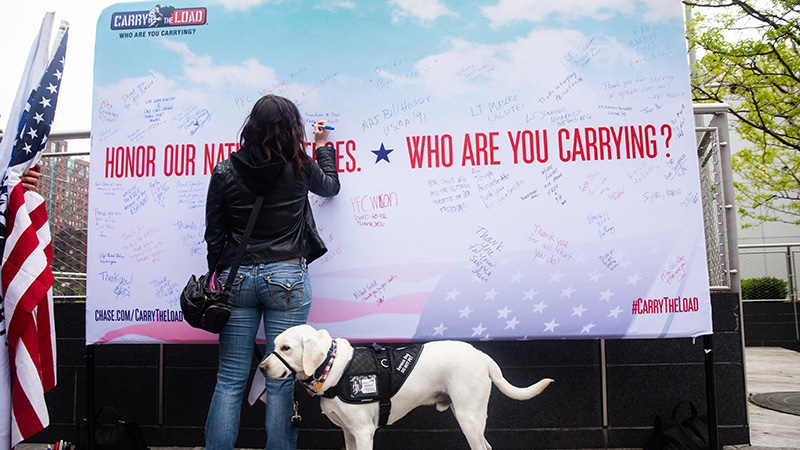 Stories
11,500 Miles Across 40 States in 32 Days: JPMorgan Chase Employees 'Carry The Load' in National Relay to Honor Nation's Heroes
For the fifth consecutive year, JPMorgan Chase is the presenting sponsor of the Carry The Load National Relay.
In late 2004, Marine Josh Lewis and his fellow Marine Tyler Trovillion were hiking through a training course at Camp Pendleton in San Diego, California. Carrying heavy equipment over exhausting terrain, Josh struggled to keep up with the long strides of his 6-foot-4-inch friend.
"Come on buddy, this ain't that bad!" Tyler called out to Josh from ahead.
Months later, while the two were deployed in Iraq, Tyler was killed in action while conducting combat operations near Ramadi. Four other members of Josh's platoon also lost their lives during the same operation.
With Tyler's words of encouragement in mind, Josh will complete a 20-hour walk supporting the National Relay for Carry The Load, a nonprofit that provides active ways to connect Americans to the sacrifices made daily by our nation's military, veterans, first responders and their families. For the fifth consecutive year, JPMorgan Chase is the presenting sponsor of the National Relay, a 32-day, 11,500-mile trek across 40 states during the weeks leading up to Memorial Day.
Josh, now a credit underwriter supporting Corporate Client Banking Specialized Industries at JPMorgan Chase, will join hundreds of fellow employees—many of them also veterans—marching in cities across the country to honor friends, family and fellow service members.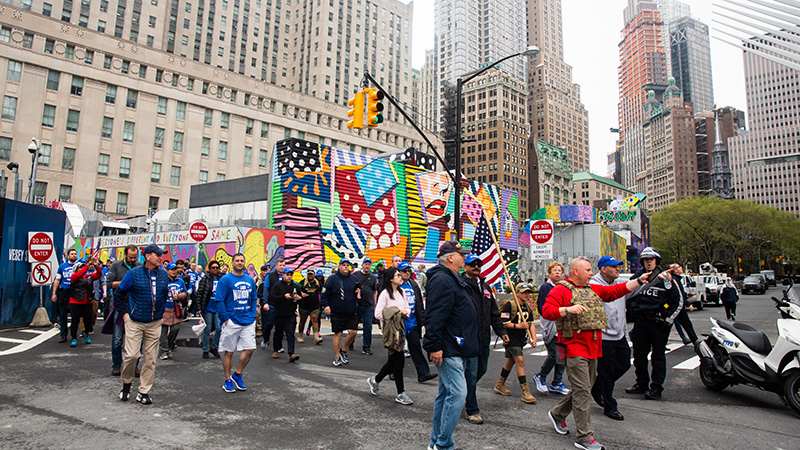 Veteran Community Connection
Former U.S. Navy Intelligence Officer Caitlin McGilley has supported Carry The Load for years. Caitlin served on active duty with the Navy from 2008 to 2015, deploying multiple times around the world. Now a vice president and security specialist at JPMorgan Chase, she remains closely connected to the military and veteran communities.
At the 2016 march in New York, Caitlin carried with her the photos of 30 service members who never returned from war.
"That was one of the most tragic events in the Afghan war," she said of August 6, 2011, the day a U.S. Chinook helicopter was shot down by enemy forces in Wardak province, west of Kabul, Afghanistan. All on board—including 30 U.S. service members and one military working dog—were killed in the resulting crash.

Sense of Patriotism
Nuclear Surface Warfare Officer Lieutenant Commander Sarah Kuehl, now an operations lead for the JPMorgan Chase Institute, completed two deployments to Haiti and the Middle East during active duty, and continues to serve in the reserves today. Sarah expressed her appreciation for JPMorgan Chase's commitment to veterans through programs like Carry The Load.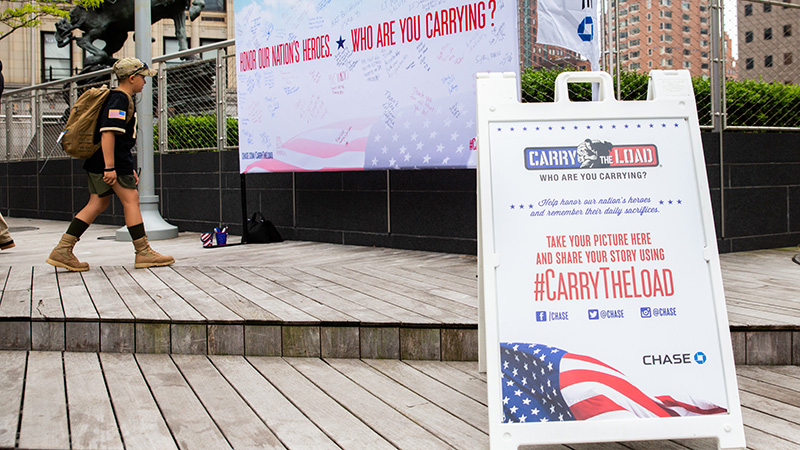 "Because veterans humbly serve the United States, it's nice to see the company humbly supporting veterans. This humility is woven into our character, and seeing that it's also woven into the character of JPMorgan Chase touches us in a deeper way."
For Sarah, participating in Carry The Load is a powerful way to share her passion for military service with her colleagues.
"As a veteran, it's always nice to be a part of something that's bigger than just yourself," she said. "But Carry The Load is not just for our veterans. It's for everybody—every American has a sense of patriotism and respect for military members and their families. This is one way to demonstrate that."
Josh echoed Sarah's sentiments, saying that everyone "has a tie" to those who serve. "Memorial Day is a day to remember," he said. "We need to remember those who gave their lives so we are able to move on with ours."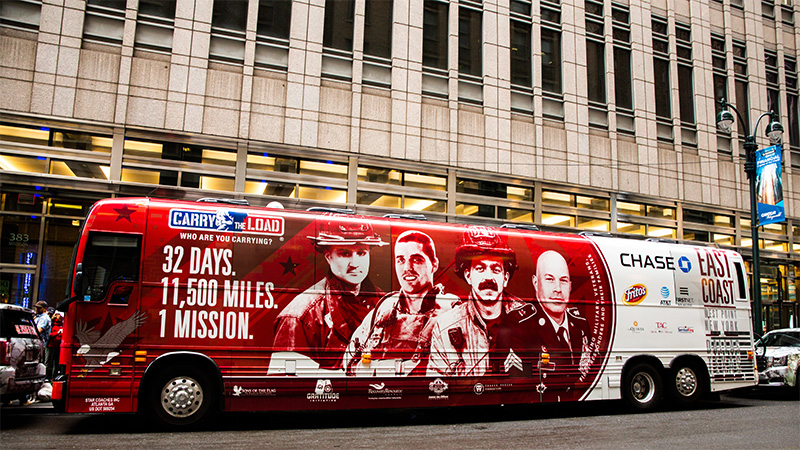 For Josh, this trek is familiar: he's completed the 20-hour walk several times with friends and family of his fallen friend Tyler. And as night falls during the final tiresome hours of the journey, Josh reminds himself, "Come on buddy, this ain't that bad!"
---
About Carry The Load
Carry the Load is a Dallas-based non-profit organization founded in 2011 by former Navy SEALs Clint Bruce and Stephen Holley to restore the true meaning of Memorial Day as a time to honor military service members and first responders who lost their lives in service to their country. Chase is the presenting sponsor of the National Relay spanning 11,500 miles from coast to coast, throughout the month of May. The relay progresses through the day, rain or shine, to raise awareness and funds for nonprofits directly serving service members, veterans and military families.