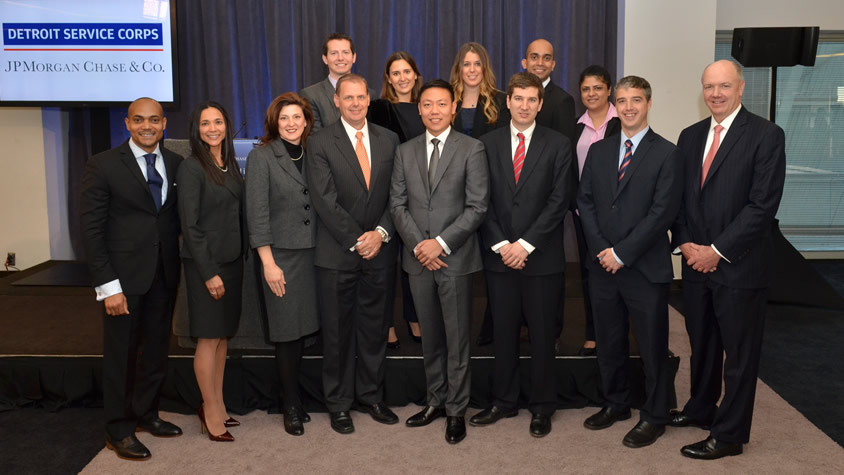 Stories
JPMorgan Chase Employees Deploy Their Skills with Detroit Community Partner
Building on our $100 million commitment to help rebuild Detroit, JPMorgan Chase has committed not just support, but the knowledge of our firm and our employees in improving the city for the people who call it home.
In the spirit of sharing that knowledge and talent, we sent a team of a dozen employees from around the world to work with Detroit's non-profit communities and share what they have learned in their combined century of experience at JPMorgan Chase. They worked on the ground in Detroit for three weeks with select organizations, all of which are driven by a goal of improving their communities.
The employees came from every corner of the bank and every corner of the globe – including New York, Sydney, Sao Paulo, Mumbai and Hong Kong. The organizations these men and women worked with all are targeting key issues in Detroit:
Eastern Market: examined best practices by other regional wholesale market facilities in the United States and provided a detailed assessment of how Detroit might build and operate a new Regional Wholesale Produce Market.
Focus: HOPE: developed a plan for implementing an integrated talent management system.
Michigan Community Resources: reviewed Michigan Community Resources' commercial market analyses for five targeted neighborhoods and created a marketing and outreach package that can be used by community partners.
Vanguard Community Development Corporation: quantified how their effort to acquire, rehabilitate and sell homes in Detroit's North End would help stabilize neighborhood's property values and increase the tax base.
Over the next five years, JPMorgan Chase will send additional teams of employees to Detroit. Here, in their own words, are impacts, insights and reflections by four members of the inaugural team:
"Each day, we have learned to appreciate Detroit for both its focus on rebuilding their communities, as well as the passion, commitment and generosity of spirit of its people."
Roopa B.
Paula O. works in Sao Paulo. She writes:
Excitement. Anxiety. Friendship. Laughs. Surprise—and why not, let's include Excel and PowerPoint, too. These words only capture a fraction of the experiences I've had in the past three weeks.
Today we delivered our final presentation to our partners at Vanguard CDC and we provided them with our two major products: a business plan analysis and a financial model to acquire, rehabilitate and sell homes in the North End Neighborhood.
However, this was not all. After all, we are in Detroit, the city for Doers.
On Saturday, we participated in a joint volunteer activity of GoodWorks, SER (Service, Employment, and Redevelopment), YouthBuild and Urban Neighborhood to clean up the area around the community center and a park. It was a great opportunity to talk with the members of the community.
We also went to the Community Development Advocates of Detroit LISC (Local Initiatives Support Corporation) Awards. The annual event honors organizations whose leadership transforms their communities into good places to live. It was an honor to be able to stand up and cheer for Tom Goddeeris, who received the award for Nonprofit Developer of the Year, on behalf of GrandMont Rosedale. Tom was a key stakeholder and contributor to our project.
As our service in Detroit comes to an end, I get that feeling that I have every time I try to give back to our communities: I'm getting more back in return. It has been quite a journey, and I'm confident that while this was my first time in Detroit, it definitely won't be my last!
I look forward to reading the experiences from the next Detroit Services Corps team in the coming years.
William H. works in New York. He writes:
As we reach the end of our whirlwind three weeks here in Detroit, it is only fitting to look to Detroit's own experiences as a parallel.
Detroit has been a city of cycles: with its rapid ascent, contraction and now rekindling growth. As our project moved rapidly over the past weeks and is now winding down in the form of a final presentation to our organization, we will leave it to our counterparts at Eastern Market Corporation to start the next cycle of the project—creating a new and more robust wholesale market for local farmers. A key portion of our final recommendation is to ensure that a clear roadmap is provided to the Eastern Market team to sustain the momentum of the project toward reaching this long-term goal.
As I reflect on the time we have spent with our organization, one comment from a stakeholder at Eastern Market has resonated with me. She was amazed by the fact that Ralph, Cleyde, and I worked so well together and came across as if we had been teammates for years, despite the fact that we all met each other for the first time just weeks ago. I believe this speaks volumes to the culture of JPMorgan Chase. While we are a huge organization with offices around the globe, we are still able to share similar values in how we conduct ourselves internally and externally.
Whether it was listening to the stories of the farmers in the freezing cold at the overnight wholesale operation, meeting Ronnie and Tom at Gratiot Central Market, or observing many of the other entrepreneurs and business owners who've successfully turned their ambitions into reality, we are thankful for the impact this experience will bring to our professional careers and day to day lives. We will never be able to look our dinner plates the same way again.
Will H. works in New York. He writes:
Having started my career in Detroit, I was very excited about the prospect of returning to Michigan to work with the Detroit Service Corps. I left Detroit in 2000 and felt I had an informed opinion about the city. I loved its toughness, but looked forward to pursuing new challenges and had my own, young perspective on its prospects. I followed current events in the press and read the headlines about blight and flight—that largely defined my ideas about what this program would be.
But, it has been overwhelming to see what Detroit has become. I have done some traveling and lived in other international cities – but NEVER seen an entrepreneurial spirit like what we have witnessed here in three weeks. We have been literally and figuratively embraced by the people we've worked with. We've been invited to be part of the solution. We've been asked our opinions and been given an opportunity to give back (in a small way) to a city that has a clear view of what it can be. The pictures I've taken are not of vacant spaces, but capture memories of vibrant buildings, busy markets, new office space, colorful neighborhoods and great people.
We have been fortunate to spend our time with a non-profit (Michigan Community Resources) focused on developing commercial strategies in the neighborhoods of Detroit. The energy in the city and its neighborhoods is amazing – and the ability for good people to make a very real impact has been impressive. We've been introduced to entrepreneurs in neighborhoods who are fulfilling their dreams in small, shared office spaces and making economic and personal contributions to their communities. Coupled with the history, the music, the culture, the architecture and the toughness of what has always been Detroit.
As we prepare for our final presentation, we've had a chance to reflect on the experience – and it has been a pleasure to have spent time with this group of 12, from so many different backgrounds, completely committed to this work. I have enjoyed sharing ideas, getting creative and having a lot of laughs. I feel fortunate to be the member of the team with family closest to Detroit and am already looking forward to staying connected with the city's continued success as an alumnus of this program.
Roopa B works in Mumbai. She writes:
It's week three of the program, and the enthusiasm and adrenalin continues to mount!
One of the key highlights was a volunteer effort coordinated by JPMorgan Chase to clean up Springdale Green Park. It was a gratifying experience to come together to help the community and partner with other nonprofit organizations. High energy, smiles and team work ruled the day.
Our client presentation to the Focus: HOPE CEO, directors and general counsel was an engaging mix of questions, observations and insights. With many forward-thinking leaders at the helm, the future for Focus: HOPE looks exciting.
As we end our project, packing up to go back to our families, friends and colleagues, we are taking back memories, learnings and a growing network. The positivity and warmth of the people has embraced us from day one. Each day, we have learned to appreciate Detroit for both its focus on rebuilding their communities, as well as the passion, commitment and generosity of spirit of its people.
Three weeks ago, twelve JPMorgan Chase employees came together from different parts of the globe and different cultures, trying to do their small part in this exciting and transformational journey. The camaraderie and partnership built over the weeks will keep us connected in times to come.
All the very best to Detroit and its wonderful people! We feel the hope and excitement of good times coming for the city!