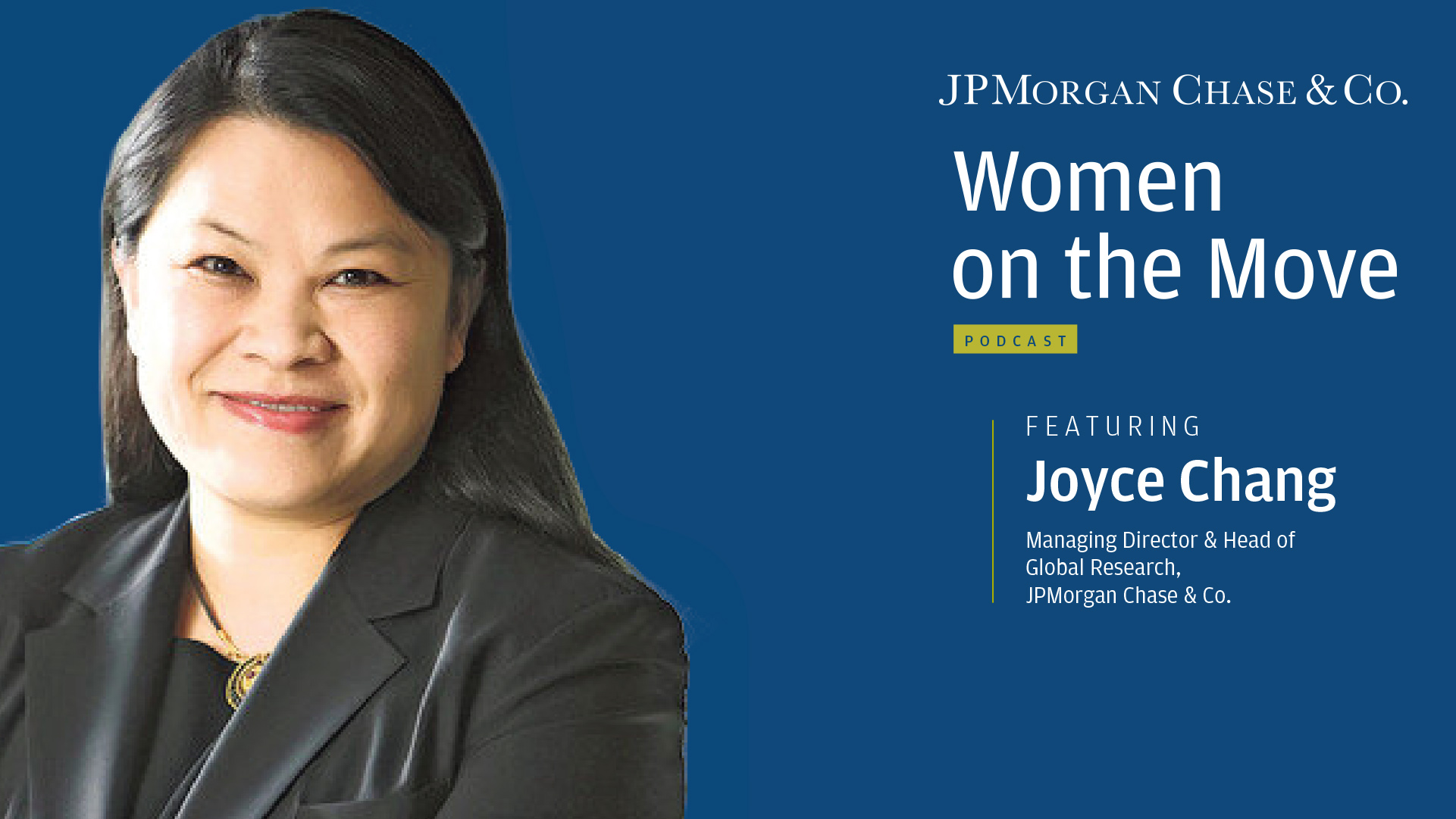 Stories
COVID-19 Widens the Gender Gap: Joyce Chang Discusses new Findings
How is the pandemic affecting gender balance in the global workforce, in corporate leadership, and in the public sector—and what policies can help women thrive moving forward? That's exactly what Joyce Chang, the chair of global research for JPMorgan Chase's Corporate and Investment Bank, sat down to talk about with Women on the Move host Sam Saperstein. Joyce discussed the 2021 findings of her team's annual Global Balance Report.
How did women fare globally during the pandemic?
Joyce described her team's top-level findings in her conversation with Sam. First, she noted, this year's report reveals that female participation in the labor force is suffering a historic setback as a result of COVID-19. "We're actually at a 33-year low in the United States," she said. "The lowest since 1988, as women have lost jobs that are concentrated in the services sector, and they've also born greater responsibility for childcare." During the pandemic, she noted, 2.3 million women have lost jobs, as compared to 1.8 million men. That discrepancy can be traced back to childcare, home responsibilities, and virtual learning patterns. For instance, when school started in September 2020, four times as many women left their jobs as men that month.
A second major theme in the report was that the gender pay gap is at best stagnating, and potentially widening. In the U.S. that rate has hovered around 17.5 percent, while in the EU it's a bit better at 15 percent. But Joyce noted that researchers are currently worried about long-term impacts because as the economy recovers, service jobs—which are female-dominated—are the hardest to recover.
Third, Joyce's team found that racial inequality in the labor market is also on the rise. In the U.S., for instance, Black female participation dropped by nearly 6.5 percentage points from February to September, 2020. "Black women who had benefited from some of the largest employment gains from 2015 to 2019, because you had such a strong labor market that pulled the new workers, have experienced the most significant setbacks," she added.
Another area of progress over the past decade—female representation on boards—also showed signs of slowing over pandemic. However, Joyce noted, one silver lining seems to be a heightened global awareness of the issue. "There is a focus on getting women in public leadership positions in the developed markets," she noted.
What policies can help women moving forward?
While many of the findings from the report showed backward movement for women in the U.S. and around the world, Joyce noted that there is reason for optimism as pro-women policies gain traction. JPMorgan Chase's paid parental leave policy is an example of employers moving in the right direction. Along with paid parental leave policies, support for early childhood education is critical to solidifying women's ability to remain and flourish in the workforce.
Another policy that can help achieve more gender parity is an emphasis on "reskilling" or re-training women to succeed in in-demand, higher-pay jobs. Unfortunately, Joyce noted, that's most feasible in developed countries, and women in the world's emerging markets are still likely to be left behind.
What does the future look like?
Joyce predicts that, where possible, the future of women in the workplace will be a hybrid model of in-person and remote work. "[During the pandemic] it's been very possible to keep that global connectivity because of technology," she noted. "But I'm finding that what everybody does miss is that in-person contact and connectivity. So you want to get the right balance. And I think that's where the focus is going to be. It's not going to be back to what it was before."
Joyce cited her involvement with Girls Inc. as an example of a reason for optimism. JPMorgan Chase has a sponsorship with the nonprofit serving low-income girls, and Joyce currently sits on the board. The progress that she sees Girls Inc. making in terms of preparing girls for a strong financial foundation and successful career has inspired confidence in the future.

COVID-19 Widens the Gender Gap: Joyce Chang Discusses new Findings
Joyce Chang Managing Director & Chair of Global Research, JPMorgan Chase & Co.
Subscribe