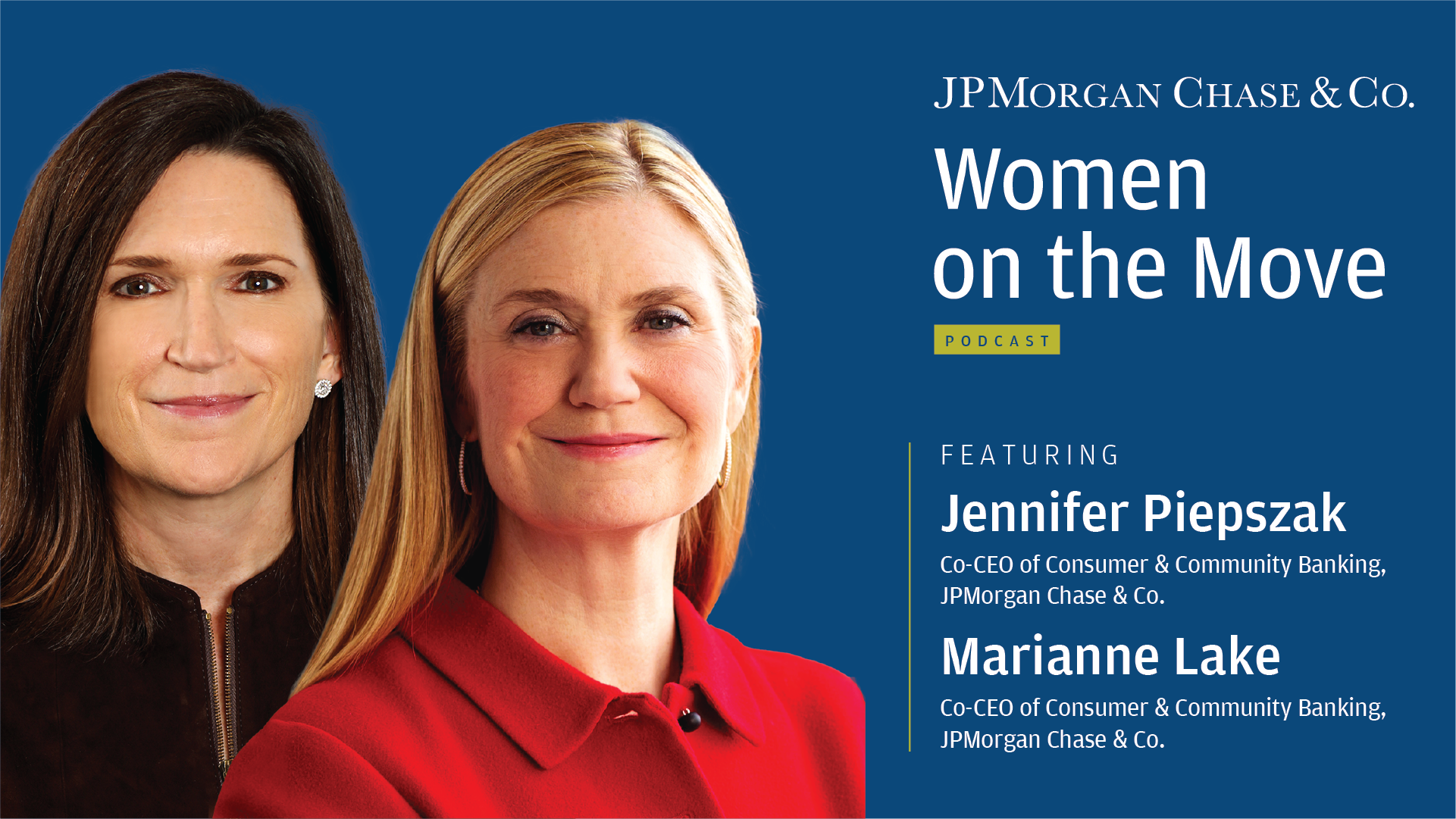 Stories
Leadership lessons from the co-CEOs of Chase Consumer & Community Banking 
What's the key to successful leadership in times of fast-paced change? To Jenn Piepszak and Marianne Lake, co-CEOs of Chase Consumer & Community Banking, it includes focusing on the customer and building and maintaining strong company culture. This episode features a segment from the sixth annual Women on the Move Leadership Day, as Jenn and Marianne sit down with host Sam Saperstein to discuss company culture, the pandemic and accelerating the pace of change.
As co-leaders, Marianne and Jenn have split up the umbrella of Consumer & Community Banking: Marianne runs consumer lending and connected commerce, and Jenn heads up banking businesses and wealth management. Jenn tells Sam that their successful partnership is built on a lengthy experience of mutual trust, respect, and friendship. And while they've split up the responsibilities, they spend a lot of time collaborating on issues that make all experiences easier for customers.
"Be the CEO of whatever you're running"
Marianne shares that she looks for a few key traits in managers and leaders, including putting the customer first and communicating clearly with the team every step of the way. She says that being the CEO of whatever you're working on includes understanding and focusing obsessively on customer needs and putting the customer—internal or external—at the center of all decision-making. "Oftentimes the best way you can obsess about the competition is obsessing about the customer," she says.
Once a leader has clarified their focus, Marianne says communication is key. "Whatever you have defined as success for your business or endeavor, you need to communicate it clearly, consistently, and often, because people in the team can get behind what they understand," she tells Sam.
Finally, she says, a keen attention to the data analytics is necessary: She recommends being disciplined about showing data-driven decisions that people can understand. "Jamie [Dimon, JPMorgan Chase CEO] has said often, and I agree with him,: data analyze, rinse, repeat," she says. "It takes the emotion out of decisions."
Building and maintaining culture
Jenn and Marianne discussed one of the largest changes they've managed over the past 18 months—the sudden move to remote and then hybrid work. While the firm continues to pilot and test their return to office protocols, Jenn notes that there is a difference between the initial fast-paced move to remote work versus what flexibility will ultimately look like going forward. She highlights that the pandemic had a disproportionate impact on women and that the flexibility coming out of it will likely have a disproportionately positive impact on women as well.
"I think it was extraordinary what we were able to do in a weekend really, turn our entire workforce into a remote workforce," she says. "I do think that we have proven that you can maintain culture in a remote environment. We have yet to prove that you can build culture in a remote environment. And so I think having an office-based culture is incredibly important to this company for a very, very good reason."
Jenn and Marianne both agree that while remote work offers valuable flexibility, the in-person experience is critical to establishing team relationships and ultimately building culture and trust. "And I think that is a huge motivating factor for anyone," Jenn says. "In person, you have that opportunity to build that culture. And yes, you also have that opportunity to take a little bit more time to work through an issue or solve a problem, or run next door to Marianne's office and say, what do you think about this?"
An accelerating pace of change
Marianne wraps up this episode by offering her thoughts on how to meet the challenges of the future. In some ways, she says, the pandemic sped up some changes that were already coming down the pike in terms of digitalization. Successfully meeting and leveraging that accelerating change is the next big challenge for Consumer & Community Banking.
"The competition is everywhere," she notes. "It's how every customer experiences every digital ecosystem. It's how they order a pizza. It's how they order a car. It's all those things that inform what customers think extraordinary experience looks like. We're very focused on moving with all due haste, and that's everything from our technology to how we operate as teams and how we do budgeting and planning, and all those things need to keep pace."
In particular, Marianne says that they don't want to be complacent about inclusivity. "We want to be the bank for all Americans," she says.

Leadership lessons from the co-CEOs of Chase Consumer and Community Banking
Jennifer Piepszak
Co-CEO of Consumer & Community Banking
Marianne Lake
Co-CEO of Consumer & Community Banking



Subscribe