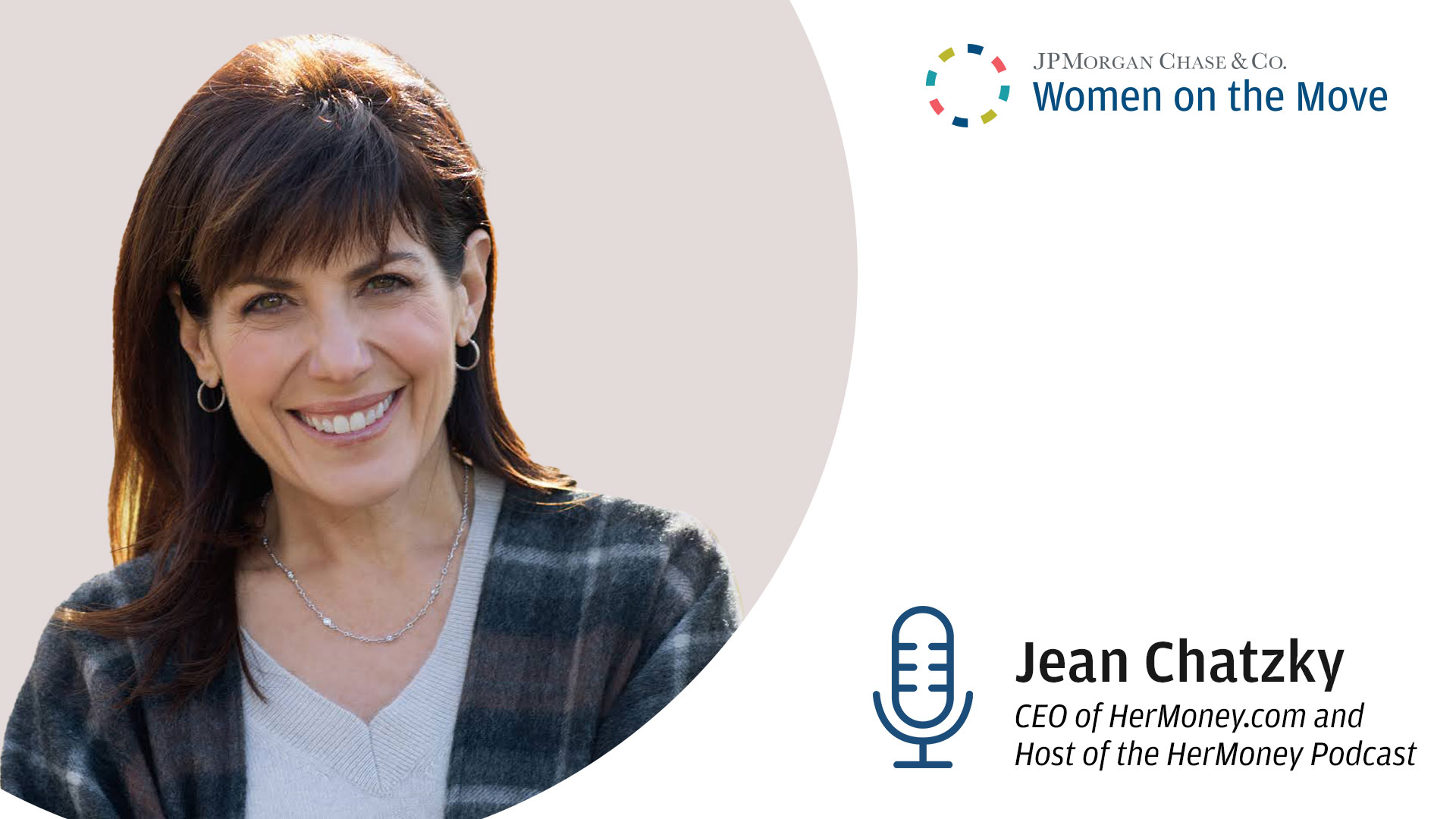 Stories
5 Steps to Financial Security from HerMoney Founder
To say that Jean Chatzky is passionate about helping women build financial independence would be an understatement. She's spent three decades reporting on personal finance, won countless awards for her writing, and co-founded HerMoney Media to carve out room for discussions specific to the women and money.
"When I set out to create her money, I wanted to create a safe space," she tells Women on the Move host Sam Saperstein. "I wanted to create an environment where women feel like we can ask all of our questions because nobody's going to judge us, and we can put forward the things that we feel that we're doing wrong, as well as the things that we feel that we're doing right. A place where we can really dig in and help each other."
Jean has built HerMoney Media into a wildly successful endeavor that supports many projects including the HerMoney podcast and Jean's own writings. In her most recent book, Women With Money, she shares an accessible and simple five-step money philosophy that she designed to help women build sustainable wealth and financial security. Speaking with Sam, she describes the basics of each step—including building a sizable cash emergency fund and embracing your inner investor—emphasizing that her model only works if it's followed consistently and over the long term. (Tough love, but so true!)
To research the book, Jean hosted dozens of HerMoney Happy Hours during which she invited women to gather and discuss their money worries and insights. She did this knowing that most women are deeply uncomfortable chatting about their finances, and that they were more likely to open up in a friendly group discussion.
"I created a deck of cards that have leading questions about money," she explains. "We have since created a HerMoney Happy Hour kit that works pretty well on Zoom, and I know a lot of financial advisors who have adopted this format and do it with their clients!"
In this frank and revealing conversation, Jean dives into the fiscal issues facing women during the COVID-19 crisis, including feeling pressure to drop out of the workforce to support their families at home. She points out that when families have to hunker down and recalibrate, many revert to outdated gender roles where women are caretakers, cooks, cleaners, and homemakers. This works for many women, but others worry about how putting their careers on pause will impact their long-term goals. Jean agrees that COVID-19 related work sabbaticals may have real risks for women.
"When you leave a job, you are leaving the opportunity to earn additional seniority," she says. "You're leaving the opportunity to earn additional social security credits. And when you go back in, you're often doing it at a level that is asking you to take a step back."
That said, she's still hopeful for working women everywhere. She urges us all to practice asking for the salaries we deserve, set solid fiscal goals, and never be afraid to ask for help with our money concerns. After all, if we don't ask, how can we learn?
DISCLOSURES
The statements, views and opinions expressed are those of the presenters and are not necessarily endorsed by, or reflect the views or positions of, JPMorgan Chase Bank, NA or any of its affiliates. The presentation is for informational purposes and is not a recommendation or solicitation of any particular actions. JPMorgan Chase Bank, NA and its affiliates are not liable for decisions made or actions taken in reliance on any of the information covered during the event.
Investing involves market risk, including possible loss of principal, and there is no guarantee that investment objectives will be achieved.
This material is intended as a general commentary, and not intended to be a forecast of future events, or guarantee of future results or investment advice. The opinions expressed are those of Jean Chatzky and may differ from those of other J.P. Morgan employees and affiliates. This material should not be regarded as research or as a J.P. Morgan Research Report. Nothing in this material shall be considered a solicitation to buy or an offer to sell securities, other investments or services to any person in any jurisdiction where such an offer, solicitation, purchase or sale would be unlawful under the laws of such jurisdiction. Any mention of an individual security, investment or strategy is provided for informational purposes only and should not be construed as a recommendation. Outlooks and past performance are not guarantees of future results.
The use of any third-party trademarks or brand names is for informational purposes only and does not imply an endorsement or that such trademark owner has authorized JPMorgan Chase Bank, N.A., to promote its products or services.
J.P. Morgan Wealth Management is a business of JPMorgan Chase & Co., which offers investment products and services through J.P. Morgan Securities LLC (JPMS), a registered broker-dealer and investment advisor, member FINRA and SIPC. Annuities are made available through Chase Insurance Agency, Inc. (CIA), a licensed insurance agency, doing business as Chase Insurance Agency Services, Inc. in Florida. Certain custody and other services are provided by JPMorgan Chase Bank, N.A. (JPMCB). JPMS, CIA and JPMCB are affiliated companies under the common control of JPMorgan Chase & Co.
Products not available in all states.
Investment and insurance products are not F-D-I-C insured, not insured by any government agency, not a deposit or other obligation of, or guaranteed by JPMorgan Chase Bank N-A or any of its affiliates. Subject to investment risks, including possible loss of the principal amount invested.
Subscribe