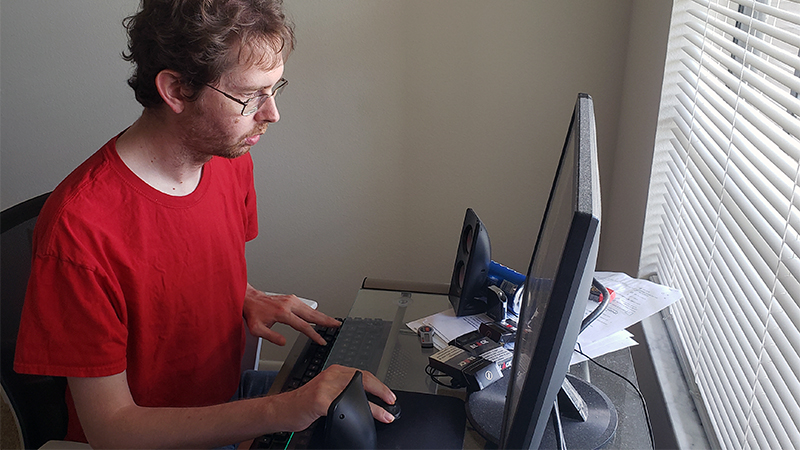 Story
Autism at Work: Jake Richard finds his fit
For Jake Richard, finding a place where he could fit in—and put his unique skills to work—meant finding an employer who could understand what he brings to the table.
As a child, Jake Richard had a hard time finding his place in the world. "I was described very consistently by my teachers as having my head in the clouds," Richard recalls.
Though he could read at a 12th grade level by the end of elementary school, teachers struggled to engage him in class, and his grades suffered as a result. Eventually, his high aptitude yet apparent inability to pay attention led his school to diagnose him with Attention Deficit Disorder (ADD).
But when Richard got to middle school, his problems continued, and his counselors began to wonder if his behavior problems were stemming from something else. He recalls having a hard time connecting to teachers and students. "I remember my stepfather would tell me to smile and say hello to one new person a day," he says. "It just didn't come naturally to me, I couldn't even make eye contact."
A Hidden Diagnosis
At age 15, part of the mystery was solved, as Richard was diagnosed with Asperger's syndrome, an Autism Spectrum Condition. However, he remained in the dark: His parents decided not to tell him at the time, fearing that the knowledge would further isolate him from his peers. "My family took a while to process what that all meant before telling me," he says. "Besides 'Rain Man,' they had really never heard of autism before."
Three years later, Richard was reading an article for his high school psychology class when he came across a section talking about Asperger's Syndrome. "I remember the hairs on my neck standing up," he says. "I told my therapist and mother, and found out I had been diagnosed for three years and hadn't known."
This discovery came as a validation after years of introspection. "It was a little surreal," Richard admits. "I always knew there was something different about me, but I never had a name or term for it."
While knowing his diagnosis helped him better understand his own tendencies, Richard still found that being different was not always welcomed. In college, peers he saw initially as friends would grow distant and intolerant of his unique behaviors. "Part of me felt like I had brought it on myself, that if I had just been a little bit more 'normal', I wouldn't be dealing with this," he says. "College was when I felt the most pressure to not be satisfied with the kind of person I was."
A Career Path...But Not the One He Wanted
After graduating from college, Richard still struggled to find a place where he fit in. He had some experience in internet troubleshooting, so he thought working in a call center might fit his skills—but he soon discovered it didn't suit him. While he had excellent customer satisfaction ratings, his supervisors continually pressured him to prioritize getting customers off the phone rather than taking the time he needed to help them, something Richard took great issue with. "Call centers are not something I'd recommend for people on the spectrum," he says. "I would do everything I could to solve every problem that came my way, and that reflected poorly on my call-processing rates."
But Richard had a hard time figuring out what to do instead. For over a decade, he stuck it out in the call center while he struggled to find other work, only to find that his years of experience working on a call desk had left him unqualified to do anything else—at least on paper. Eventually, though, he heard about a technology services contracting organization. That, in turn, led him to JPMorgan Chase's Autism at Work program.
Through the program, Richard interviewed for a cybersecurity role, and finally had an opportunity to pursue a new career. "I was so nervous [about the interview]," he admits. "Cybersecurity was an area that I had no training nor formal background in."
Fortunately, Autism at Work's skills-oriented and inclusive interview process helped Richard demonstrate the core skills required for the job. After he was hired, Autism at Work made sure he was fully equipped to fulfill his job responsibilities. The program also trained his managers and colleagues on how best to work with employees on the spectrum.
Fitting in Without Changing Himself
Now a full-time employee in Global Identity Access Management, Richard has found a work culture that not only embraces him, but also values the skills he brings to his job. He has also distinguished himself by processing access request tickets with a high level of efficiency and consistency. "One of my strengths is making sure that it's not just right, but perfect," he says. "If you tell me to meet a certain metric, I'll exhaust everything at my disposal to get there."
More impressive is Richard's ability to maintain his drive for perfection day after day. "It's continual, repetitious work that requires constant precision, as each ticket can be different," he says. "Still, I can do my job almost on autopilot, and have headphones to block out any distractions. It's great!"
After many years of searching for his niche, Richard feels like he's finally found his ideal workplace. "I feel like working at JPMorgan Chase has helped me figure out how to fit in without feeling like I had to change feelings or behavior" he says. "From an autism-outreach point of view, I don't think anybody has done more for me than Autism at Work has. I intend to retire at Chase!"
Finding Supportive Allies
Today, Richard works on a team with several colleagues who've overcome similar challenges and are also on the spectrum. "It's been illuminating working with them," he adds, "because it helps you figure some things about yourself."
Outside of his immediate Autism at Work team, Richard has also found allies who understand how to best work with colleagues like him who are on the spectrum. "It's great knowing I have a support system here and that people understand what my strengths and challenges are," he says. "It's very gratifying."
Richard is all too aware that some people don't receive their autism diagnosis until later in life like he did, and he relates advice he received early in his diagnosis from a family member: "I remind myself, 'If you didn't have the problems that you have, you wouldn't have the strengths that you have,'" he says. "That's been the most helpful thing to remember with being on the spectrum."