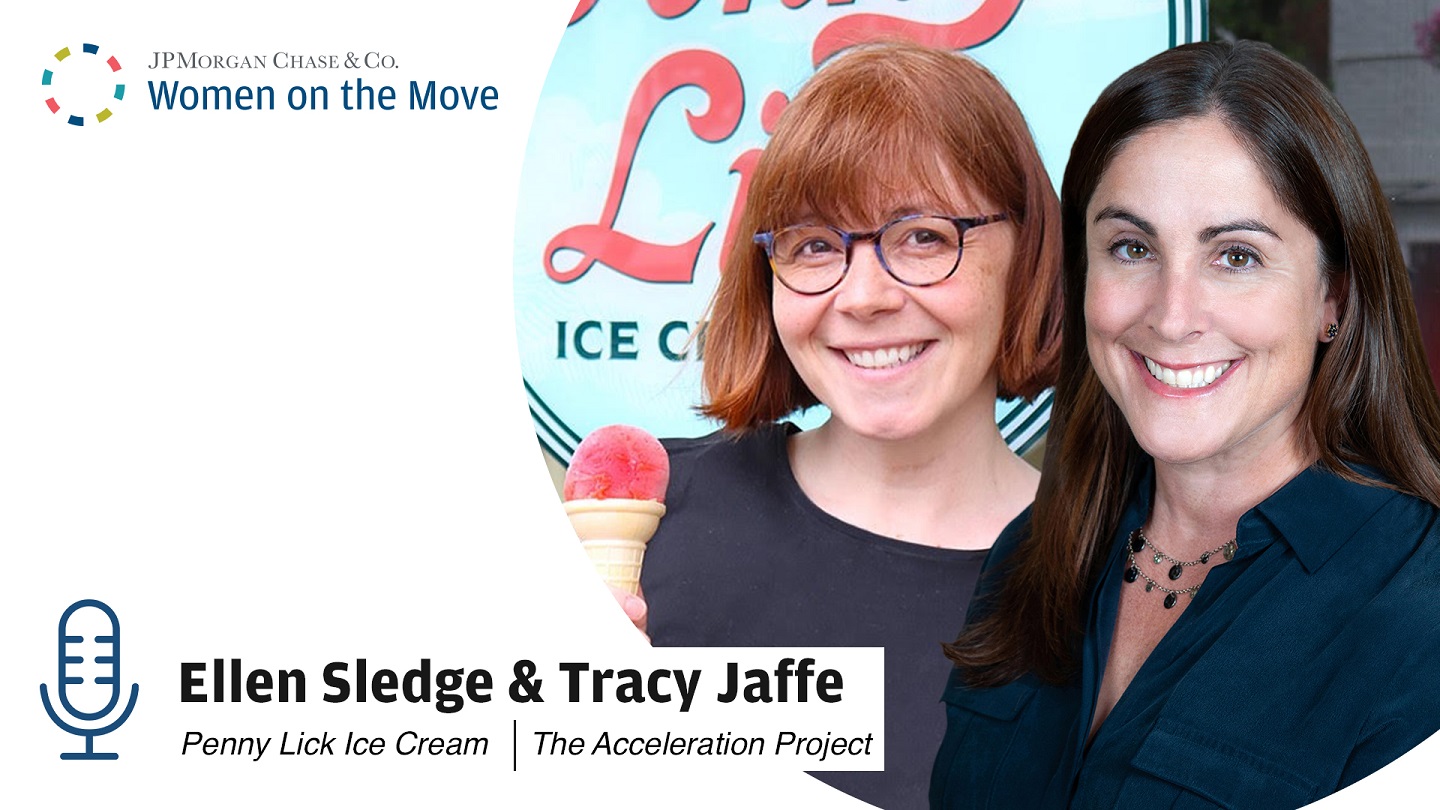 Stories
WOTM Podcast: S3E6: Jaffe Sledge
Tracy Jaffe is the Chief Operating Officer of the Acceleration Project, a nonprofit dedicated to providing small businesses and entrepreneurs with the mentorship and resources they need to succeed. Tracy has played a key role in Tap's growth from a small local nonprofit to an organization with national impact. This year, Women on the Move and Tap collaborated on a program called Navigating your Cash Flow where small business owners can access content and tools to help manage their finances. Understanding business cash flows is critical in order to make good decisions.


Utilizing Cash Flow Management Tools
Tracy thinks businesses should feel comfortable with their numbers in order to understand how decisions can affect their short and long term viablity. Finding solutions on how to increase revenue and decreasing cash outflow makes a huge difference for long term planning. "I would encourage people to read through the content. It's something in there that will resonate with you and give you an idea to have more cash coming in, or have it coming in faster, or have less cash going out, or have it at least going out a little bit more slowly" says Tracy.
Evaluating vendors is also a critical business move especially during the pandemic. The program offers a vendor analysis tool where you can look at the people who you're relying on for your business and evaluate whether they're the right vendor for you. Ellen spent months working with TAP through the pandemic and utilizing the vendor worksheet allowed her to bring down costs and run the business more effectively during the COVID pandemic.
For more information on the Navigating your Cashflow content, go to chase.cashflow.com.
View Transcript

(updates content above)
Hide Transcript

(updates content above)
Ellen Sledge:
If you have downtime in your business, this is a great time to revisit every efficiency, every operation in your business, and make any changes.
Sam Saperstein:
Welcome to season three of the Women on the Move podcast. I'm your host, Sam Saperstein. Women on the Move is a global initiative at JPMorgan Chase designed to help women grow their businesses, improve their financial health, and build their careers.
Sam Saperstein:
In the first two seasons, we spoke with a range of business leaders about gender equality and the leadership lessons they've learned along the way. I highly recommend you go back and listen to those episodes if you haven't already. In season three, we're focused on female business owners. While many business owners are struggling during this pandemic, women and people of color have additional challenges. We wanted to tell their stories of resilience and grit and how they're meeting the needs of their customers and communities.
Sam Saperstein:
Tracy Jaffe is the chief operating officer of The Acceleration Project, a nonprofit dedicated to providing small businesses and entrepreneurs with the mentorship and resources they need to succeed. Tracy has played a key role in TAP's growth, from a small local nonprofit to an organization with national impact.
Sam Saperstein:
This year, Women on the Move and TAP came together to create a program called Navigating Your Cashflow, a set of digital tools and content to help small business owners manage their finances. In this episode, Tracy and I talk about this work and how TAP has been helping businesses during the pandemic.
Sam Saperstein:
Later, I'll be joined by Ellen sledge, the founder and CEO of Penny Lick Ice Cream, who has worked with TAP over the course of expanding her business.
Sam Saperstein:
Tracy, thank you so much for joining us today. It was great to have you on the program. So we started talking about creating content last year around cashflow management, and we knew this was an important topic before COVID, and it's certainly more important than ever. So can you talk about what you're hearing from small businesses and what they want to focus on regarding cashflow?
Tracy Jaffe:
Absolutely. And thanks for having me on, Sam. I think we hit gold when we were already talking about cashflow as being an important topic for small businesses. It's something that we thought that particularly women owned businesses were in need of help and in need of someone to come in and make them feel comfortable with thinking about their cashflow. It's definitely something that, for most small businesses, those owners prefer to hand it off to their accountant or their bookkeeper and not have to think about it. But to our minds, we think it's important for everybody to feel comfortable with their numbers so they can make good decisions.
Tracy Jaffe:
With COVID, it became even more critical for business owners to know what to do because, all of a sudden, they were facing things that they never could have imagined would have been happening to them. For many of our small businesses, it meant a complete stop to revenue inflows. And for small businesses, revenue inflows often equals their cash inflows. So we needed to help them think about what that meant, what changes and decisions they could make so that we could help them ensure being viable for the short term and continue to grow in the longterm.
Sam Saperstein:
Tracy, when users go to this site, cashflow.chase.com, what can they expect to find there?
Tracy Jaffe:
Well, they'll find a variety of material, anything from articles, anecdotes about businesses, videos, as well as actual downloadable tools that they can use to apply to their specific situation. We rolled it all together so that the content would be engaging and keep everybody interested and have something for everyone.
Tracy Jaffe:
So the first segment of the content, it's called Understand Your Cashflow, and it's really meant to give business owners an opportunity to understand the basics of your ins and your outs. We built it to break everything down into simple buckets, where if you're building a cashflow, if you're trying to understand the components of your cashflow, what needs to go into it.
Tracy Jaffe:
And we created a really great tool called the Business Cashflow Tool that we want it to be accessible to all small business owners. It isn't what your accountant is creating for you. It's actually for you to use, to take your general understanding of the cash that goes into your business and the cash that comes out of your business and create a picture of what months look like. Are there months where a lot of cash is used? Are there months where only a little cash is used?
Tracy Jaffe:
We want you to get a general picture using this tool, and it creates that graphic for you. And then we want you to go back and play around and make changes in what you think your business might do through operations, play around with the idea of introducing a new product line and how that impacts your cash inflows, or changing your staffing, or maybe changing your real estate position, or having more cash come in quickly because you've improved your invoicing. All those things can be incorporated into this tool very easily so you can see what small changes to your practices will have, the impact they'll have on your cashflows.
Tracy Jaffe:
The next part of the tool is about increasing the cash that comes in. And we think also not just about increasing the cash, but how to improve the timing of it, how to collect faster. And those are two things, increasing the timing and increasing the amount, that will make a big difference obviously in your business. We give suggestions. We actually provide anecdotes about businesses that have thought about this and implemented changes to have that positive impact on their inflows. There's a lot of great information and there are tools that you can download to think through, for example, how you might increase your pricing, how do you know if you're a business owner that it's okay to increase your pricing?
Tracy Jaffe:
So you can use this tool to see where you are in comparison to your competitors in the marketplace. And from there, you can make decisions based on how you might put yourself in a position where you can earn more cash, you can increase your pricing. What do you need to do to be able to do that? Or maybe you'll find after you use that tool that you're in just the right place, but at least you'll know that you're in the right place.
Tracy Jaffe:
The third part of this material has to do with decreasing the amount of cash that goes out or slowing down your spending. And so we give examples of how businesses have made decisions that have enabled them to have less cash going out or slow down that cash going out so that they're in a better position. We talk about things like thinking through your real estate spending or reevaluating your use of people so that you can make sure that the money you're spending on people is well spent. These are all things that they're big uses of cash for a small business and it's important to have that right.
Sam Saperstein:
One of the tools that I really like is a tool that lets you evaluate your vendors, so the ones who are providing you with goods and services. What should business owners do right now in terms of reevaluating those relationships? And do they do that often enough?
Tracy Jaffe:
Sam, that is so important. And when we build this content, we kept in mind that we wanted people to have tools that they could take off the content and use for their own personal needs, really be able to not only learn some things, but actually have it be something that they could personalize what their individual situations, and the vendor analysis tool you're talking about is exactly that.
Tracy Jaffe:
We find that business owners make decisions early on when they start their business, whether it be about taking space or building relationships with vendors, and then life comes into play and they don't have an opportunity to reevaluate those decisions, even though their businesses have changed, the world around us changes, but we're still using old things that were the right thing back then and maybe now aren't so right anymore.
Tracy Jaffe:
So that vendor analysis tool is a way of looking at the people who you're relying on for your business and evaluating, very objectively, whether they're the right vendor for you now. It incorporates an opportunity for you to say these are the things, these are the factors that I value from my vendors, whether it's timeliness of delivery, the quality of what they're delivering, the price that they're charging you. You get to create weights for each of those factors, and then you get to measure all the vendors you're working with on those factors. It calculates for you a numerical evaluation of your vendors, and then you get to decide whether they're somebody that you want to continue working with, or maybe you want to think about changing your relationship.
Sam Saperstein:
Tracy, given that this content can be so helpful to many different kinds of businesses, what are you trying to counsel different business owners to use and to get out of this content?
Tracy Jaffe:
Well, I think that there's something in it for everybody. Obviously we think that the tool that we built, where you can go in as a business owner and incorporate your own personal numbers... And it doesn't have to be the exact numbers. Every business owner knows, in general, what's coming in and what's going out. So if you put those into the tool that we built, you get a picture of what times of year are the smoothest for you, what times of year you might need to really think about how can I improve the cash coming into my business because I know that that next month, and this shows up on the picture that's generated by the tool, the next month, where a lot of cash is going out. Maybe I know every year in April, I have to buy a new piece of machinery, or there's some big expense that comes up routinely, so I want to make sure that I have enough cash coming in the prior month to cover that big outflow.
Tracy Jaffe:
So I really encourage business owners not to be afraid if they don't feel like they know exactly what they want to put in, but just to use their general knowledge or their business to build that picture and then use it to play around. Let's say you are able to buy a used piece of equipment, and so you can make that outflow smaller, or let's say that you might introduce a new product, so all of a sudden, in a certain month, you're going to have excess cashflow coming in. Like play around, and that way, you can make good decisions without actually having to make the decision. You get to see what the impact on your business will be.
Tracy Jaffe:
And then going forward, if you need ideas for how to change your business so you can get more money into your business, maybe you need to take a look at your receivable process. One thing that we see with businesses is that they send out invoices, but they don't have a trigger that lets them know that those invoices aren't being paid. So we've created this map that you can follow to make sure that you have a process in place so that your invoices are paid within a reasonable amount of time. They don't just end up hanging out there, and next thing you know, you're wondering why your bank account is low when you made all of these sales.
Tracy Jaffe:
I would encourage people to read through the content. Something in there will resonate with you and give you an idea to have more cash coming in, or have it coming in faster, or have less cash going out, or have it at least going out a little bit more slowly.
Sam Saperstein:
So let's keep talking about this particular moment in time and what COVID has done to small businesses. What else are you seeing as the other really key challenges facing businesses right now?
Tracy Jaffe:
So one great story that I really love to share is about a doggy daycare center that we are in touch with. The owner, her business model was based on helping people who were commuting to work, providing them with a safe and happy place where they could feel comfortable leaving their pets during the workday. Well, obviously with COVID, people's patterns changed. They were no longer commuting into the city. They just had different needs. And frankly, maybe a lot of them wanted to spend some time with their pets and made them feel happy and supported. However, they really valued the doggy daycare and knew that the day would come where they would need to use her services again, plus they wanted to support her.
Tracy Jaffe:
So what her customers did, and I just think this is fantastic, they started to GoFundMe so they could help her cover her rent during the month where they would be a little bit slow, and she is reconfiguring her business model so that she's available when they're all ready to come back.
Sam Saperstein:
Do you think there are businesses that are taking more risks now out of necessity?
Tracy Jaffe:
I think there are businesses that are experimenting and trying new things that they might not have done in the past because they were comfortable with business as usual, but I've seen businesses really being creative.
Tracy Jaffe:
An example is a kombucha manufacturer and seller. They started out selling their product at farmer's markets and then gradually built up a small portfolio of hotel clients, including some large institutional cafes, but with so many of those places not buying from them right now because they're close to customer traffic, they found other ways to sell their product. And this, to me, is great. They're taking that old-fashioned milkman model and now they're delivering kombucha directly to people's doors. So it's a subscription based model, which is a great business model, especially when it comes to cashflow. It really smooths your cash coming in. They're keeping their loyal customers happy and satisfied.
Sam Saperstein:
Tracy, TAP has been meeting with many business owners during this time, and one of them is Ellen Sledge, the founder of Penny Lick Ice Cream, and we're going to be speaking to her next. Can you describe what she's done for her business and what you've observed her doing to keep things afloat?
Tracy Jaffe:
So we first met Ellen back before COVID hit. We started working with her as she was evaluating how she could distribute her ice cream more broadly. And she knew that she had a really special product, a product not only that was delicious, but that also had the added benefit of having clean ingredients. And so we were working with her just to give her the advice that she needed, but honestly, she had a really good handle on her business. She had a well-established reputation in our neighborhood. And so we wanted to give her the advice to just broaden her distribution.
Tracy Jaffe:
When COVID hit, she needed to retrench. She had similar issues that other businesses had around employees and not being able to serve people in person in her retail shop anymore. But she is one creative tenacious business owner who has a great product and her biggest challenge is just continuing to get it into the hands of customers. She leaned on the tools that we were able to provide her, continues to grow every day, and I think she is just going to come out of this even stronger than before.
Sam Saperstein:
Thank you so much, Tracy, for joining us and for sharing more information on the great work TAP is doing to help small businesses.
Tracy Jaffe:
Absolutely. And thanks for having me on, Sam.
Sam Saperstein:
And next, I'll introduce you to Ellen Sledge, the founder and CEO of Penny Lick Ice Cream.
Sam Saperstein:
Ellen, thank you so much for being here with us. When you started your business in 2013, Penny Lick Ice Cream, you were running it using mobile ice cream carts at events. And I remember one of those cards coming to my kids' school. So I have been a longtime fan of your ice cream. Then two years later, you opened your own storefront in Hastings on Hudson, New York. What enabled you to expand into a store and to go from running a cart to running a storefront?
Ellen Sledge:
2013 was an interesting year. I knew from the time I think I was five that I wanted to be an entrepreneur. And I was a pastry chef at that point and I thought maybe I'll start something someday. And 2013 was just a test. I wanted to start a small business, use the skills I have, started as tiny as possible. I really started at farmer's markets first, which are fantastic incubators for small businesses when it comes to food. You get unfettered access to your customer. You can ask them an awful lot of questions. And unlike somebody shopping up and down the aisles of a supermarket, at a farmer's market, they want to have long discussions with you about the ingredients. They want to know the provenance of the cow.
Sam Saperstein:
Wow.
Ellen Sledge:
And that actually informed every business decision I've made regarding my product and my ingredients and how I source them ever since.
Ellen Sledge:
So I started that way slowly and fanned out across multiple farmer's markets, events. We started catering weddings because our pushcarts are cute and look nice in photographs. And in 2015, I had enough of a customer base. I had done enough, I think, flavor research because I took notes. I didn't have spreadsheets and cashflow models. I had a notebook, a little spiral notebook where I took down even the weather forecast and my sales and what flavors sold better than others and any customer comments. I wrote it all down.
Sam Saperstein:
So you would know what flavor would sell better on a rainy day versus a sunny day?
Ellen Sledge:
Yeah.
Sam Saperstein:
That's great.
Ellen Sledge:
I still have all my notebooks. And a space became available that looked really nice and had 13 foot tall, original tin ceilings and was a hundred years old. And I said, "Well, that wants to be an ice cream shop," and I had just enough saved up to do a lot of the work to make it an ice cream shop.
Ellen Sledge:
So we hit the ground running in September, 2013, and my husband's immediate thought to me was, "Hey, you had an amazing first day. Everybody came out. The line was two blocks long because they all wanted to support the fact that Penny Lick finally has a store. How are you going to get through the winter? You haven't stocked up any cash." Because I now have, seven years later, I have a storefront and I have a factory, but ice cream is still necessarily seasonal, and for reasons I don't agree with, sales will dip in the winter. So our what you would call like the stockpiling of the cash season is really March to October, where we stockpile, like I said, as much cash as possible to get us through the leaner months.
Ellen Sledge:
And so, when I realized that that first fall of 2013, we were really opening too late to make our business healthy going into 2014, I looked at every square inch of the space. I said, "What can I do?" And we rearranged it in a way that would allow us to do children's birthday parties. And I started to teach kids how to make ice cream, and that got us through the first year.
Sam Saperstein:
That is wonderful. So you were pivoting already way back then into new revenue streams.
Ellen Sledge:
I find that all entrepreneurship, just like all parenting, is a constant pivot and a renegotiation.
Sam Saperstein:
That sounds about right. And it sounds like your husband was one of your first cashflow management coaches, which is great.
Ellen Sledge:
Yes.
Sam Saperstein:
But tell me about, you've been digging into our cashflow management content, and I'm wondering what's been your experience with it so far and where do you see being able to use it?
Ellen Sledge:
I really loved this because the concept of cashflow and cashflow management can feel heavy and daunting and like a foggy cloud you can't quite walk through, but ultimately, as an entrepreneur, you really are doing it every day, you just don't fully understand it. I found the tool. I started to list all my outflows for 2020 and my inflows for 2020, and I was like, "This is the year that's going to make me sick, typing it out," but it was fine. I actually found that it took the process that I have a bookkeeper and an accountant and a zero account [inaudible 00:18:45], and made it easier for me to understand and made it more accessible. And once you understand it, even if the numbers don't look great, it's immediately less stressful because it is no longer a concept that you can't quite wrap your head around.
Ellen Sledge:
I will say that I think that maybe the best part was the vendor worksheet. I particularly loved that. No more relevant time than 2020 to assess all of your vendors and see where there is wiggle room. I had the great fortune of doing that before COVID. My work with TAP ended at the beginning of COVID. My last meeting with my consultants, I was in bed talking to them on a computer because I had COVID, but it couldn't have been better timed because I spent my, honestly, my off season, my slower months, really reevaluating what vendors I was working with, was I really getting the best price.
Ellen Sledge:
I had been introduced to TAP just months earlier by an SBA banker because I was getting a loan for the expansion of my business into wholesale. And some of the loan I had asked for was for working capital. And they said, "Maybe you don't need as much working capital. Maybe you need to bring down your vendor costs. Maybe you need different buying terms. Maybe you need price adjustments." And so they recommended TAP, and then I spent months working with three consultants on TAP on those very issues, so that when March came around, it was easier for me to know what to do.
Ellen Sledge:
But that concept, that vendor worksheet, I think that's a very helpful exercise for any small business, maybe more so even for food, because it will tell you that, I don't buy the way a restaurant buys, but a lot of my background is in restaurants, so many of your ingredients fluctuate in price week to week. So the margins that you are making on that entree are not necessarily the same margins you were making the following week. And so, it has to constantly affect every decision you make, down to your menu and your pricing.
Ellen Sledge:
I don't have that kind of wiggle room in pricing on an ice cream shop menu. We had a global vanilla shortage in the last couple of years. It made vanilla bean the most expensive ingredient I use by ounce, and you can't charge market price for a vanilla bean ice cream cone. It's not a lobster roll. You don't have as much wiggle room on your day-to-day pricing to the customer on your product, but you can work out better terms with your vendors, with your landlords, with everybody.
Sam Saperstein:
Did you also find that some of your vendors were willing to work with you a bit more during the COVID period?
Ellen Sledge:
Hit or miss. There was one vendor that we buy supplies from that we have 14 day payment terms and they showed up with a delivery one day and asked for the check that day. And they said, "Oh, we went to new terms of payment day of," and then I said, "Oh, then you're going to have to take the delivery back. I'll call your boss and let them know." And then they went right back to, "Oh, okay, we can do 14 day payment terms again."
Ellen Sledge:
I have two landlords and one landlord said, "We won't charge late fees for the next two months," but that was it, that was the maximum he could do. And my other landlord doesn't own any other properties and his own small business was flailing. And he said, "I'm not worried. You're a good tenant. Pay me when you can." But I knew he was struggling, so I prioritized him. Some vendors were better than others. We had definite supply issues and definitely the cost of everything rose.
Sam Saperstein:
Are you still seeing that today, the costs stay higher for things?
Ellen Sledge:
Yeah, I haven't seen the costs decrease that much. If you can get away with charging more on a gallon of cream, you're going to charge more on a gallon of cream.
Sam Saperstein:
You mentioned working with TAP as you were looking at accessing new capital. And so I'm wondering, what else did they help you with? What interesting things did you uncover about the business together that you hadn't known before?
Ellen Sledge:
They looked at the numbers, at the nitty gritty in a way that I hadn't. On the retail side of my business, which was older and I certainly had a lot more historical data to work with, they pointed out very simple inefficiencies and ways to turn around extra dollars very quickly.
Ellen Sledge:
I think the one that hit me the hardest was, you know, our storefront is small, it's petite, and there were two merchandiser freezers in the front where you could open them up and grab pints. One was a freezer and one was a refrigerator where you could buy water bottles or a bottle of soda. There's a bodega next door you could do that at, and there's a bodega across the street you can do that at. And they were looking at my 2019 numbers and they said, "This little freezer here that sells pints sold about $33,000 in product, just out of this little like two foot square thing. The same exact sized refrigerator sold you about $2,000. Get rid of the refrigerator."
Sam Saperstein:
Wow.
Ellen Sledge:
"That is a waste of square footage in your store. Put in another freezer. You make cakes, custom request only, stock them. They have better margins than even your pints do." We had by May sold more pints and more cakes than we had done in all of 2019. And It was just a small little tweak. And I knew the numbers and I saw the numbers, but I never thought critically about the numbers. It was a great little aha moment.
Sam Saperstein:
That is so beautiful and simple in its essence. I guess whenever you put in the refrigerator, you thought, "Maybe somebody wants a drink too, so we're going to offer them a drink," and yet really thinking through the economics and what would be more profitable is a whole other lens. I just love that.
Sam Saperstein:
So tell, us with summer being prime ice cream season, what are you doing in the store or otherwise to accommodate customers right now so they can get their ice cream fix and you can manage the business?
Ellen Sledge:
So I, and many of my staff members, had COVID earlier this year, presumed cases. We all got sick at a time where it was very, very difficult to get tests. Westchester County was a hotspot and we think we had been exposed at a child's birthday party.
Ellen Sledge:
All of our events for 2020, when I say that, I mean like festivals, the farmer's markets, the birthday parties in shop, the classes, those canceled right off the bat, which can make up approximately 25 to 30% of our gross revenues on our retail side. So by the end of March, I was having slight heart palpitations about that. So I reopened in April only by myself. And I noticed that in the supermarkets, when you could get into them after waiting on long lines, all of the ice cream freezers were empty. It was harder to get ice cream product from distributors and supermarkets, local supermarkets were devoting more of their budget to cleaning supplies, any PPE that they could sell. So the ice cream freezers were rather neglected.
Ellen Sledge:
I offered four hours a day curbside delivery [inaudible 00:26:32] you could either come into our store. I got the town to block off the parking spaces. They are still blocked off in front of my store. So people can come every day and do curbside pickup and leave without having to worry about paying a parking fee or finding parking. They can just pull up, let us know they're outside. We were invoicing them online. We bought a new register that would better accommodate Apple Pay and more touchless payment options.
Ellen Sledge:
And then we started delivering ice cream. I was working with a third party delivery food service. They take 30% of the gross, and in the worst parts of COVID, their delivery drivers weren't even showing up. For the customer experience side of that, all the customer knows is that Penny Lick didn't send their ice cream, but they got charged anyway.
Ellen Sledge:
So we were open four hours a day. And again, when I say we, I mean me, and three hours a day of deliveries. We would take the delivery orders the day before. Deliveries are a permanent part of what we do now, I think we have 15 deliveries this afternoon. We also are going to launch an ice cream club next month and we're going to launch nationwide shipping.
Sam Saperstein:
Wow, terrific.
Ellen Sledge:
And they helped make up the lost revenue of events. You know, hundreds of people can't come to a festival to buy our ice cream, so we have to get the ice cream to them by any means possible. We are up for it. People still want ice cream. Ice cream is celebratory, but ice cream is great for commiserating too. I never sold as much ice cream in my life as I did in April of 2020.
Sam Saperstein:
I wish I had known about your delivery because I could not find ice cream, particularly chocolate, just plain chocolate in the stores. And now that you say that, I'm realizing why, and that was a grim time. So it sounds like you're really doing things that will stay with you permanently, the delivery service, selling online now across the country. Do you think you would have done these things prior to COVID?
Ellen Sledge:
They are the things I thought about doing, but didn't prioritize. I didn't have the time. The other thing I started doing is I started making gelato. There was a window of time where it was really hard to get cream and it was really hard to get eggs. We use some eggs in some of our flavors, not all of them. It's still hard to get eggs. There was a nationwide egg shortage for a little while there, but I was getting milk. I actually had to ask my delivery company to stop delivering the milk. I'm like, if I can't get the other ingredients, what am I making?
Ellen Sledge:
So I started making gelatos. Gelatos are delicious. They are, honestly, a cheaper ingredients list. It is easier to get milk during some supply chain problems than it is to get many other ingredients. And so that was another pivot. Honestly, 2020 brought out my creativity. All the things I thought about doing and I had in the back of my mind, that I really hadn't researched and I thought, "Things are going fine as is. We're doing okay. Why add more onto my plate?" we're doing them all now.
Sam Saperstein:
That's a really interesting kind of way to look at your business. You were doing fine. You were doing all the things you wanted to do or thought about doing, and it was only this moment in time where you almost had given yourself permission because you had to of going forth and doing new things. So I'm wondering, what would you counsel other entrepreneurs to think about? Do you think others should think about what those other revenue streams and opportunities should be always, kind of well before you have to?
Ellen Sledge:
Yeah. I consider a lot of the work that I did with TAP that put me in a better position for this year, and a lot of the changes I have made to Penny Lick as a result of a pandemic, I actually consider them the low hanging fruit. They were there. I knew that these opportunities were there and I just hadn't pushed through them. If you have downtime in your business, and everybody does right now, sadly, to a certain extent, this is a great time to revisit every efficiency, every operation in your business, and make any changes.
Ellen Sledge:
I've readjusted everything from hours to the types of employees I pay. I actually rewrote all of my job descriptions this year, looking for a different type of employee that could process different type of work for me. I'm actually the kind of entrepreneur that's a little more risk averse. I like to think things through 10 times, and even then, I tell myself I'm not ready. I will say that the pivots and the changes I have made, some of them this year were not things I had thought through enough, but I could try them on a small budget that wouldn't destroy me. I had definitely the equipment and the operations time.
Ellen Sledge:
I mean, when I talk about like starting gelato, all of my ice cream machines have gelato settings. It's not like I needed any new equipment. I invested $200 in a logo, that's it.
Sam Saperstein:
That is great. Well, so what made you not want to do gelato before this? Talk about the risk aversion until now.
Ellen Sledge:
I was afraid I was biting off more than I could chew. How much time do I have for product development? I have three kids who all went through homeschooling during this. Now I have a senior in high school, an eighth grader and a fifth grader. I didn't know that I necessarily had the bandwidth, that Penny Lick necessarily had the bandwidth. And so I was, I'd say, risk averse to expanding the product line, but I know that it makes financially better sense, and so I went ahead and did it this year.
Ellen Sledge:
I think that all entrepreneurs are very creative. And if we don't have notebooks filled with ideas, they're all in our heads, write them down and price them out. See what might work, see what you might have the bandwidth and the time for. I will say the creativity of it all has helped me mentally get through.
Sam Saperstein:
Meaning it was just another good outlet for you?
Ellen Sledge:
Yeah, absolutely.
Sam Saperstein:
Ellen, thank you so much for joining us and sharing the story of Penny Lick Ice Cream. I'm really excited to see how you continue to expand the business and I wish you the very best during the rest of the pandemic.
Ellen Sledge:
Thank you.
Sam Saperstein:
Many thanks to Tracy Jaffe and Ellen Sledge for joining us today and for sharing their experience with the cashflow management tools that we created. If you would like to explore this content, please visit cashflow.chase.com.
Sam Saperstein:
The mission of Women on the Move is to help women in their professional and personal lives. Our goal is to introduce you to people with great ideas, inspiring stories, and a passion to make a difference. If you enjoyed this episode, please rate, review and subscribe so you won't miss any others. For JPMorgan Chase's Women on the Move, I'm Sam Saperstein.
Sam Saperstein:
JPMorgan Chase Bank, N.A. is a member of the FDIC.
The statements, views, and opinions that will be expressed during the event are those of the presenters and are not endorsed by, nor do they reflect the views or positions of, JPMorgan Chase Bank, N.A. or any of its affiliates. JPMorgan Chase Bank, N.A. or any of its affiliates are not liable for decisions made or actions taken in reliance on any of the information covered during the event. Please consult with your personal tax advisor on all tax-related matters. JPMorgan Chase Bank, N.A. Member FDIC. Equal Opportunity Lender. ©2020 JPMorgan Chase & Co.
Subscribe